Crossing the COVID-19 Chasm - Key takeaways:
The COVID-19 situation exposed glaring weaknesses in businesses' readiness to operate virtually, especially in areas like decisioning, which require huge volumes of diverse, real-time data
Businesses who were already down the path of digital transformation fared better than those who were still in the planning stages
For companies who were knocked off-line, there are six immediate steps they need to take to resume normal operations and lay the foundation for their own digital transformation
 
In Geoffrey Moore's revered book "Crossing the Chasm" – still regarded as one of the important business books ever written – Moore posits that with each new wave of breakthrough technology, there is a chasm between innovators and early adopters ("the visionaries," the first 16% of the market) and the early majority (the second phase, "the pragmatists," about one-third of the market.)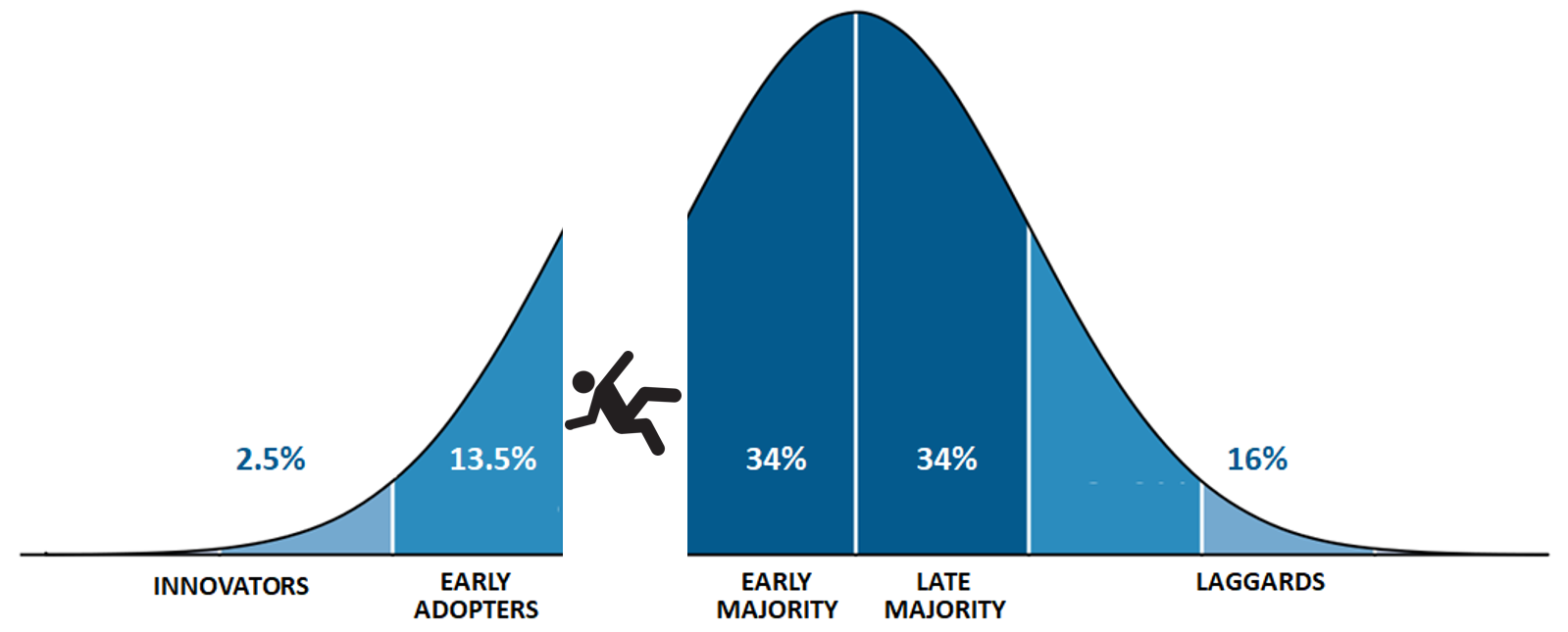 Moore believes that elite companies – those who crossed the chasm, and went on to prosperous futures  – are those rare firms who succeeded in building winning teams, strategies, and products… and then, like a motorcycle stunt driver, punched the accelerator to cruise up the adoption curve and soar over the chasm to the majority of buyers.  Conversely, businesses who cannot muster those attributes in a timely manner don't reach launch velocity; they sputter. Most move forward, but a great many of them fall into the Chasm.
What does this have to with Digital Transformation, and the COVID-19 pandemic that is wreaking havoc on the global economy and companies who participate in it?  Potentially, a great deal. First, the small number of companies who cross the Digital Transformation chasm equates roughly to diagram above: only 30% are successful.  Those who succeed are strong innovators and accelerators of market change.
Second, there are strong parallels about innovation, its function as an enabler of market change, and the extent to which companies embrace it.
In his book, Moore theorizes that there are two fundamental types of innovation:
Sustaining Innovation that gradually incentivizes us to modernize, but does not force us to immediately change our behaviors; and
 
Disruptive Innovation that quickly compels us to embrace change and modify our behaviors accordingly
Before March of this year, many companies were merrily marching down the Sustaining Innovation path. They were taking a disciplined, thoughtful approach to their Digital Transformation strategies: they dutifully formed multi-disciplinary committees, developed project milestones, and created methodical timelines; some even painstakingly laid out detailed technology roadmaps and budgets… and then, they began planning for the process changes and personnel training that would be required.  It was the sober and cautious slow-and-steady-wins-the-race mindset, with paramount emphasis won "getting it right."
Crossing the COVID-19 Chasm - Then COVID-19 hit. 
Companies scrambled to virtual operations, in some cases, with only limited access to critical systems.  At the same time, their customers were grappling with similar issues, compounded by the massive impact to their own business.  This inevitably caused them to reach out for information across all channels.  But many of the key employees who needed to provide that information couldn't get into the office… thus, hindering collaboration, delaying access to critical data, and stalling decision-making.
Zoom, Skype, and Webex made it possible to converse face-to-face, but they didn't solve the huge, elephant-in-the-room problem: that the information employees need to drive the business – the critical "decision assets" that are the lifeblood of customer acquisition, service, and retention – remained in departmental silos that weren't easily accessible. The physical and cyber-security processes that kept the bad guys out also kept homebound employees from easily getting to the full breadth of the information they needed to do their jobs serving customers… information that, in good times, could be gotten immediately from a colleague down the hall.  All of the dominoes were falling in every direction, resulting in a massive, cascading failure of vital business processes.
Crossing the COVID-19 Chasm - Making Course Corrections
As their Sustaining Innovation paths disappeared like hiking trails in a mudslide, companies were quickly scrambling to the Disruptive Innovation path. Since February, I've been on more telephone calls with more customers and prospects than I ever imagined... around the clock and across almost every time zone. Most of these calls fit in one of two categories:
Customers who've already embarked on their Digital Transformation journey and were seeing early success; they wanted to know how to go faster and deploy transformation more broadly than they originally planned.  They are determined to fly their companies clear of the turbulence as quickly as possible;
 
Prospects who were still in the planning stages – executives who had been moving in a deliberate, methodical manner – wanted to know how immediately they could get started, and how quickly they could get to the other side. It was as if the Earth opened up before them, and they were staring down into a chasm of uncertainty.
Crossing the COVID-19 Chasm - The Path Forward
If your company is suddenly finding itself on the Disruptive Innovation path, and needing to move with a sense of urgency, here's some advice on how to proceed.
Reach for the cloud: Compared to privately-operated data centers and on-premise infrastructure maintained in-house, cloud computing can be a welcome lifeboat – but one that grows with your needs – when pandemics, natural disasters, or other massive disruptions occur. Moving to the cloud is the best, fastest, and most reliable way to make sure critical information remains available whenever and wherever it is needed, without delay. One major cloud provider reports that it has seen a 775% increase in demand for its cloud services in regions enforcing social distancing and/or shelter-in place due to COVID-19.
 
Break down silos of information: Though 94% of companies report using cloud – citing lower TCO, enhanced security, scalability, and other factors – very few of them have configured their software applications to support advanced operations like digital decisioning, which pull data from a wide range of real-time sources. For example, in a survey taken among hundreds of financial services executives before the COVID-19 pandemic, conducted by Arizent, a prominent business information firm, only 5% of banks said they are using all of the data at their disposal for enterprise-wide decisions.  It's not enough to merely make information accessible; once it attainable, companies need to work immediately to make sure it is assimilated into their larger business strategy to support detailed, documentable, and data-driven decisioning.
 
Master the data: Once information becomes widely available, patterns, relationships, and interdependencies in data will begin to emerge. Some is widely used, and its relevance is apparent; other data seem arcane, and of limited value… but in actuality provide critically-important insights to optimize decision accuracy.  Quickly understanding how to use and re-use these connected decision assets across the customer lifecycle will enable companies to rapidly build effective customer-facing programs and improve the return-on-decisions, while making those decisions transparent and explainable.
Use simulation to establish certainty: There's an old saying that is doubly true in chaotic times: "If you don't have time to do it right, how will you find time to do it over?" The surest way to get customer-facing decisions right the first time is to validate and simulate them before they are put into production.  With contemporary simulation tools, even novice and intermediate users can quickly build and run highly-effective simulations, with dashboards displaying predicted and compared-to results.  Increasing the effectiveness and ROI of customer decisions, and iteratively improving them over time, can be an important contributor to customer retention.
 
Launch personalized customer communications: Times of economic uncertainty put customers on edge; not getting the answers they are after, or feeling like they are "just a number" puts them at risk of defection.  Once businesses have their data assets in order, they need to quickly engage customers in a coordinated, consistent, and – most importantly – personalized manner… then continually analyze all customer decisions, actions, and outcomes against a consistent decisioning process.  In an economic environment like the ones we find ourselves in today, customers are "in play" like never before: both yours and your competitors'.  Now is the perfect time to go on a customer acquisition spree, while using personalized customer treatments to increase your own customer retention, satisfaction, and loyalty.
 
Make superheroes of your business users: By putting the right tools in place, business users can quickly become self-sufficient in managing analytics, rules, and strategies.  Because of their deep business domain expertise – coupled with their new superpowers to create scenarios, conduct what-if simulations, and understand detailed visualizations of the results – they can quickly lift the performance of the entire team and organization.
 
Crossing the COVID-19 Chasm - Conclusions
The old Iron Triangle "speed vs. quality vs. cost" no longer applies in today's technology environment. The migration to advanced decisioning, running in a cloud environment, delivers all three: you can be online in days or weeks, gain a world of new capability, and at lower cost than you are probably paying today.  For companies looking to supercharge their decisioning operations, it's a win-win-win.
The title of Moore's book, "Crossing the Chasm," reminds me of the watchful words of David Lloyd George, Prime Minister of the United Kingdom in the early 1900s, who famously cautioned, "You can't cross a chasm in two small steps." But the Digital Transformation chasm is an exception; yes, you need a grand vision of where you want to land, but you can reach your destination most expeditiously in measured, incremental steps.  But even if you haven't taken your first step towards Digital Transformation – or, your first run at it was filled with missteps, and you didn't clear the chasm – the turmoil of recent weeks has had a leveling effect on everyone in the global economy.  There's never been a more level playing field there is right now.
FICO will be hosting a Webinar on this topic on April 28, part of the company's recently-announced "Virtual Events Series."  The new series begins runs April 20 through May 28, to help businesses future-proof the next step in their journey by sharing the lessons FICO experts have learned about building resiliency during tumultuous times. To register, visit https://fico.com/en/virtual-events series.