Customer-centric collections isn't a new idea, but in the current environment it has moved from a blue-sky idea to a critical initiative for many lenders. In a presentation last month at the Collections and Vulnerability Conference, I explored this topic.
Customer-centric collections is not the same as customer-level collections or customer-level view and product-level collections. Institutions can set up customer-centric collections without disrupting their operating model.
The reasons why this is important span multiple dimensions. Regulations concerning breathing space, persistent indebtedness and right outcome are already in place in the UK, with more set to follow. Customers expect that lenders know everything about them, and get frustrated when collectors don't know what they should know. And the technology is available to make this happen:
Cloud enabling the layering of capabilities to service use cases
Enterprise-wide platforms enabling advanced data orchestration and wrangling, with collaboration across authoring and decision management and immediate response to events
APIs and micro services driving real-time decision and strategy execution
In addition, the finance groups have gotten much closer in their understanding of what drives financial results, including the way institutions deal with debt collection, especially under IFRS9. Inefficiency and ineffectiveness in collections has a long-term cost.
Customer-Centric Collections Today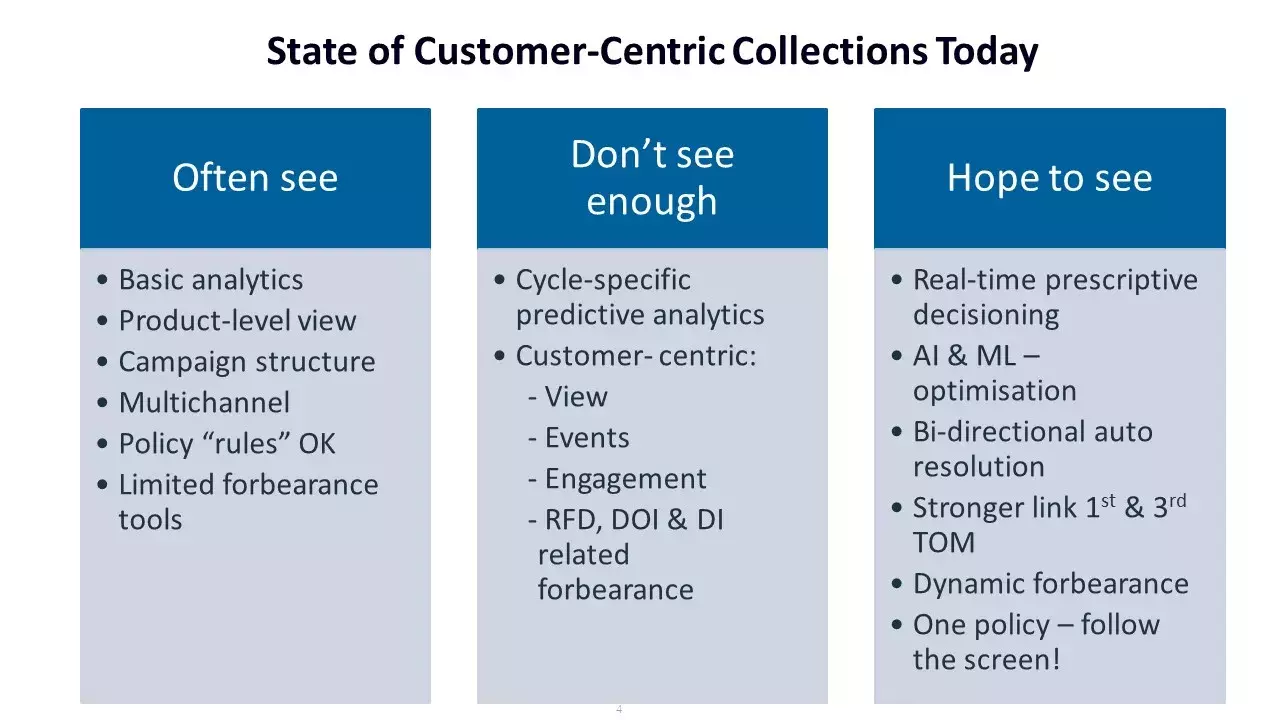 I work with collections organizations and DCAs across EMEA, and here's my view on the state of customer-centric collections today.
Often see
Basic analytics – originations and CEM-driven behaviour score, predicted roll to default.
Product-level view – with minimal to no view of other product holdings or history of collections activity on those products.
Campaign structure – this is the focus, still driven by month-end decisioning and working in 30-day blocks. The dialler has become the decision engine!
Multichannel – multiple independent channels with no integrated dialogue between the differing messages, resulting in hectoring of customers.
Policy rules OK – the lack of analytic insights and data-driven rules means policies are used as a safety net.
Limited forbearance tools – predominantly term extension, no ability to use the differing instruments of restructure – interest, arrears, principal, term, step ups, balloons, settlement.
Don't see enough
Cycle-specific predictive analytics – used from cycle to cycle or better to avoid IFRS9 stages. I'd certainly like to see more analytics focussed on maximising the in-cycle multiple strategies for digital, dialler and placement.
Customer centric:

 View – all products and relationship data, allowing for a fully rounded view,
 Events – synergy of treatment and relevance if holding more than one product.
 Engagement – communication pulse across all activity, not just collections.
 RFD, DOI & DI related forbearance – true understanding of the customer's circumstances, including reason for delinquency, duration of impact and disposable income.
Hope to see
Real-time prescriptive decisioning – driving best next action and extending across the 1st and 3rd party strategy.
AI & ML – optimization – the most optimal decision targeted at an objective goal with quantification of constraints. There are 11 key areas of optimization across the C&R cycles.
Bi-directional auto resolution – let those that will self-serve do so, efficiently, conveniently, with confidence and trust. Aim for full self-serve forbearance.
Stronger link TOM 1st & 3rd party – make it more seamless, see 3rd party as welcome extension. Have a sale and return philosophy, and share the hard-earned data.
Dynamic forbearance – how dynamic can you be to retain future good customers? From solar panels to house swap to repo avoidance optimization.
Only one policy – if you truly take a data-driven, customer-centric approach, your one policy for agents should be to follow the screen!
My final thought on customer-centric collections is an answer to the question, "Why should we do this now?" Because we have to, we need to and we can.
For my full discussion of customer-centric collections, watch this video.