I've been blogging about FICO clients that are succeeding in their journeys toward customer centricity. Today I'll share the story of the second client, which I'll refer to as Bank B.
Having attained the #2 market share position in a maturing growth market, the bank needed a way to keep growing. After years of aggressive expansion, including into subprime populations, Bank B was seeing revenue growth slow and delinquency rates climb. As economic conditions began to deteriorate, bank executives cut marketing budgets in an attempt to rein in losses. Increasing competition made it more difficult to book new accounts and keep good customers. The bank slid to #4 in market share.
To turn this trajectory around, executives knew Bank B had to make better decisions to drive profitable growth. Seeing the profit gains achieved by other banks using decision strategy optimization, they called in FICO.
Bank B had analytics-driven decision applications for originations, customer management and collections. But it wasn't using these applications for all they were worth—even at the account level, much less for customer-level decisions. Because the bank wasn't following basic best practices for segmenting account populations and testing targeted treatments on segments, it wasn't obtaining full value from its data-driven applications. And these operational deficiencies would certainly prevent the bank from achieving the performance boost it was aiming to achieve from strategy optimization.
Bank B's operational problems were partly caused by a familiar challenge: organizational silos. As shown below, with each decision area operating essentially on its own, there was little consistency to how accounts within a population segment were treated. A customer with a delinquent account might be receiving calls from collections, while at the same time being awarded a credit line increase from customer management.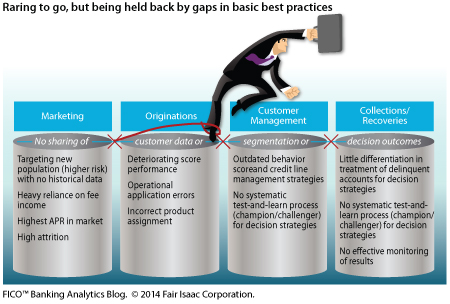 Another problem, common in growth markets, was that the abundance of new customers enabled Bank B to succeed without having to take any real notice of the differences between them. More often than not, all accounts were treated the same, causing underperformance across the customer lifecycle. Lack of differentiation in marketing resulted in high acquisition costs and attrition rates for new accounts. In originations, it resulted in incorrect product line assignments and credit line decisions that drove revenues down and losses up. In collections, it resulted in wasted resources, high costs and lackluster results.
The good news for banks in such circumstances is that simply addressing operational deficiencies can substantially lift performance. FICO helped Bank B improve segmentation of account populations at originations, then carry it across decision areas. In each area, we helped the bank target decision strategies to segments, then measure effectiveness through controlled test-and-learn cycles with production populations. Ongoing champion/challenger testing (pitting an alternative strategy against the current best performer, then promoting the winner) drives continued performance improvements.
As a result of these changes alone, Bank B has been able to grow profitably, regaining its #2 position in market share. In addition, the bank now has the operational fundamentals in place to begin using optimization at the account level. By rapidly identifying winning strategies that might otherwise be discovered only through many test-and-learn cycles, Bank B can expect to achieve additional performance lifts in the range of 10 to 30%.
To read other customer centricity success stories, I invite you to download our new Insights white paper: "Customer Centricity: Four Bank Success Stories" (No 78; login required).