Debt Collection & Recovery
In my last post, "Debt Collection in the Pandemic: Why UK Customers are Dissatisfied", based on insights obtained from a FICO and Censuswide customer survey, I looked at the importance of KYC ("Know Your Customer") in collections and some of the practical steps that you can take to eradicate customer dissatisfaction by ensuring the delivery of effective communication. These steps included:
Getting the right data
Using more analytics and
Executing customer level collections
Now let's dig a bit deeper into the results of the FICO and Censuswide survey and look at how you can ensure that you are well set for effectively managing inbound customer demand
At the start of the pandemic, the initial surge of customer demand, for the majority of financial institutions, was created by the introduction of payment holiday schemes. This demand put significant stress on collections operations, with many unable to cope with the volumes of calls received. The inability to deal promptly with customers' concerns led to the high levels of dissatisfaction and frustration detailed in my last blog. However, the demand witnessed is not surprising, as our survey showed that the telephone is still the most popular method of communication for customers when trying to contact their financial providers.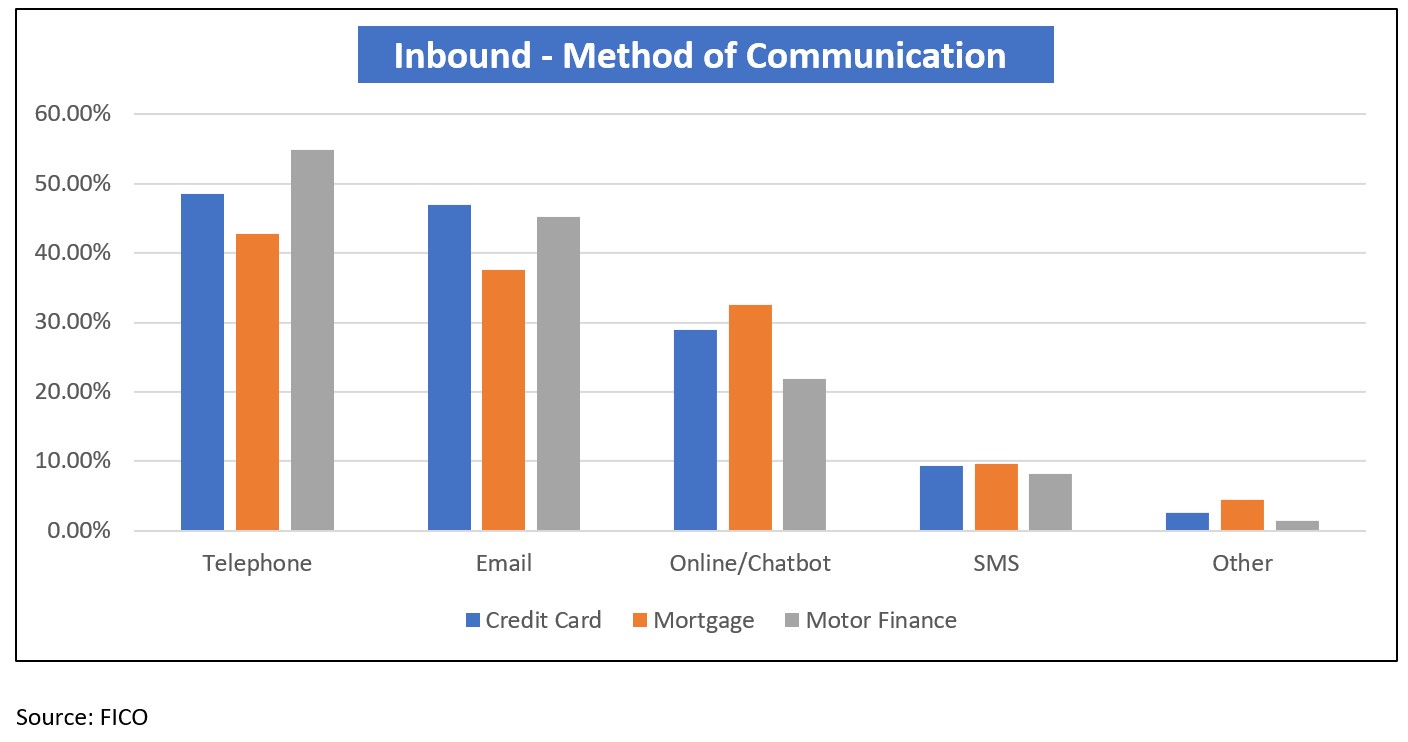 Email was a close second when trying to gain contact, with online/chatbot and SMS coming 3rd and 4th.
These findings are very interesting when you consider that we are supposedly in the era of digital transformation, with frictionless customer journeys the name of the game. Why would customers default to the telephone as the primary channel with the availability of email, online websites, chatbots and SMS? My thoughts are that:
At a time of crisis and panic people default to the route that they perceive to be the one that will give them an instant, reassuring answer, in spite of the fact that they probably know there will be challenges getting through – see Figure 2 below.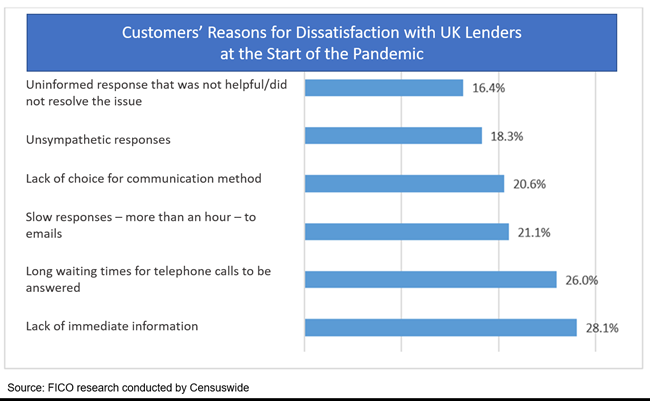 While many customers attempted contact via email, our survey found that 21%% of customers were dissatisfied with the time it took to get a response. This demonstrates that, in the absence of a genuine, automated 2-way email process driven by sophisticated artificial intelligence and machine learning, email is constrained and does not speed up the process of resolution or alleviate friction.
For online/chatbot, customers do not have faith that their queries would be answered quickly enough, via the online channel, even in the event of a "live chat" being available, particularly if there is high customer demand. This may be compounded by a lack of genuine self-service capability and the fact that while chatbots are useful for solving relatively simple problems, they are not that effective at solving complex or emotional queries.
SMS is a constrained channel when it comes to the customer instigating contact. Customers may feel that SMS did not allow them to express their situation or the extent of their concerns sufficiently, nor get an appropriate response within a reasonable period of time.
I am sure that many businesses will have spent time reflecting and reviewing their business contingency/disaster recovery plans with a view to identifying what they could have done differently, and what should be put in place to handle a similar situation in the future. Here are some practical things that you can do to get on the front foot.
Checklist for Meeting Inbound Customer Demand
1. Why are customers contacting you?
Even in a time of crisis, when things are seemingly out of your control, it should be possible to identify the reasons people are trying to speak with you. Understanding this is key to operational excellence and delivering superior customer journeys. This is actually one of the key questions we ask our clients when helping them to automate their Inbound processes but, unfortunately, the answer is not always readily available.
2. What does the "Why" tell you?
Once you have this insight it will enable you to identify what customer calls can realistically be automated and which calls will still require manual intervention. The automated customer journeys can then be designed taking into consideration channel availability, channel suitability and channel preference.
3. How agile is your current Inbound IVR?
One of the main constraints during the initial stages of the pandemic was the ability for businesses to quickly change the content and configuration of their Inbound IVRs. We know that Inbound IVRs provide great self-service opportunities, but they can also be used to educate customers quickly, and effectively on alternative channel availability, at times of significant demand. By signposting customers to these alternative channels demand load can be spread across multiple channels thereby reducing operational stress.
In addition, introducing tactics such as interactive SMS and email to provide automated acknowledgement responses, in the event the customer has been unsuccessful in gaining resolution via the IVR, can meet customers' expectations, mitigating any concerns or fears they may have. As a result, having the ability to change your IVR should now be considered "critical path" in relation to effectively managing customer demand, particularly from a business contingency or disaster recovery perspective. If an upgrade of your telephony infrastructure isn't possible right now, one alternative is the introduction of a low-cost omnichannel platform with an inbuilt Inbound channel. This would enable you to run a "parallel" Inbound capability providing you with the agility to make quick changes, as and when required.  
4. How can you improve the channels that you currently offer your customer that allow them to initiate contact?
As we saw in the survey results, the "digital" channels of online, chatbot and SMS were not favored by customers when initiating contact. This is disappointing and demonstrates that most organizations are still on a journey of delivering a digital experience for their customers.
For online, in particular, and as a starting point, it is probably worthwhile establishing how many customers across both the whole business — as well as those who are in, or have been in, collections —have either registered for online access or have downloaded your business app. Gaining this basic insight will help you introduce appropriate outbound campaigns that will help you manage future excessive customer demand. For example, notifications can be sent to app customers signposting them to different channels, including online. Alternatively, sending SMS or WhatsApp messages, with URLs, to registered online customers makes life easier for them to get to the point of resolution without having to pick up the phone.
5. What self-service capability do these channels offer them?
One of the great benefits for customers of having a wider choice of communication methods, regardless of channel type, is the ability to self-serve and resolve matters without having to speak with a live agent. These options should be reviewed on a frequent basis to ensure that they remain relevant, are being fully used by customers and are in line with business policy.
In my next post I'll be taking a final look at the FICO and Censuswide customer survey as it relates to customers' expectations when it comes to being contacted by businesses via proactive customer contact. In the meantime, if you have any questions regarding this post or would like to discuss ways that FICO can support you in improving your collections performance, please email me at huwvaughan@fico.com.