In my series of posts on the disruption caused by the pandemic to financial services customers in the UK, and the impact on debt collection communications, I have explored:
Now let's look at what customers experienced when financial service providers proactively attempted to reach out to their customers during the same period.
As we can see from the first graphic, in answer to the question "Did your financial service provider contact you in the most convenient way for you? over one third of those surveyed said "No".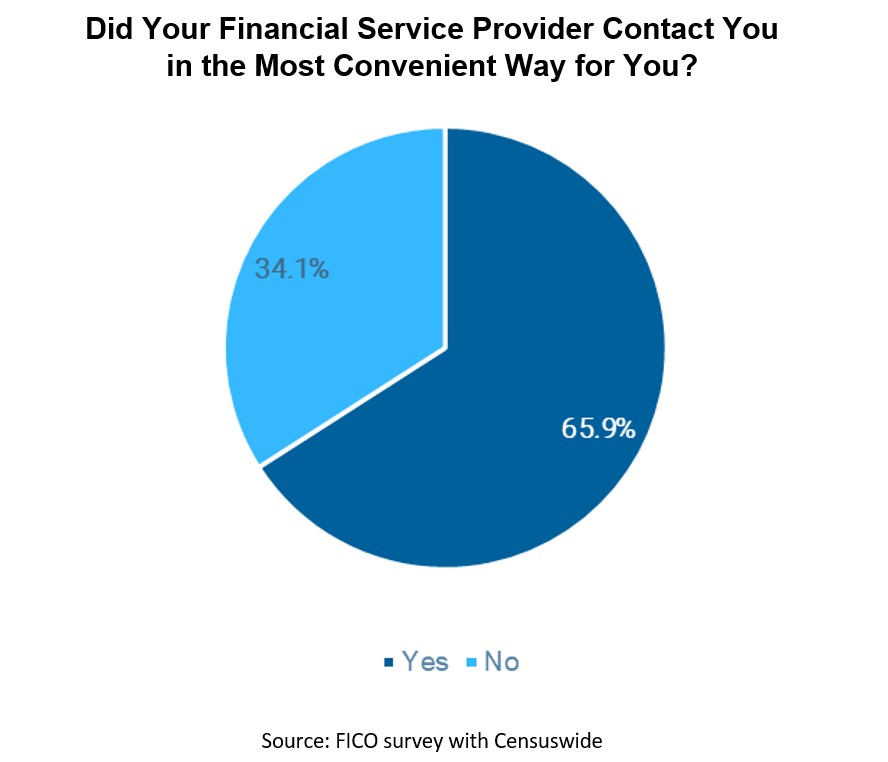 This was driven by generational differences, on a sliding scale, with Gen Z being the least satisfied (45% said No) and Boomers being the most satisfied (26%).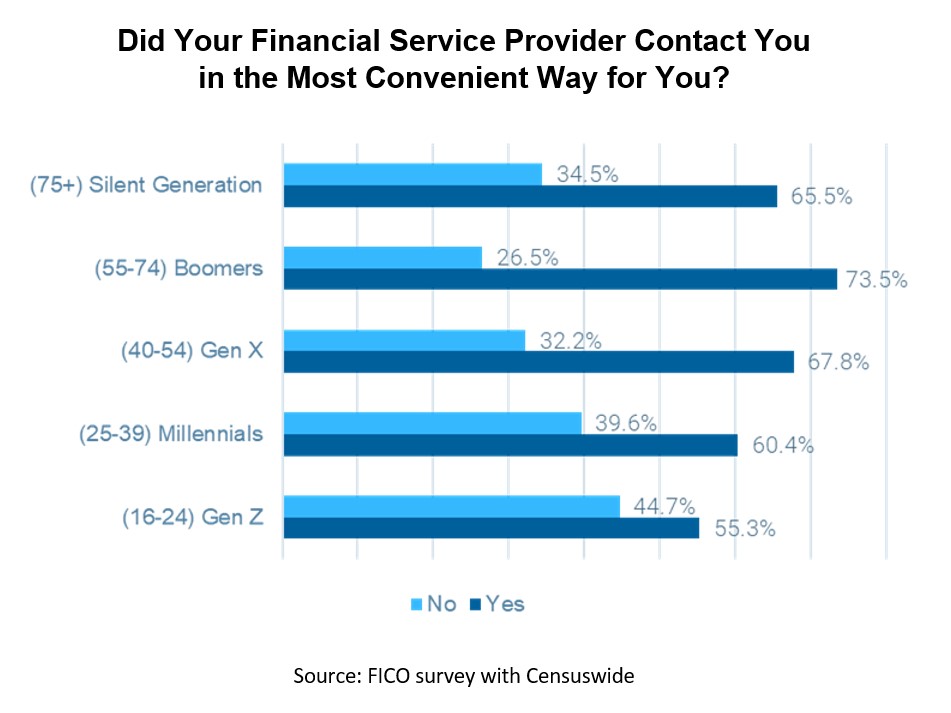 This shows the critical importance of KYC in collections, particularly gaining your customers' preferred method/channel of communication. Data capture, analytics, and flagging/tagging accounts should be relatively straightforward, but this isl only one piece of the jigsaw. The trick is to make sure your contact strategies act on this preference. If you're not attempting contact in the right way, then this should be one of your top actions to take in the early part of 2021 to increase customer satisfaction.
In order to gain further insight into customer preferences, FICO and Censuswide also asked customers what their preferred method of contact would be.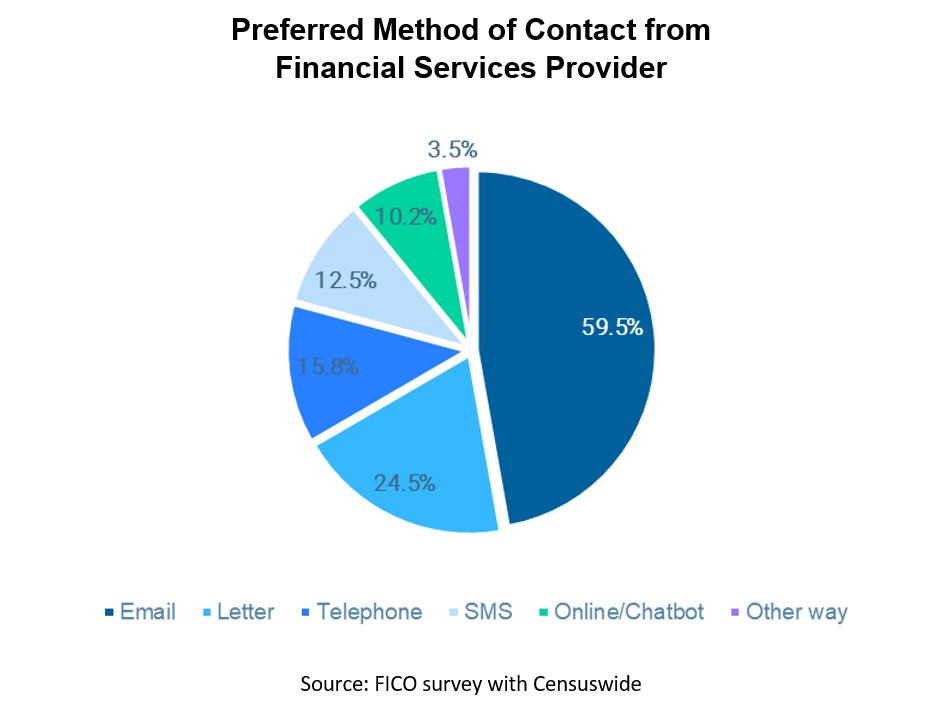 This data is really interesting on a number of levels:
It indicates that borrowers want to avoid "direct" engagement with their financial services providers, with only 16% wanting to receive a phone call.
The overwhelming channel of choice is email. From my discussions with collections teams, email is a channel most avoid, almost at any cost. Many fear that email is susceptible to security risk, fraud, and spamming, driven predominately by compliance and/or infosec teams. This results in collections teams deciding not to use a channel that customers appear to be confident and comfortable with. The big question here is, "What can you do to give the same degrees of confidence and comfort to your internal colleagues/stakeholders, tasked with supporting you in delivering customer expectations?"
In November 2017 I posted a blog that posed the question "Does your omnichannel strategy match what customers want? using the data from FICO's 2017 Collections Communication Survey. The survey showed that, while the most common outreach attempt by financial service providers was a letter through the post (31% of respondents) the actual preferred channel of notification was a text message (42%) followed by email (23%). Since then, customer perspective and preference has changed significantly: text messaging has plummeted in popularity from 42% to 13%, and email has risen from 23% to 60%. Amazingly, even the humble letter saw an increase in popularity from 14% to 25%.
This data demonstrates the importance of keeping in touch with your customers and understanding their communication preferences.
Six Next Steps
Read my recent post "Debt Collection in the Pandemic: Why UK Customers are Dissatisfied" and review the importance of KYC in Collections, particularly when it comes to identifying customer preference in terms of channels of communication.
Arrange an independent survey of your collections customers to obtain a high-level view of customer channel preference. At the very least, this insight will enable you to consider prioritising which channels to use first.
When designing your contact strategies, ensure that you have a way of automatically collecting channel preference data. For example, as part of an interactive SMS dialogue you could include a SMS that is structured as follows:
Please let us know how you would prefer to be contacted in future.
Press 1 for an email
Press 2 for a text message
Press 3 for a phone call or
Press 4 for a letter
When the customer selects an option you can then send them an acknowledgement/thank you SMS to let them know you will take this preference into account if you need to contact them in future.
In relation to point 3, ensure that the responses you receive from these types of messages are captured in any output file or data return and flagged on your host/collections system. In future this will then allow you to segment customers into cohorts that are grouped by channel preference, setting up and running associated campaigns and improving your propensity to contact.
In the absence of a process that identifies and updates actual channel preference, use analytics to identify what channels customers resolved on previously, and set up campaigns based on this insight instead.
If you are not already using email in your collections contact strategy, use the insights provided by my blogs and the FICO and Censuswide data to build a compelling business case as to why your business should embrace it.
I hope that you have found this series of posts useful in providing, and stimulating, ideas that will help you to manage through the many customer contact challenges we face during these interesting times.
Next month I will be posting an exciting article on the importance of channel orchestration in the world of omnichannel, using real-life data to demonstrate what happens when you get this right.
In the meantime, if you have any questions regarding this post or would like to discuss other ways that FICO can support you in improving your collections performance, please email me at: huwvaughan@fico.com.