This is my second blog in a series of five, recapping the key principles in my talk at FICO World 2016. Those five principles can transform the way organizations can create and deploy analytically powered applications:
1. Capturing subject matter expertise 2. Accelerating intelligent solution creation 3. Faster insight to execution 4. Building institutional memory 5. Greater analytic accessibility
With this blog I'll dive into accelerating intelligent solution creation, and how it helps enterprise IT organizations to significantly reduce the complexity of solution creation.
Less Legacy…More Innovation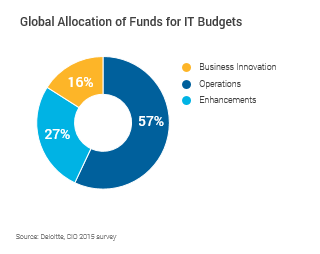 Legacy applications consume an extraordinary amount of IT dollars; only 16% of IT budgets go to innovation.
Today, innovation dollars are getting further reduced and all the new innovative applications built this year will need to be maintained in the following years. Most companies underestimate the complexity and cost of maintaining applications, and find themselves with less and less dollars and personnel to innovate.
That's where Rapid Application Development (RAD) and Deployment approaches come into play. Not only do they allow enterprise applications to be built much faster, but also decrease application maintenance costs by:
Making applications that are easier to change
Making it easier for the operations team to diagnose issues
Using less staff
Improving quality because of abstract development and auto generated code
Less maintenance investment can translate into more innovation.
The secret to Rapid Application Development has to do with complexity and collaboration. I know this is true based on my own experience; I used to be Java developer, and before that a C developer, and before that I wrote FORTRAN code. Rapid Application Development presents a sea change in solution creation in three ways:
By abstracting development to an easy-to-use visual interface, developers can be more productive and new developers can be brought up to speed more quickly.
By defining a standard extensible way in which integration with enterprise data sources or systems can occur, more systems can be integrated and more code re-used.
By automatically generating all the necessary code for tracing and logging needed by operations, the collaboration between development and ops is improved.
Putting Principles to Work
FICO has taken Rapid Application Development (RAD) capabilities and combined them with Decision Management, allowing our customers to accelerate intelligent solution creation.
We looked at the many FICO Professional Services customer implementations, extracted best practices and common patterns, and transformed them into out-of-the-box services. As with any good technology company we started using these best practices and patterns ourselves.
We re-architected FICO® Origination Manager using our own Decision Management Suite, and these best practices to create a new origination solution that would accelerate and streamline deployment for customers. In the process, we reduced our own developer effort by 75% and were able to deliver the project in just over 6 months.
Now let's take a look at how intelligent solution creation benefits FICO customers. Note that when FICO started this journey, it took us on average 18 months to develop and deliver a solution to a customer. We've dramatically shortened that time by integrating RAD with Decision Management.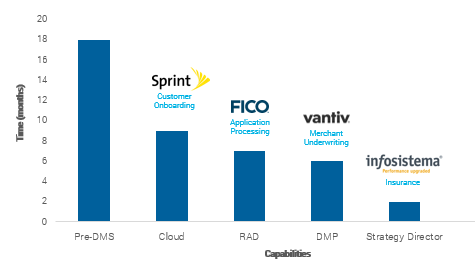 Watch Video: Sprint leverages FICO to build a customer onboarding system in just nine months
Serving more than 55 million subscribers, Sprint wanted to completely revamp the way it did customer onboarding, and wanted to do it quickly. The wireless company needed to replace its existing credit portal used for new US consumer and business mobility customers. The portal contains multiple originations processes including third party bureau connectivity, risk scoring and custom decisioning rules.
Sprint gets hundreds of thousands of customer applications for service each week. For each customer, Sprint needs to figure out the optimal type of device, how much of the purchase price they are willing to subsidize, what kind of plans will be offered for selection, what kind of deposit will be required, and so on. Sprint optimizes the offer made to each customer to boost customer satisfaction, improve the probability of long-term retention, reduce risk, and increase overall portfolio profitability. Those are very complex factors to juggle.
Using FICO Decision Management Suite, Sprint estimates that by quickly optimizing offers for new customers, they saved millions of dollars in customer acquisition and setup costs. They also they realized these savings quickly; using a cloud-based deployment of DMS, Sprint didn't have to procure any hardware and rely on their overburdened IT organization. FICO delivered a complete customer onboarding system in just nine months.
Watch Video: Vantiv delivers a new merchant onboarding system in 6 months
Vantiv is one of the largest payment processors in the United States, processing 17 billion transactions a year, with a base of nearly half a million merchants and partnering with over 1400 financial institutions across the country. They have customers ranging from Walmart to mom and pop delis.
Vantiv was growing very rapidly, and it became evident their onboarding process needed to be improved – it was not agile, flexible or scalable enough. Just to give you an idea, they had a manual onboarding process in which it would take an analyst up to 9 days to make a decision on an application. They knew they needed to automate their decisions, not only to speed up the process, but also to make sure they were managing their risk better.
Vantiv worked with FICO on an end-to-end merchant onboarding solution, based on the Decision Management Suite. Today, instead of 9 days it takes minutes for an application to be processed, helping activate a merchant account much faster – which translates directly into revenue growth.
They wanted to run on premise, but didn't want to wait for their IT organization, so we built the entire project in the cloud and in parallel their IT prepared their infrastructure. Thanks to our rapid application development and deployment capabilities, and their adoption of an agile methodology, we delivered a merchant acquisition solution in less than 6 months.
Infosistema creates an insurance solution in just 2 months
Infosistema is a technology consultancy based in Portugal, with more than 20 years of experience in banking and insurance building web portals, mobile applications, BPM/Workflow, SOA and Analytic solutions.
The insurance industry started facing disruptive change thanks to new technologies like in car analytics, smart homes and wearables. Those technologies are eroding the advantages of scale that large insurers enjoy and are leading to smaller players with new business models. Decision technology plays an important role in the whole cycle of insurance; quoting, underwriting, claims and litigation. Infosistema found a way to help insurers quickly adapt their decision-making to keep up with industry transformations and they were able to build that solution on the Decision Management Suite in just 2 months.
In my next blog I'll talk about the third decision fundamental, faster insight to execution.