IDC just completed its first ever IDC Marketscape on Decision Management Software Platforms (doc #250351, September 2014). In the MarketScape, IDC evaluated five decision management platforms in this study, defined as software offerings where a software vendor has pre-integrated components for advanced analytics, rules management, and model development and deploys them into a single decision management software platform.
While IDC has been covering decision management for a long time, it has only been in the last few years where
"…decision management platforms have emerged to combine component technologies in an integrated offering."
The IDC Marketscape offers that
"… despite the importance of decisions to performance at all levels of an organization, systematizing the process of making decisions only exists in small pockets of a business, with a small number of people. However, this narrow application of the concept of decision management is changing as organizations begin to realize that there is a need to shift from the "art of the decision" to the "science of the decision," and as technology evolves to provide greater support of decision making as a management science."
The report also makes some interesting observations about the value of Decision Management more generally, including:
"The returns organizations cited during interviews for this study were impressive — so much so that no single organization would permit publication of the outcomes because the specific decision management solutions were viewed as key to creating a competitive advantage. While the market is only just now emerging, it is of value to understand what decision management platforms can do for organizations seeking to optimize a business process."
In the evaluation, FICO was named a "major player." Besides being recognized for our strategy, the IDC MarketScape recognized us for the flexibility of our decision management tools and platform, and also praised our sales and distribution strategy, specifically our community and partner network. The evaluation validates our fundamental belief in the power and value of decision management software to change the way business is conducted.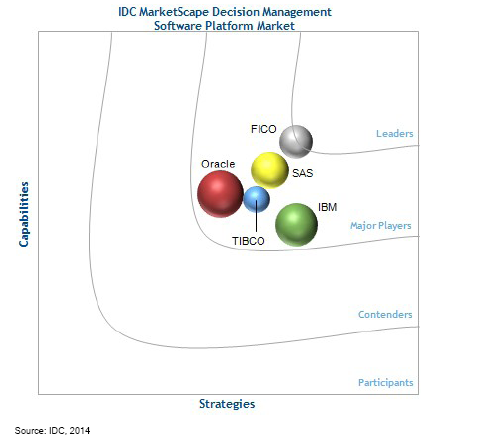 IDC MarketScape vendor analysis model is designed to provide an overview of the competitive fitness of Information and Communications Technology (ICT) suppliers in a given market. The research methodology utilizes a rigorous scoring methodology based on both qualitative and quantitative criteria that results in a single graphical illustration of each vendor's position within a given market. The Capabilities score measures vendor product, go-to-market and business execution in the short-term. The Strategy score measures alignment of vendor strategies with customer requirements in a 3-5-year timeframe. Vendor market share is represented by the size of the circles. Vendor year-over-year growth rate relative to the given market is indicated by a plus, neutral or minus next to the vendor name.