New IDC research predicts that within the next two years around 30% of global Tier-1 banks will rely on relevant and responsible personalization as a key differentiator to retaining loyal customers.
In fact, as early as next year, it's predicted at least one in four (25%) will be reliant on applied intelligence, in the shape of AI sentiment analysis, to improve customer experience via decision platforms. A similar number (25%) of well-established banks also expect to be fully reliant on deployment of data warehouses and analytics operations via cloud-hosted decision platforms.
Digital decision platforms have been driving a diverse mix of innovations. The stellar growth of point-of-sale finance, notably in the shape of BNPL (buy-now-pay-later), is a case in point. It's been around in one form or another for more than 60 years. But with the mass adoption of digital channels, it's now estimated nearly two-thirds (65%) of online customers will try an instant finance option within the next 12 months.
At the same time payments are also set to become faster and smarter with more than one in three (35%) Tier-1 firms using AI-derived applied intelligence models. A similar number (30%), will also turn to AI-assisted next best action programmes across all channels, driving even greater demand for ever-more complex customer management and customer service solutions delivered via decision platforms. It's fair to say personalisation underpinned by applied intelligence and cloud-hosted platform technology will continue to offer a competitive advantage when it comes to winning and retaining digital customers.
While few of the research findings are genuinely surprising, they are relevant, and they are significant.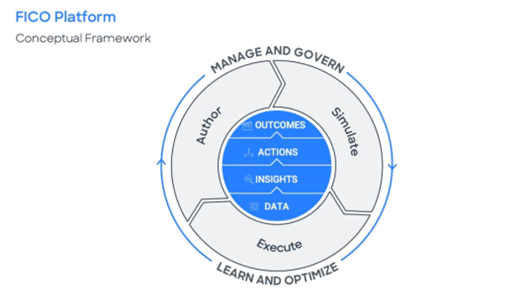 We know that many digital transformation projects fail to deliver what was expected, for many reasons. But success often hinges on agility. For our clients, it's an ongoing mission. Particularly given the way the lines between industries have blurred with competitive guard rails no longer defined by verticals. Telcos are becoming banks, messaging services are becoming telcos, hyper-scale internet companies are retailers and numerous start-ups have created mass-market payment channels.
Key Steps on the Digital Decision Platform Journey
How ready and willing are Tier-1 banks to transform again and again to simply stay relevant to customers and stay ahead of emerging competition? It's a question continually posed in The 11 Commandments of Digital Banking. It highlights why banks vying for a greater share of digital customers are obliged to focus on humanizing the customer experience, always staying relevant and being personable in impersonal channels.
Agility always poses challenges when it comes to delivering value, managing and measuring success. But driven by a combination of consumer expectation and technological development, firms are re-structuring offerings to be more agile, opportunistic and – as far as possible – near-future proofing to market changes.
Top-Performers Continually Deliver Masterclasses in Best Practice
Volvo Cars turned to FICO Platform to digitize and accelerate the customer onboarding process for its new vehicle subscription service, Care by Volvo. By plugging into a cloud-hosted platform, it now approves most applications in real time, across multiple regions, with credit checks lasting a matter of seconds. It replaced a process that historically could take days to complete.
Care by Volvo is a vehicle subscription service designed to let customers enjoy the benefits of a new Volvo motor, without the challenges of owning one. For a fixed monthly fee, Volvo provides subscribers with a brand-new, while covering all regular service, maintenance costs and breakdown cover. The service was introduced to reflect the shift in consumer preference toward car usage and away from absolute ownership.
Volvo adopted FICO Platform cloud-hosted components to deliver maximum efficiency. The technology connects to various external data providers, provides a workflow for managing referred decisions and is integrated directly into digital sales channels. It is used for both consumer and business subscribers. Care by Volvo quickly achieved its goal of real-time decisions for more than 80% of applications. As a bonus, FICO-powered applied intelligence is also being extended beyond Care by Volvo to all digital sales and new battery electric vehicles as the Volvo Digital journey continues to progress across the globe.
Using Technology to Make Decision-Making Personal
European consumer debt purchaser Hoist Finance is improving management and delivering savings after turning to FICO Platform and rolling out a centralized approach to decision-making. Hoist has now improved the customer experience, streamlined operations and sped up processing. Hoist Finance is now making a million real-time decisions every day across multiple regions. It's now expected to deliver a further €8.5 million (US$9.7 million) in annual staff savings as its lending book grows by 40%.
Hoist Finance now manages 18 million accounts across 10 countries thanks to the decision to centralize decisions via a single platform. Prior to working with FICO, customer decisions were managed using 14 different systems. Hoist unified its decisioning technology across all regions, to deploy new strategies faster and improve results through an ongoing process of testing and simulation. It also wanted to ensure it made better decisions by calling on multiple external data sources and using advanced predictive models and AI.
Hoist Finance is currently live with FICO Platform's rules management system in Germany and the UK, with five more countries earmarked to go online within the next few months. Every country involves up to 40,000 rules that are all automated on FICO Platform. The automation and personalization of customer engagements and negotiations, enables Hoist to resolve one in five (20%) cases automatically across its entire group, and around one in three (33%) UK cases.
FICO Platform operationalizes predictive models and scores to deliver multiple, simultaneous challenger strategies that consistently deliver more and more efficiencies. But the results speak for themselves. They include a 30% increase in data-driven, digital payment plans. A decrease of nearly 90% in plan breakage rates. There were also critical environmental benefits highlighted by a 97% lower carbon footprint for each digital resolution, resulting in annual savings of 442 tons of carbon for every 10% increase in digital collections – equating to the same amount of carbon that is generated by around 35 UK residents every year.
How FICO Can Help You Develop a Winning Digital Strategy