Though adoption of digital banking and e-commerce has grown substantially in the past three years, it isn't the case that all consumers prefer to use digital means, namely web portals or mobile apps, to apply for new accounts, cards, or loans. While digital payments and money transfers have been in the spotlight for their explosive growth, digital trust is playing catch up, with most consumers worldwide expressing hesitancy to use digital channels to apply for loans, bank accounts, savings accounts, or credit cards, according to the latest global consumer banking survey from FICO.
Accounts via Digital, Loans Not as Much
FICO's 2022 consumer banking fraud survey shows that customers are split in their thinking on when they sufficiently trust a digital channel to apply for a new account, loan, or credit card.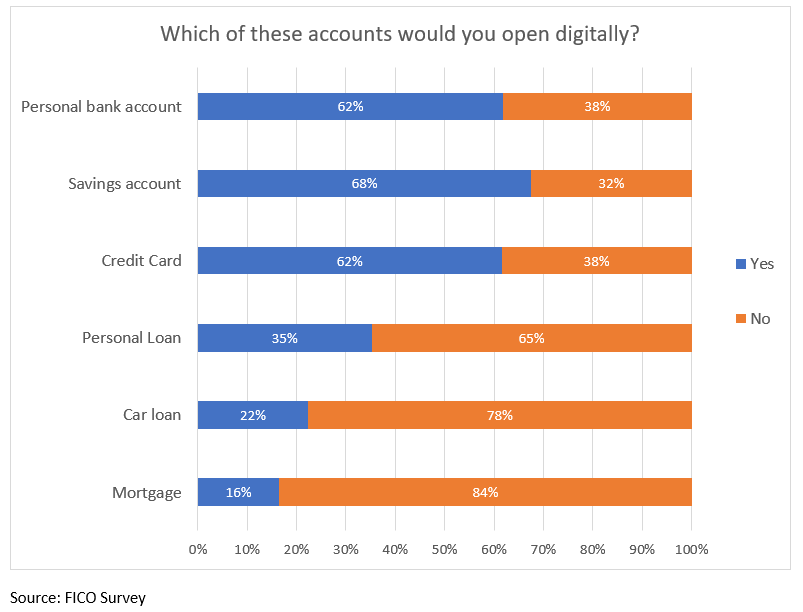 For example, 78% of customers of financial institutions (FIs) globally say they would not prefer to open a car loan digitally. Similarly, 66% would not prefer to open a personal loan by a digital channel and 84% do not want to take out a mortgage loan via a digital channel or process.
In stark contrast, 60% of consumers say they would prefer to open a personal bank account via a digital channel. More than two-thirds (69%) would prefer to open savings accounts by digital, and 56% prefer to open credit cards with a digital process.
Compare the two sets of data and what jumps out is that there are more customers who would rather not use a digital channel to take out a loan than there are customers who prefer digital ways to open other types of accounts. This suggests that while customers are generally trending toward digital adoption, trust remains an issue and they continue to use caution and therefore express concerns about digital channels with their behavior and preferences.
What Are Consumers Worried About?
Customers' concerns clearly become magnified as the product or service in play represents more value, complexity, and liability. For example, in Malaysia 70% of customers would prefer to open a savings account digitally, but 80% of customers would rather take out a personal loan by non-digital means.
The same holds true in Germany, where 66% of customers say they would prefer to open a personal bank account digitally, but only 22% would take out a car loan and just 30% a personal loan via digital channel. 
The US and UK are not far off these numbers either. In the UK, for example, 72% of customers would open a personal bank account digitally, but 76% would not apply for an auto loan the same way. In the US, only 59% of customers would prefer to open a personal bank account digitally – 1% less than the global average – but 76% also would not apply for an auto loan digitally.
Digital Considered Less Secure
Clearly there is a difference in perception across customer bases regarding the security and efficacy of digital banking channels. According to our survey, 69% of customers worldwide consider the branch to be more secure than either mobile apps or web portals. In fact, 61% of customers do not think mobile apps provide security advantages and 65% feel the same about web portals.
FIs can add customer worries about the exposure of their personal and financial information to any third party — even third parties whose role is to protect its exposure. For example, when customers are using a bank's web portal, just 41% are willing to permit a credit check and only 20% would give a bank employee a direct view of their account. Consumers take protection of their personal information very seriously, particularly in the context of any type of financial transaction, be it opening a checking account or applying for a home loan.
Customers Want Good Fraud Protection That's Easy to Use
The upside for FIs is that customers are not denying their digital initiatives, but rather looking for superior fraud protection. Nearly three-quarters (74%) of FI customers worldwide rate "good fraud protection" among their top three considerations when selecting and opening a new financial account.
Similarly, though less than 40% of customers consider FIs' digital channels, including mobile apps and web portals, to be entirely secure, most customers are encouraged by the advent of biometrics to enhance security and reduce fraud. A full 75% of customers or more show trust in fingerprint and face-scanning biometrics, rating them as providing good or excellent authentication security.
Biometrics are becoming more readily available as more mobile devices and apps with biometric capabilities become commonplace. Our survey finds that 61% of consumers worldwide also rate ease of use among their top three considerations when opening new accounts, right along with good fraud protection. FIs now have more opportunities to introduce biometric checks at key points in customer journeys to improve security for digital channels without creating either the kind of friction customers dislike, or situations where customers are made to expose sensitive information through channels they just do not trust.
This post covers the results of the survey across all 14 countries surveyed. To understand the results from the individual countries see the e-books for:
The United Kingdom
South Africa
Germany
Indonesia
Philippines
Thailand
Malaysia
Brazil 
Peru 
Colombia 
Mexico
USA
Canada
How FICO Can Help You Fight Application Fraud