Fraud Protection & Compliance
Latin America is a huge opportunity market for financial services with approximately 70% of the region either unbanked or underbanked. This opportunity is being exploited by a growing number of fintech and banking technology innovators such as Digio, an organisation with the strength of a bank but the agility of a fintech. Unfortunately, this digital growth is a fertile ground for fraudsters, who take advantage of these new organisations and technologies that generally have limited financial experience to perpetrate fraud in Latin America.
That's why Digio partnered with Conductor, a leading payments and banking-as-a-service platform provider in the region, to provide the latest in cutting edge fraud technology provided by FICO.
"Within the South American financial services market, there are thousands of banks," said Armando Junior, Head of Fraud Prevention at Conductor. "They vary greatly in size. Some banks might serve just one hundred customers, while others serve millions. It was very important to us to democratize fraud protection and provide best-in-class solutions to financial institutions that had historically found such security unaffordable."
Conductor realised that more than just detecting fraud, their clients needed to protect and improve the customer experience. Following the implementation of the FICO Falcon Platform, Conductor extended their support to their clients by rolling out FICO Customer Communication Services for Fraud. This omnichannel communications platform — enabling automated communication via email, voice, SMS, and mobile applications — has proved particularly valuable in reducing false positives and improving the customer experience.
Digio has been able to take full advantage of this integration by implementing FICO Falcon Fraud Platform to identify fraud faster, double their fraud detection rate to 60% and reduce false positives. Also, by adding Customer Communication Services for Fraud, they have been able to increase their customer contact rate to 72% above market average.
"Now, when we identify suspected credit card fraud, we are able to confirm the transaction by communicating with the customer through the best channel," said Márcio Dutra, Product Security Manager at Digio. "If it is a false alarm, it is also possible to quickly reprocess the transaction."
To learn more about the benefits Digio have enjoyed from FICO solutions through Conductor, see below.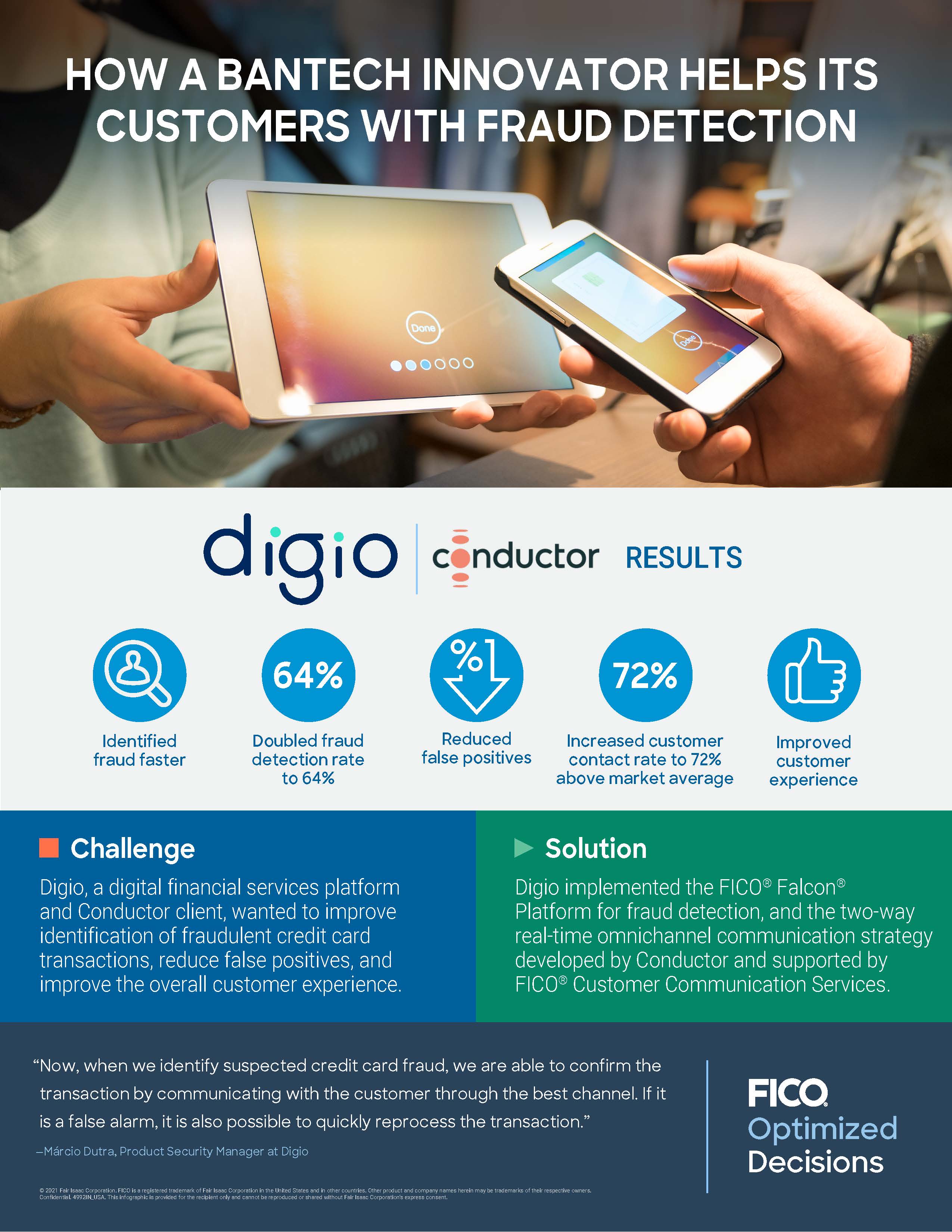 To hear more about my thoughts on fraud and financial crimes, follow me on Twitter @fraudbird.