Following the highly successful The 11 Commandments of Digital Banking eBook, we are completing our series of 5 deeper dive blog posts that group the 11 Commandments below into common themes:
Digital lift-and-shift is not a strategy!
Friction – not inherently good or evil
Be personable in this impersonal channel
Respect the data
Engage me, teach me – feed my TikTok obsession
Use your branch wisely!
Respect my time and match my effort
Pester me … but only when I want it
Be fascinated by your customers, not your technology
Make customers feel safe
Come together like a symphony orchestra
In this post, I'm discussing Commandment #11: Come together like a symphony orchestra.
The best digital transformations result in data, systems, and processes all working together like a finely tuned orchestra. It's painfully obvious to customers when a digital experience is disjointed – they can see the seams.
Financial institutions need to invest in integration and orchestration. Testing is key. Sweat the details!
Come Together Like a Symphony Orchestra
"Only those who have the patience to do simple things perfectly will acquire the skill to do difficult things easily."  – Friedrich von Schiller
To outshine the competition and succeed in today's market, you need to do everything well. You have to display excellence across all customer interactions and provide smooth transitions between channels. The entire customer banking journey should be intuitive, flowing seamlessly from onboarding to account management and support.
Don't neglect the small details. You can be 99% of the way there and the last 1% can kill you. You can't have a fantastic onboarding process and then let things fall apart after you've acquired a customer. Your existing customers expect and deserve VIP treatment. If you get it wrong, customers will opt out or find what they need elsewhere.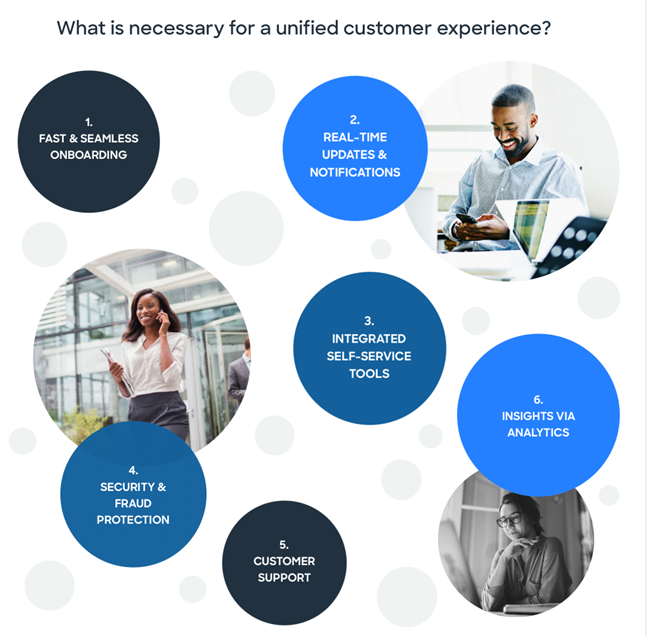 This final digital banking commandment is therefore the key to successful digital transformation: bringing everything together like a symphony orchestra, which requires the right technology as well as a business culture that embraces learning and change – even if it's uncomfortable.
The best (and perhaps only) way to accomplish all of this is with an applied intelligence platform that centralizes and analyzes data, and enables collaboration from disparate sources. This technology uses the cloud to deploy analytics and provides reporting, simulation, communication, and decisioning capabilities that empower your enterprise to be more agile and resilient.
Customers have increasingly higher expectations for digital banking experiences, which means you need a way to make faster, better decisions. A decisioning platform helps solve horizontal, cross-team challenges while addressing your individual business needs. It means you can learn in a controlled fashion, optimize interactions with customers, and stay compliant through it all. However, your organization must have a healthy environment where everyone is prepared to learn, test, make mistakes, grow, and evolve.
Let's review what we've learned from the first 10 Digital Banking Commandments:
Use Digital Transformation as a Chance to Reimagine Banking
Financial institutions need to approach digital transformation as an opportunity to build something fundamentally new. "Going digital" isn't about streamlining banking transactions to the maximum extent possible. It's about optimizing each interaction so that the value the customer gets is proportionate with (or ideally greater than) the time and effort they invest themselves.
Think about the digital journey you're trying to take people on. Consider how your interactions with customers must adapt to different digital channels versus a physical branch. Banking doesn't have to be boring! Be enthusiastic and make customers feel like they made a great choice opening your app or website.
Successful digital transformation also means using your bank branches wisely and creatively. Rationalize your branch footprint and optimize your use of it. Branches can be a differentiator, but only if they are used in the service of your customers' goals rather than your own.
Read my post: 11 Commandments of Digital Banking: The Customer Journey
Respect Your Customers' Time and Data
Demonstrate that you value your customers' data and that you're using it to provide them value in exchange. Only ask for information that you truly need and that hasn't been supplied in the past, and look for external data sources that can help you verify. Do the work for your customers; don't pass the work along.
Be proactive and find ways to increase value for your customers. Leverage your data to deliver better, more personalized customer experiences. Utilize decisioning solutions and analytics programs that allow you to conduct A/B testing and run simulations to improve interactions and processes.
Always be respectful of the time customers give you. Make sure you understand where you are putting in friction and ensure that it's deliberate. Unintentional or unnecessary friction in the customers' experience is always bad – however, friction itself is not inherently evil. Customers will accept more friction if it helps them feel secure.
Read my post: Digital Banking Commandment: Respect Your Customers' Data!
Provide Transparency, Trust, and Security
When it comes to money, people want to know what's happening. This is especially true in a faceless channel. Timely communication, through the right channels, makes customers feel in control. You have an opportunity to strengthen your relationships with customers every time they interact with your website, mobile banking app, or branch employees. Remember that trust is the #1 thing banks have that many FinTechs don't have.
Trust in financial services, at a foundational level, is about safety. Customers need to know you're providing a secure environment. Use digitalization in a way that continues to reinforce your customers' trust in your financial institution and helps them understand that their assets are safe. Remember that customers bank with you because they trust you, and digitalization should not change that.
Make sure there are rational reasons, approaches, and explanations for everything you do. For instance, if you're making people drive to a physical bank branch to make a deposit, have a good reason for doing so (e.g., compliance). But remember that compliance and regulatory issues don't have to negatively impact the customer experience.
Read my post: Secure Digital Banking And Customer Communications
Foster Intelligent Communication and Customer Engagement
While many consumers are digitally savvy, they're not necessarily financially savvy. Banks should be playing an important role here, but when Americans consumers were asked, "What is crucial to the future of your financial success?" only 1% of them mentioned banks.
You need to find ways to engage people with interesting content that teaches them how to master their financial lives without lecturing or talking down to them. Pay attention to how you speak to customers and the language you use. Make sure your content is easy to like, comment, and share. There's nothing wrong with making it fun!
Consistently challenge the status quo, but keep your strategies coordinated. Everyone thinks they own the customer – from marketing and fraud, to servicing, product, and collections. You need to have a single "digital communications brain" driving your company's interactions so you're not overwhelming customers or sending out contradicting offers.
Be Customer-Driven
It's about the customer journey and not just about digital transformation. Great technology can't replace an obsessive focus on and knowledge of your customers. For the most part, banks have been using technology to drive their digital banking processes. However, the best practice is to have the process be customer driven.
Consider the advantages of various digital channels and how to leverage your capabilities to create an intuitive (and even fun) experience for the customer. Remember, technology is an enabler – the customer experience and customer outcome is at the center of all of it.
Read my post: Digital Banking: Humanizing the Customer Experience
The Bottom Line
"In a time of drastic change, it is the learners who inherit the future. The learned find themselves equipped to live in a world that no longer exists."  – Eric Hoffer
Digital transformation never stops. Customer expectations evolve. New competitors emerge. Legacy systems and processes age.
Success requires continual reinvention, adaptation, and a willingness to experiment.
Banks no longer compete on products, but on experience – and today's customers compare their banking experience to the experiences they get from companies like Apple and Uber.
Although the perils of investing poorly in digital infrastructure remain, it is a transformation that your financial institution needs to understand… and sooner rather than later. Fortunately, technological advancements are making it increasingly more achievable to digitize your operations in a way that supports your bank's strategic goals, provides your customers with a great experience, and adds to your bottom line – especially if you adhere to these guidelines.

FICO has helped the largest financial institutions in the world successfully navigate the challenges of digital transformation. Are you ready to join them?
How FICO Can Help You Advance Your Digital Banking