This story of digital collections starts with Steve Jobs. Before the iPhone was released in 2007, mobile phones were just phones. But when Steve Jobs unveiled the iPhone, customers could suddenly switch between multiple channels on the same device. Then, in 2018, Google presented a service called Duplex that enabled customers to use Google Assistant to make appointments for hair and restaurants, etc. The complexity of these calls is very similar to that of collection calls. And, at FICO, we believe it's only a matter of time before the banking industry is replicating this kind of AI for collections.
McKinsey has echoed our industry forecast, writing recently that digital is becoming best practice for collections and recovery. In their research, they found that a digital omnichannel approach is achieving results such as:
20-25% reduction in non-performing loans
25% increase in resolution rate in 30+ days past due
15% reduction in cost
5x increase in customer engagement
We've seen similar results with FICO customers. We've also been recommending an omnichannel digital approach for years and have some thoughts on what it takes to be successful.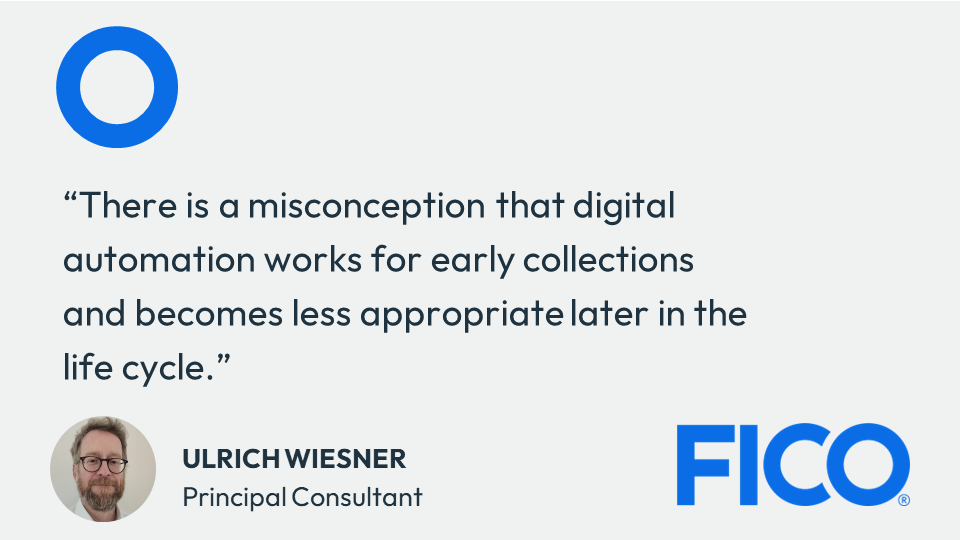 What Does It Take to Be Successful with Digital Collections?
There is a misconception that digital automation works for early collections and becomes less appropriate later in the life cycle. In fact, many of our clients are proving just how outdated that thinking is.
At a very basic level, automating customer engagement for collections is about understanding who should be contacted and with what intensity. We see the building blocks for successful digital engagement as:
Agile strategy management: It's unlikely that your strategies are going to work from the onset, so it's extremely important that you have the ability to change your strategies easily and quickly.
Quantitative approach: You need to understand how each step in your collections dialogue works, whether it's successful and where customers drop out. Knowing the conversion rate from one step to the next is paramount.
Cross-functional strategy team: You should have a team made up of strategy, business, and eventually IT, who review strategy performance on a regular basis and come up with ideas for what to do differently, and how the process can be improved.
Continuous learning: Your new strategies should be champion/challenger tested against existing approaches to create a continuous learning loop.
Low code/rule configuration: With a low-code approach, you enable your business—rather than IT—to make changes. IT capacity constraints tend to prevent the continuous update approach.
Strategy version management: Ideally, IT is only involved in strategy version management and the staging to production, but leaves modifications to strategy and process configuration in the hands of the business.
Decision system capabilities: Decision technology in place needs to support the agile approach with appropriate functionality including flexible and easy-to-use configuration capabilities, version management, support for simulation and testing, champion-challenger, etc.
Targeting Customers with the Right Contact Data
It goes without saying that delivering the right message, to the right person, at the right time, and through the right channel is vital to customer engagement. But even more critical to success is having the right customer contact data. And yet, many organizations complain about not having good contact data for collections.
Ideally, contact data is captured while the account is still current. Originations is the most reliable time for this, and you should document as many contact channels as possible at that time. You should also have a dedicated team to professionalize your contact data research, and periodically test that the contact data is current.
Your contact data research team should maintain a systematic approach to measure the effectiveness of their efforts, with an escalation scale based on the value of the account. They should also have a story for contacting customers. It should be personal, specific—even better if it offers help. And it should include listening to the customer. For example: At what point does the customer hang up?
If customers do not complete conversions or call outcomes are not as desired, the reasons need to be investigated. Are we presenting the message in the right way? Are we offering relevant options? Organizations who continuously ask these questions and take actions against the findings will likely get much better returns from their investment in digital technology.
What's important for digital communication? Key takeaways:
Segment your portfolio. Be targeted and personalize your message.
Have something to say. Don't use the same message with everyone.
Listen to your customers and allow them to provide feedback.
Measure what you do. Understand what's working and what's not.
Be agile. Test, learn, change, and repeat!
Learn More About How FICO Can Help with Digital Debt Collection and Recovery