Fraud Protection & Compliance
With digital transformation unfolding in front of us, banks are managing a lot. From the rapid and sudden shift to online and mobile banking, to exploring artificial intelligence (AI) and hyper-personalization, the finance world is changing quickly. Banks and other financial institutions are adopting a digital first strategy, and there's no going back.
The shift to digital payments has spurred a reinvention of the humble wallet. Product hawkers exhort us to ditch the old "Costanza-style" behemoths for something newer and sleeker. But I will go one better – I travel with no wallet all. Not in the traditional, physical sense anyway, as my wallet diet has led me to wholeheartedly embrace digital transformation.
All I really think I need is an ID holder for my driver's license, since I've migrated most other payments options like my debit card and credit cards to my digital wallet (AKA my smartphone). And I'm not alone, as many others are eagerly moving their payment information into things like Apple Wallet and Samsung Wallet for daily use.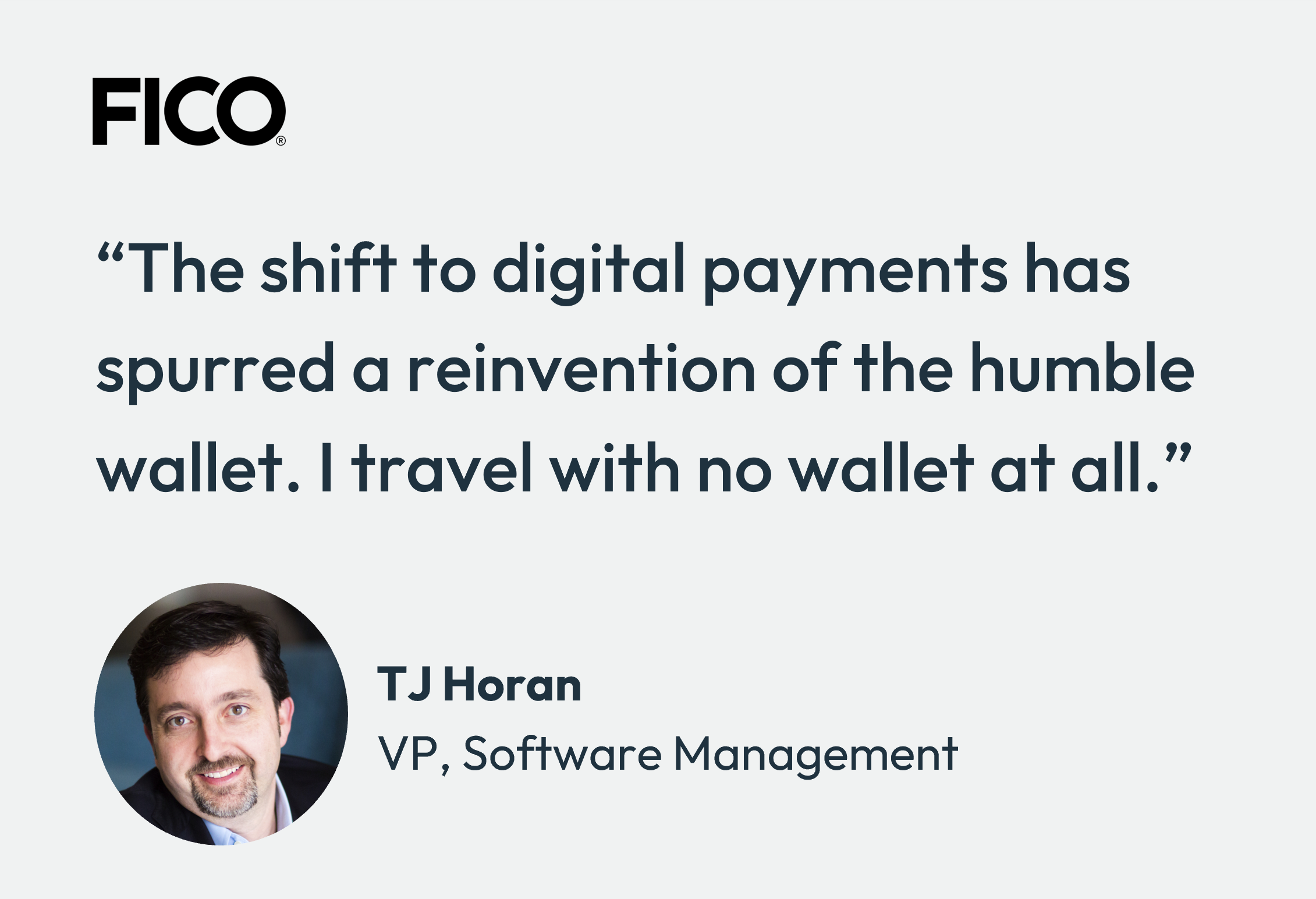 Innovation Born of Necessity
Recently, my digital wallet visions were tested by my rusty golf skills. Since we've had far more rain than usual in Southern California, I felt the urge to hit the driving range at the first hint of clear skies. In my rush to get out the door, guess what I left at home? My ID holder and cash. I could not so much as finance a bucket of range balls.
At the range I had a choice: try to borrow $13 bucks from a perfect stranger or go home and get my wallet – credit card, debit card, cash and all. Before I left, I had a moment of insight: my digital wallet was in my mobile device which was in my pocket.  I had my phone with me and wondered if contactless payment technology would help me pay for a bucket of driving range balls.
To my surprise and delight, the ApplePay logo was displayed on the dispenser's payment terminal. I was thinking to myself, "There is no way this bolt-on technology contraption is going to work." But work it did, and seamlessly at that. What would have been a wasted trip turned into a learning experience about how transformation enabled me to hit golf balls, and turn my biggest problem into driving without a license.
Changing Payments Channels, Changing Strategy
The e-wallet market is projected to hit nearly $1 trillion by 2030. Digital payments are also growing fast among consumers and businesses, with some predicting 7 of 10 mobile device owners in the US using mobile peer-to-peer payments by 2025.
India has taken a real lead in this trend too, moving quickly towards a cashless economy. Consumers in India processed 48 billion digital transactions across bill payment, wealth and loan management, insurance, shopping, and entertainment as far back as 2020.  
This is happening mainly because wallets and the things they hold – cash and payment cards – are undergoing a digital transformation, into various finance apps on your phone. For most payment transactions, and an increasing number of ticket and ID checks at hotels and airports, a smartphone is sufficient to move through the world and pay for it.
A digital wallet not only reduces what's in your pocket, it makes management of many things easier, like buying and then not losing tickets to absolutely anything, including your next flight. It can also pose challenges, like tipping the people who look after us along the way. And as with any emerging technology, there are inherent risks that should be understood.
Making Things Easier
Some things are much easier when my digital wallet is connected to an app that offers useful automation. For example, ticketing apps sell tickets and concessions in the same place and make it easy to pay using a QR or bar code. When I buy the ticket on my phone, it stays in my digital wallet.
When partners offer discounts or chances to win prizes, I can opt-in from the same place. I don't have to take out my wallet in a busy place, looking for coupons, fumbling with cash or coin – all those little annoyances and risks go away when I use contactless digital payments. It's an end-to-end experience that's simple and easy, and offers the kind of hyper-personalization that keeps me happy and loyal as a customer.
Similarly, airports can automate many transactions and offer enhanced self-service with smartphone-based payments. Grab a snack, scan the bar code, scan your payment app, and off you go. Simple transactions like this can become so convenient with automation technology they are an afterthought.
Also Making Things Harder
On the flip side, the digital wallet-only approach can make some things much harder. Imagine attending a meeting at a hotel with valet-only parking, when a presentation runs late and you need to get to your next meeting.
You run to get the car and notice a long line of folks queueing up. Acting fast, you head off the valet, but when you go to slip him some cash to help you with your problem, all you have is a digital wallet (and you can't hand that over). Even if you have a real-time money transfer app like Venmo, Zelle, or PayPal, there is not an immediate way to incentivize someone you do not already know, especially if you do not use the same app.
The Lurking Risks
Any time we adopt emerging technology, especially when it relates to instant payments, there are new risks to consider. Here are three risks that grow due to transformation of the mobile device into a digital wallet:
Spending too much: Not having to dig into your pocket to pull out a wallet removes practical barriers that help people think before they spend. A digital wallet lacks that friction, which can make it easy to spend too much. Automation of payments can also lead to spending you aren't even thinking about!
Purchase privacy: Digital payments usually have a social aspect, and accounts can also be shared among family members. In such cases, there's no longer the opportunity to make a purchase discreetly without, for example, jeopardizing a great birthday surprise. Some of the thrill of receiving cash or a gift from a loved one may be diminished due to digital transformation.
Potential Scams: Sometimes hotels will put QR codes in the room so guests can leave a gratuity, such as for the housekeeping staff. But criminals can and will do the same thing. Knowing for sure who the QR code belongs to and that it's legitimate becomes a concern. And even if the QR code is legitimate, how does the money get to the intended recipients? Where is your payment data stored, and who is responsible if it is stolen? While digital wallets make instant fund transfers easy, they also open the door to potential scams. 
We always need to balance the convenience of a digital wallet against the risks that they pose. In the digital-only wallet era, we are going to have to learn new ways to look out for each other so we can enjoy benefits like scanning an app at the driving range, while working hard to not fall for a scam.
How FICO Can Help Digital Transformation (And Not Just For Your Wallet)
For more of my latest thoughts on digital transformation, fraud, financial crime and FICO's entire family of software solutions, follow me on Twitter @FraudBird.