As noted in my previous post, over the last five years there has been significant growth in exposure, card balances, sales and, to a lesser extent, cash usage on UK cards.
This is despite a decrease in the number of total accounts, as acquisitions have not outpaced attrition. Looking at our March 17 report, less than 1% of total card accounts were booked that month, and just under 8% of accounts had been on the books 12 months or less, showing slow growth rates. Fortunately, payments growth has exceeded these metrics and total 1 to 3 cycle accounts and balances decreased over this period.
That reduction in delinquent balances isn't true across the board, though. If you look at the vintage level, you see a different story. Veteran accounts (5+ years) are responsible for the positive news above, and to a lesser extent Established (on the books 1 to 5 years).
New accounts (on the books less than 1 year) show early warning signs:
The number of 2 cycle accounts has grown 188% in the last five years and 52% in the last three years.
The number of 3 cycle accounts has risen by 260% in the last five years and 60% in the last three years.
The total sum of delinquent balances at 2 cycles has grown by 60% over the last three years, and 3-cycle balances have grown by 80%.
New account sales have increased over the last three years as a result of the numerous promotional offers in the market, and many issuers' account growth objectives. This compounds the problem above. Issuers should keep any eye on delinquency metrics in the coming months for this vintage, especially if new account volumes continue to slow.
However, despite these numbers, the percentage of active accounts and total balances that are delinquent are not at the highest levels in the five years. In March 2017 they were 4.5% and 3.2%, respectively.
Delinquencies Cause Problems as New Accounts Mature
During 2016, average New credit lines were significantly increasing and these accounts are now maturing into the Established vintage (on book 1 to 5 years), resulting in rising average delinquent balances.
In the first quarter of 2017, the percentage of 2+ cycle accounts and balances reached over two-year highs, and average 1+ cycle balances followed this trend. Average 2 cycle balances experienced 14% annual growth and reached the highest point since August 2009.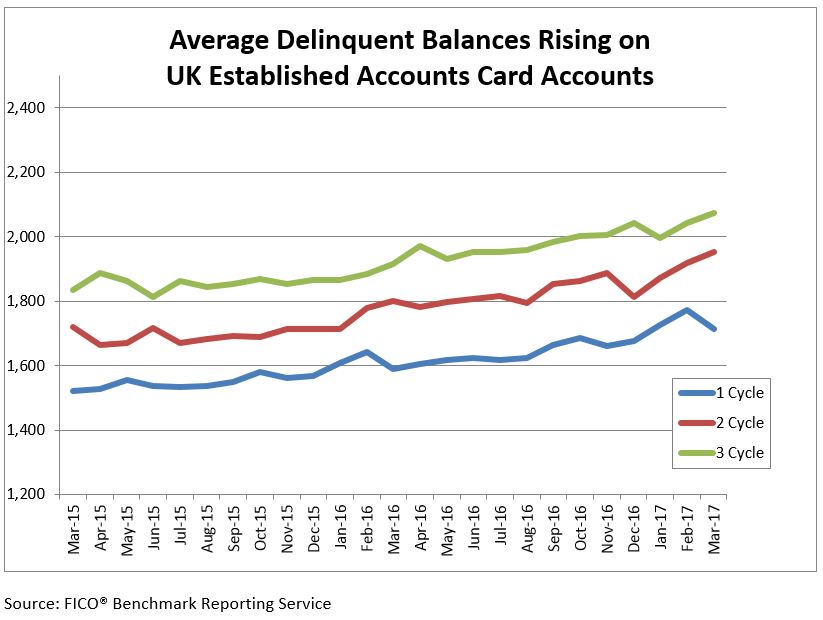 Last year we discussed this trend with issuers and determined that lower-quality accounts were being approved, albeit with lower limits in most cases. Specific online channels from comparison websites contributed to this lower quality, as did changes to acquisitions score cut-offs and the relaxation of some policy rules.
The rise in average delinquent balances could also be attributed to a focus in collections on reducing the percentage of accounts and balances, rather than prioritising accounts with higher balances.
The ratio of payments to balance on Established accounts reached the lowest point in more than two years. Although this will be in part due to promotional offers in the market, in light of the increasing delinquency results this is worth issuers monitoring closely.
As with line increases, issuers are looking more and more to optimisation projects to maximise benefit from the data available to build strategies and determine next best action in collections.
The card performance figures are part of the data shared with subscribers of the FICO® Benchmark Reporting Service. The data sample comes from client reports generated by the FICO® TRIAD® Customer Manager solution in use by some 80% of UK card issuers. For more information, contact me at staceywest@fico.com.
In my final post in this update on UK cards, I'll discuss how the FCA's prospective guidelines on credit cards will impact line increases.