Fraud Protection & Compliance
The changing global regulatory landscape and ever-shifting fraud vectors are just two of the biggest challenges facing financial institutions. I recently sat down with Sidhartha Dash, Research Director at Chartis Research, for a conversation about the technology and trends in enterprise fraud management. Our lively discussion touched on a wide range of topics, and I encourage you to watch our entire talk for all the details.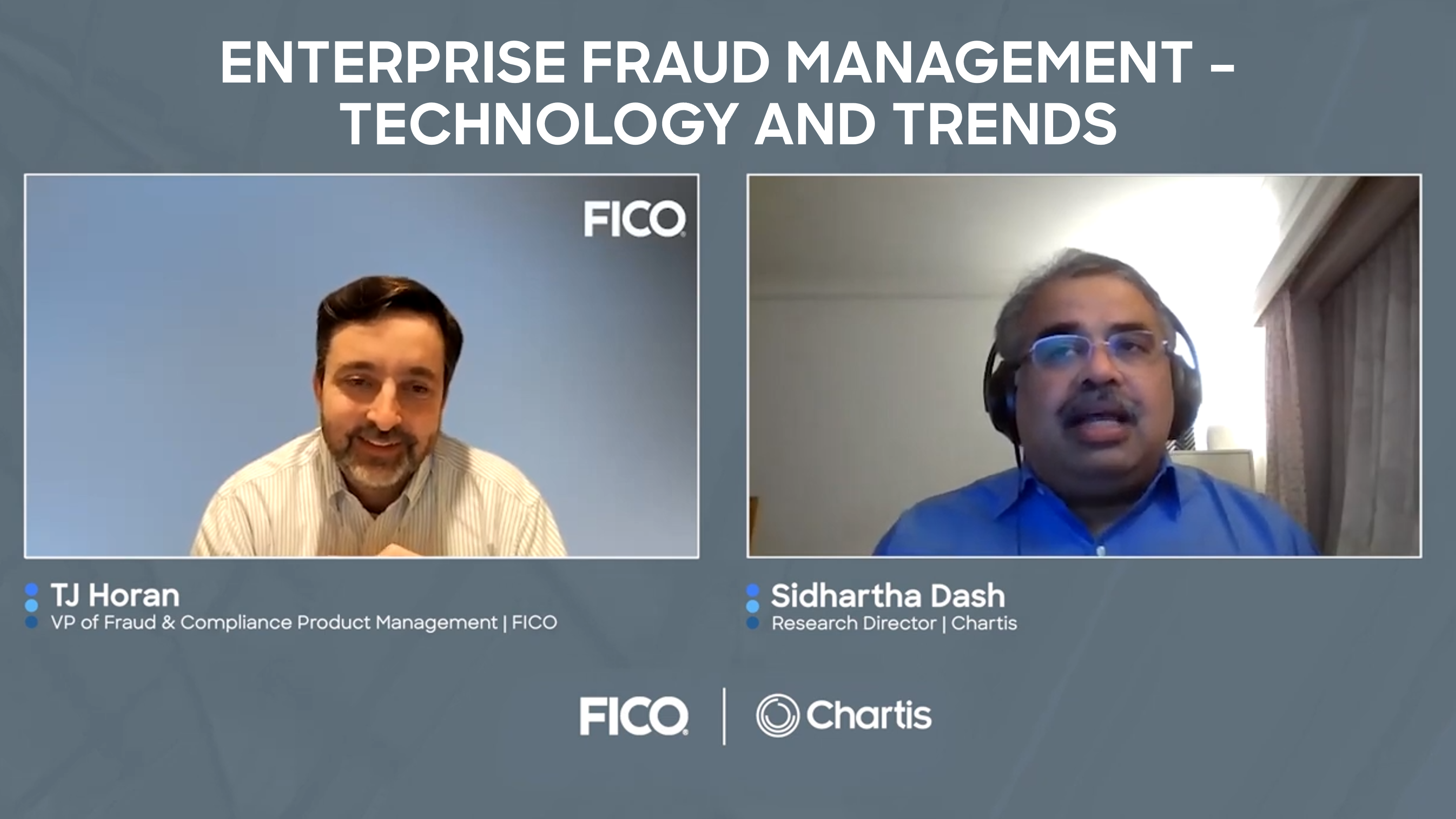 From fraud and financial crimes technology convergence to the need for explainability in your technology (particularly your AI/ML model outcomes), there is no shortage of thorny, complex issues to tackle in your own enterprise fraud management. Below are some key points and takeaways from our discussion.
Fraud and Financial Crime Technology Convergence
(Video Discussion: 2:15-7:30)
Should you centralize or converge fraud and financial crimes operations and technology? That largely depends on your organization. It's a topic that I addressed in a separate blog recently as well: Technology Convergence: Fighting Fraud and Financial Crime.
While some companies may find they can easily gain operational efficiencies, others may have good reasons to keep fraud and financial crimes operations separate. From ensuring that analysts can work closely with core banking infrastructure to managing for different KPIs, organizations have to make the best strategic decisions for their unique situations.
Flexibility and Explainability
(Video Discussion: 9:20-13:50)
At the heart of any fraud management operation is the question: What fraud detection technologies and techniques will best work for the business?  From supervised vs unsupervised models, to proprietary vs shared models, we talked through what companies need to be looking for in detection technology and analytics.
The two key elements we explored were flexibility and explainability. Flexibility is really tied to the idea of using the right pieces (models, data ingestion abilities, scalability) to support the specific line of business and to address the problems faced there. Real-time card transactional monitoring requires one set of capabilities; application fraud detection and prevention require another.
Explainability, too, has multiple facets. At FICO, we emphasize explainability in everything we do – a fact that my colleague Dr. Scott Zoldi eloquently details in his blog post Creating Explainable AI.
In the context of an enterprise fraud management system, the first facet of explainability is being able to understand and explain it to others, both internally and externally. The second facet is being able to understand why and how the systems are doing what they do, so that you can respond to the problems encountered across different channels and experiences.
The Future of Enterprise Fraud Management
(Video Discussion: 24:32-31:44)
Enterprise fraud management is certain to change as technology advances, fraud techniques change and consumer preferences shift. Our discussion explored what some of the most likely potential developments will be, from gaining clarity on structured and unstructured maps to the evolution of analytics in light of the increasing need for explainability.
Improved access to data – and putting that new data to immediate use – was also one of the key themes in our conversation. Using data to inform and enhance analytics, and particularly analytics that can help monitor and improve an organization, is one area that I am personally excited to see evolve.
Pick the Right Technology Partner
These are just a few of the topics that Sid and I discussed, and I definitely encourage you to watch our entire conversation for more details and insights. You can also download the recent Executive Brief that explores some of these same issues in more detail.
For a thorough review of the best enterprise fraud systems on the market, check out the most recent Chartis Market Quadrant report: Financial Crime Risk Management Systems: Enterprise Fraud; Market Update and Vendor Landscape, 2021. You'll see that FICO was named the overall category leader.
We're also proud to have been recognized in Chartis' 16th annual RiskTech100® report, where we were ranked sixth overall and won category awards for Innovation, Artificial Intelligence Applications, Financial Crime – Enterprise Fraud, and Retail Credit Analytics.
Whether you are just starting your enterprise fraud management journey or have been deeply involved for years, be sure to make an informed decision about the best technology to meet your needs.
Want to talk fraud management systems? Tweet me on Twitter @FraudBird.
How FICO Fraud Technology Can Help Your Enterprise Fraud Management Programs