Fraud Protection & Compliance
In August 2022, we commissioned a survey of 156 global executives and managers from retail banks and retail financial institutions. We asked about priorities, plans and requirements for enterprise fraud prevention and detection solutions, and the results are fascinating.
As a long-time fraud fighter, I am always curious about the priorities and investment levels that executives are looking at for fraud solutions. The data from this survey revealed global trends, along with regional differences, that demonstrate the ongoing commitment that financial institutions have for finding and stopping payments fraud.
Investing in Fraud Prevention and Detection
One of the key themes that we saw in the results is the continued investment in enterprise fraud management systems. 65% of the respondents indicated that their companies plan to increase operational expenditure for fraud management anywhere from 5% to 20%+.
Additionally, most of the respondents (65%) are also planning major or strategic investments in fraud management solutions in the next 18 months. This ties into an overall trend we're seeing – namely, having a customer-centric, enterprise fraud framework as a competitive differentiator.
But what concerns are execs trying to solve for their customers and their business? I was delighted  – but not surprised – to see that fraud prevention for customers was the top issue for 64% of respondents. That focus on preventing fraudulent activity remains top of mind, especially as scams skyrocket and legislative action seems imminent (at least in the US).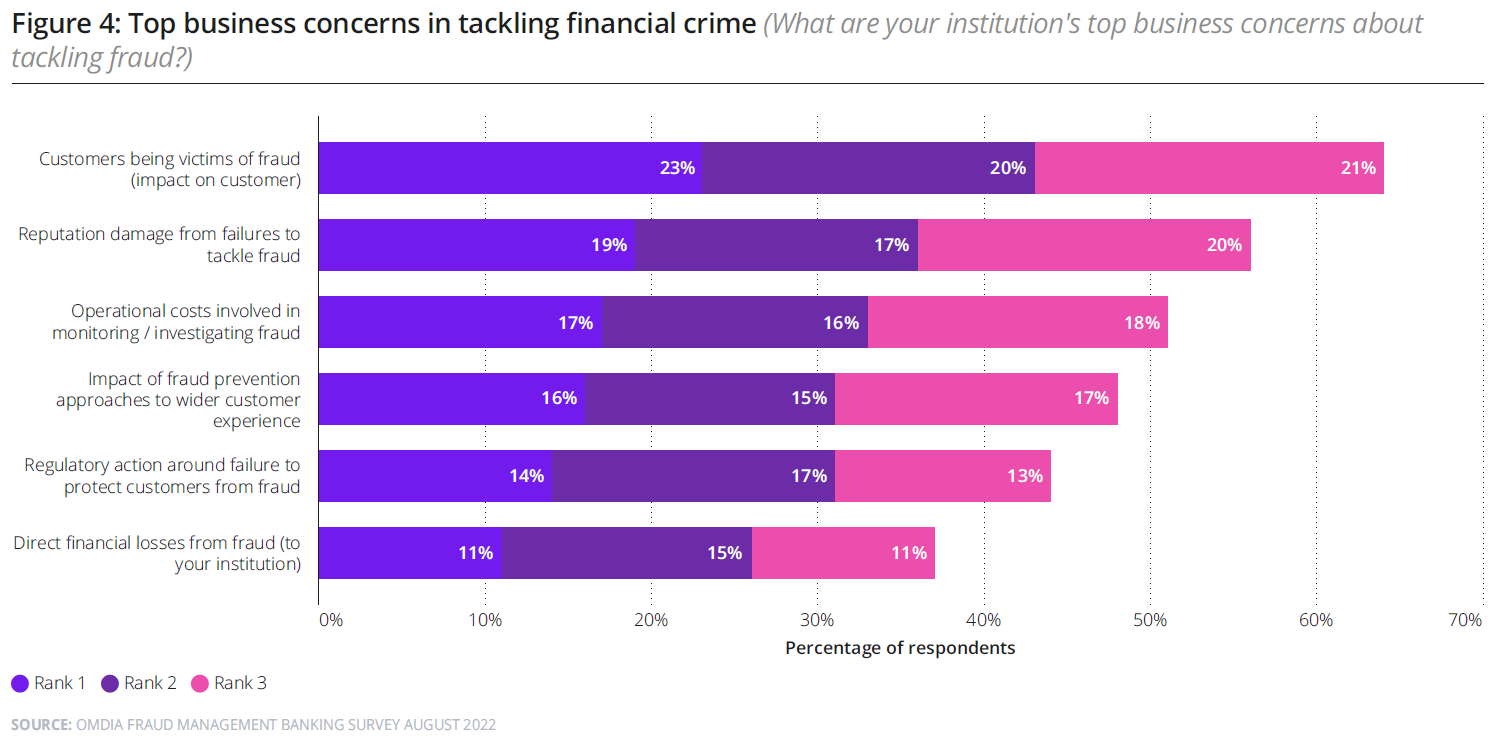 Rounding out the top three concerns were preventing reputational damage from failure to tackle fraud (56%) and operational costs in monitoring/investigating fraud (51%). What I found particularly interesting was that while direct financial losses were a concern for (37%), they ranked at the very bottom of the list, showing the increasing focus on customer-first, customer-centric operations at banks globally.
By prioritizing their customers and their reputations, banks are demonstrating their commitment to improving fraud prevention and detection across the enterprise. The right technology can help organizations on both of those fronts, while also providing a foundation that supports real-time automation and rules updates to help drive down costs and stop fraud losses; two-way communication to improve customer experience; and transparency throughout the decisioning process for regulatory compliance and reporting.
Pain Points in Fraud Management Vary by Region
One of the questions we asked was "What are your top pain points regarding tackling fraud?" The answers ranged from high levels of false positives to length of time to process fraud alerts, all the way to feeling like current systems were lacking innovation.
The regional differences were most intriguing, with clear differences among the four global groups surveyed. The study found that more FIs in EMEA and APAC cited high levels of false positives as a top pain point. In North America, the length of time taken to process fraud alerts is a top pain point for 55% of FIs, highest among the global regions. In LAC, the top pain point for 55% of respondents was speed in responding to new threats.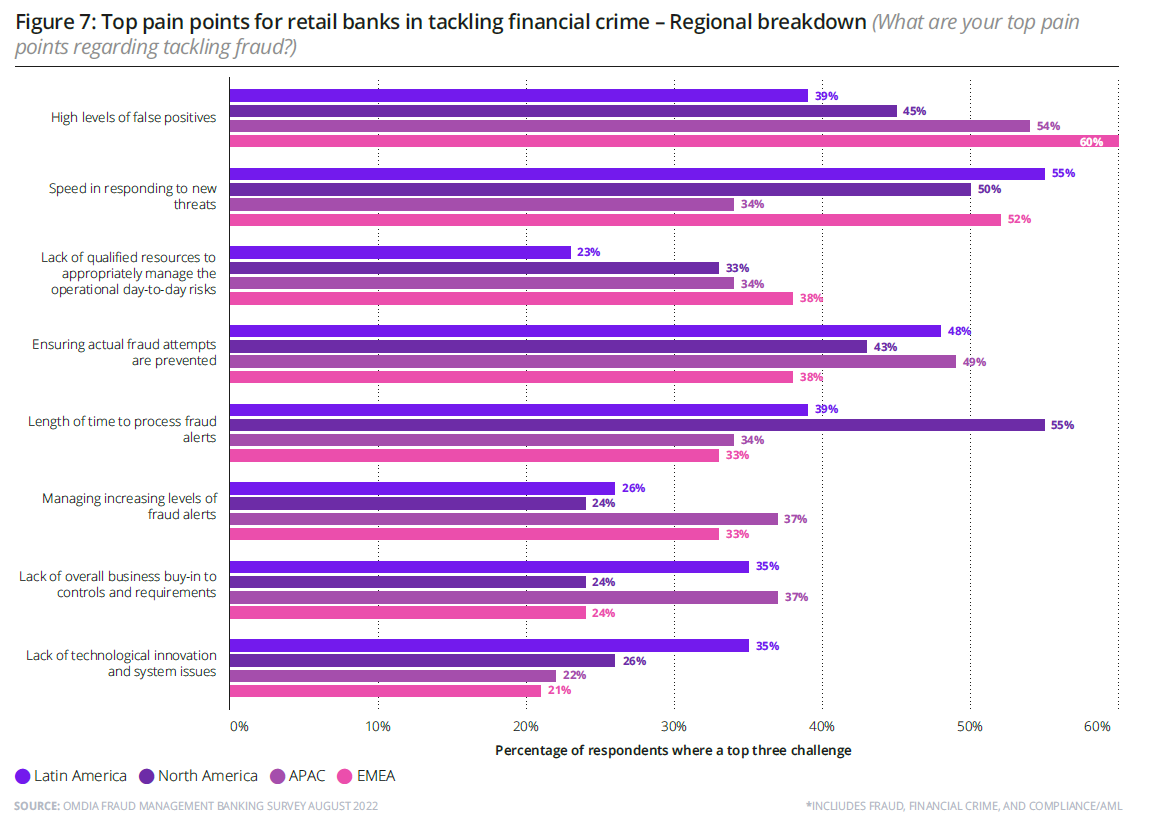 All these different pain points showcase different levels of maturity and system efficacy. They also show the complexity of the fraud landscape around the globe, as well as differences in operational sizes and resource availability. Some banks are certainly able to manage all their fraud strategies in-house, while others work with processing partners or other service providers where more advanced fraud capabilities might not be available.
This also highlights cultural differences and priorities. For example, both customers and banks in EMEA are quite comfortable with more stringent account authentication requirements. But in the US and Canada, we often take a more passive approach, leaning more heavily into frictionless experiences.
These regional insights emphasize the fact that banks need the flexibility to adapt their fraud management strategies to their specific geographies, lines of business and operational priorities. A flexible, enterprise (or customer centric) -based approach gives banks that flexibility and can deliver immediate ROI, especially when paired with advanced analytics and models that have been developed with artificial intelligence and machine learning (AI/ML).
Adaptability, Speed to Resolution Top Global Priorities
When asked what the top priorities were to improve effectiveness in fighting fraud, survey respondents cited the ability to adapt to emerging fraud threats as the number one issue globally, at 55%. A close second was ability to resolve fraud more quickly (45%), followed by reducing false positives (41%).
These results show that banks are feeling the acute pain of new and evolving fraud threats. To successfully fed off the onslaught of fraud, banks require solutions that give users real-time controls and the ability to deploy existing and custom-built models, both to improve speed to market and increase overall performance over time.
Banks also indicated that they are prepared to invest in specific areas to improve their fraud-fighting capabilities. 70% of respondents indicated that fraud case management was a top investment priority, followed by improved customer engagement/communication capabilities (62%) and improved fraud decisioning (47%). With systems and technologies that support customer-level granularity and direct outreach options with customers, banks can continue to exceed expectations while effectively managing risk.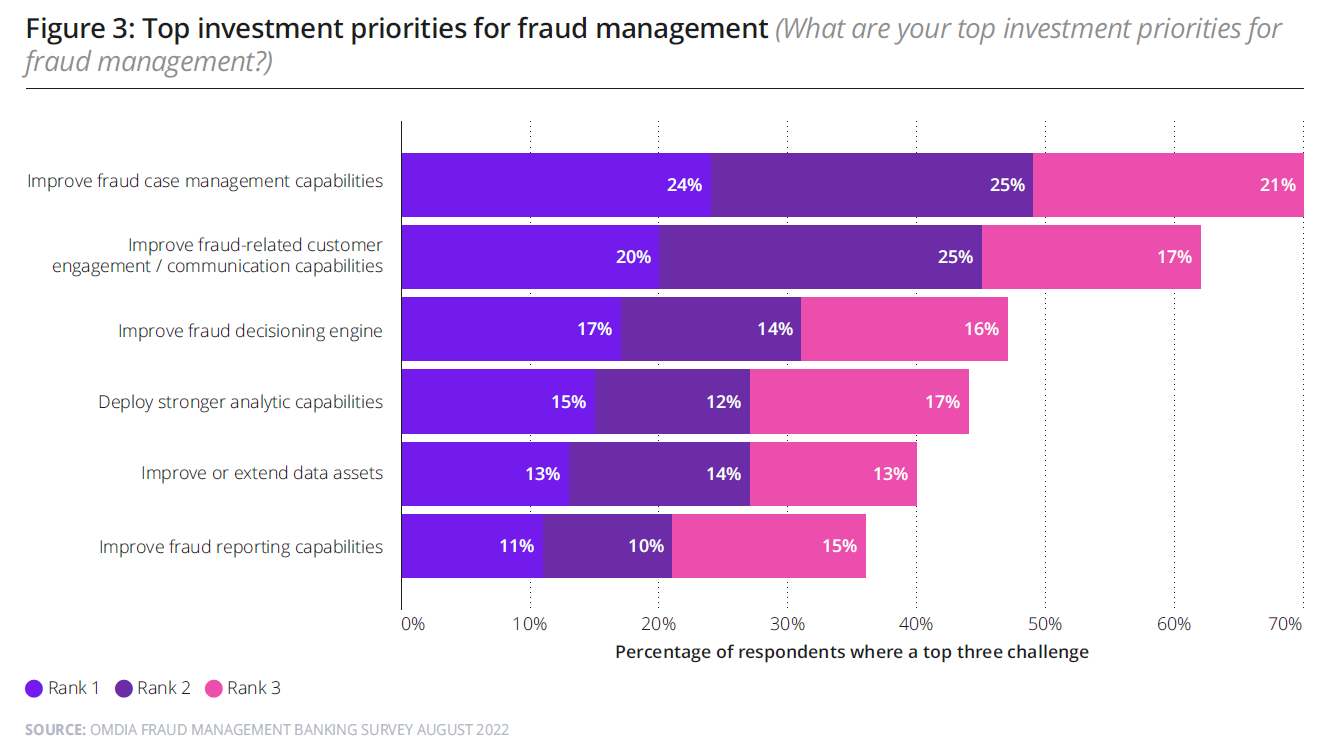 Putting It All Together
For the 65% of global institutions planning to invest in fraud management solutions, I think they will get the most value out of a platform-first approach. By taking best-in-class fraud capabilities like flexible data ingestion and management, robust customer-centric decisioning, AI-driven analytics & ML, and customer-focused communications they can immediately address the pain points and priorities identified in this survey while reducing risk and fighting fraudsters.
As fraud continues to evolve, fraud-fighting capabilities must evolve in parallel, and continued innovation in tactics and technology is key to solving fraud challenges across the entire customer lifecycle. Easier access to data can also help quickly build a holistic customer view, informed with ongoing interactions, payments, and transactions. With better insights, banks can improve not only their fraud management but also keep their focus on the most important overall consideration:  customer experience.
How FICO Can Help You Detect and Prevent Transactional Fraud