Pricing fairness is coming under a higher degree of regulatory scrutiny in the UK than ever before. The UK government announced on 4th November 2018 that it is launching an investigation into personalized pricing practices in online retail, following growing concerns that vulnerable consumers are at risk of price discrimination through the use of ecommerce technologies. This follows the publication of a discussion paper by the Financial Conduct Authority on 31st October 2018, on the fairness of certain pricing practices in financial services.
The FCA are focusing their debate on price discrimination and pricing inertia. They are looking into practices where firms charge different prices to different consumers based solely on differences in consumers' price sensitivity ('price discrimination'), and on practices where firms charge existing customers higher prices than new customers ('inertia pricing' or 'loyalty pricing').
Key areas of concern for the FCA are:
Price discrimination on consumers who might be deemed vulnerable, such as those with low income, or older consumers
Significant differences in profitability between consumer segments, with an adverse impact on the segments affected by high profit margins
Pricing not being transparent, and based on personal characteristics that consumers cannot easily change
Pricing inertia, where long-term customers may not be benefitting from better rates offered to newer customers, or where customers do not look to switch when moved off expired term products, when they could have got a better deal if they had (which accounts for 25% of anyone rolling off a UK fixed-term mortgage)
The FCA has set 6 "fair treatment" outcomes that financial services providers should strive to achieve. Two are particularly relevant to pricing:
Outcome 1: Consumers can be confident they are dealing with firms where the fair treatment of customers is central to the corporate culture.
Outcome 2: Products and services marketed and sold in the retail market are designed to meet the needs of identified consumer groups and are targeted accordingly.
The approach to pricing therefore needs to be easily explainable. It should take into account, as much as possible, who the customer is and what their needs are. It should be defensible as approached fairly and without discrimination across the customer base.
Why Price Optimisation Is Needed
Some people believe that the application of price optimisation models takes advantage of price-insensitive customers and raises their pricing in order to meet profit goals, leaving institutions exposed to conduct risk.
In fact, the application of a powerful pricing engine is more necessary than ever before. In fact, it would be difficult to make fair pricing decisions without this technology. Where the challenges arise on conduct risk in pricing, the models and tools used for optimisation can be your best chance to find the right balance and the right solution for your customers, the regulators, and your board.
Pricing optimisation can address the need for auditable pricing controls and additional segmentation for vulnerable customer groups. It can balance the growing number of pricing and operational constraints needed to meet fairness rules, and factor in the increasing number of attributes needed to make pricing decisions, such as customer tenure, depth and breadth of customer relationship, a growing competitive market, and the continued need to meet strategic objectives and balance sheet targets.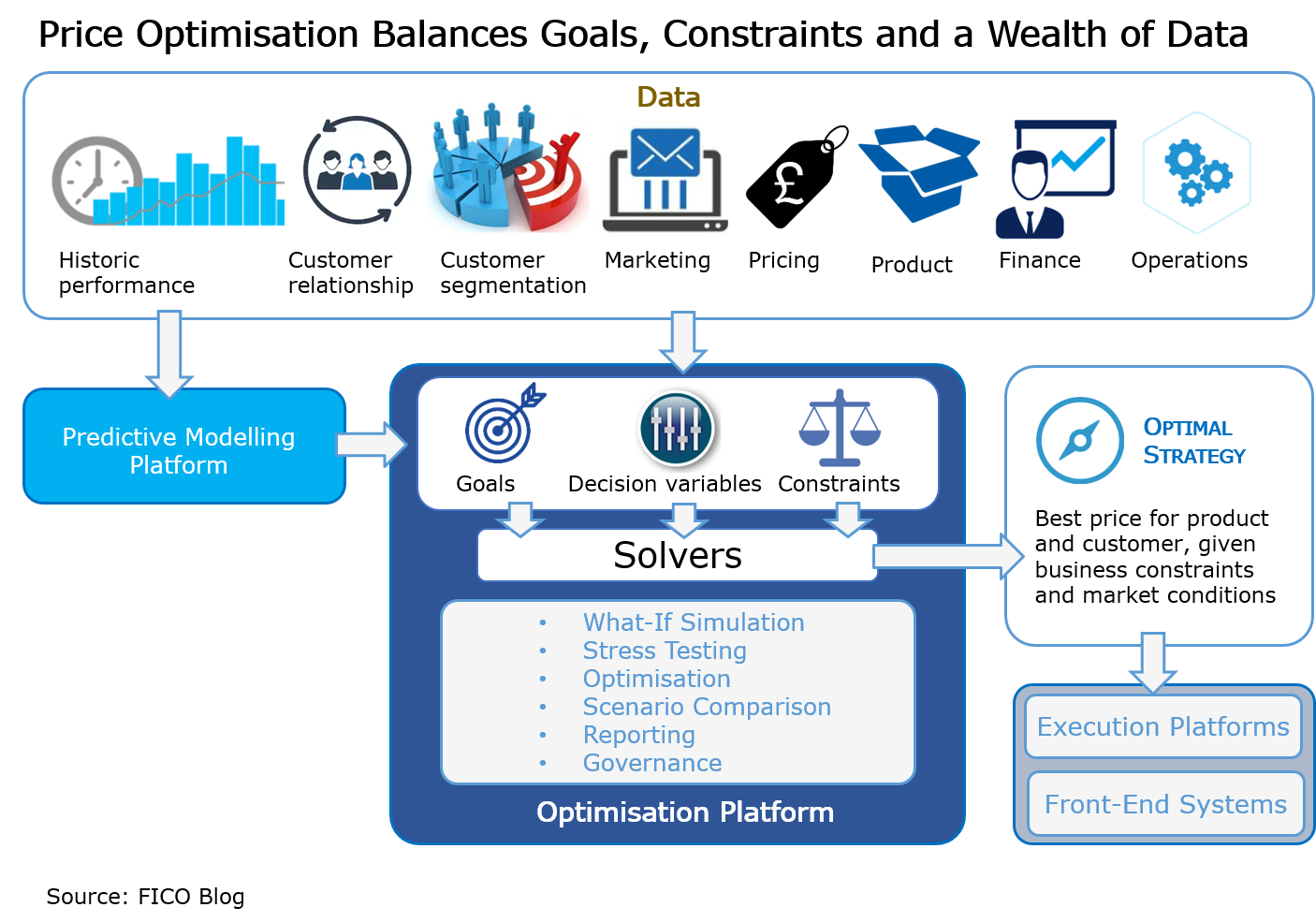 Achieving financial growth is not as simple as a price-to-profit calculation. With the sharper focus from the regulators, and customers focused on personal service, banks that provide the best customer experience and sustain their customer relationships will be the winners in the end. That means developing a product pricing strategy with the customer at the heart of every decision.
In addition, to address customer inertia will require more frequent and targeted re-pricing of the existing portfolio (the back-book) as well as new customers (the front-book), in a holistic manner, which will require more time and effort from pricing teams. Time and effort which can be largely reduced with use of the right tools.
It's Not All About Profit
Price optimisation solves the complex problem of balancing lots of customer behaviours and sensitivities against business rules and constraints to find the best answer to meet any mathematically computable objective function. Not only that, but the best optimisation solvers are both powerful and fast, and can present many alternative potential pricing scenarios with their forecast impact at a granular customer segment level, in seconds.
Its value derives in part from its complexity, which balances financial or business targets against other dimensions:
Profit is not always the objective — more often is it used within a constraint for customer or product segment volume growth objectives.
Goals met by pricing optimisation include market share growth, customer segment growth, funding stability, customer relationship development, attrition reduction, reduced product cannibalization, portfolio product mix objectives, and portfolio customer mix objectives.
It is highly unlikely that any bank would implement a purely profit-led unconstrained optimisation scenario.
While firms should take care not to structure customer segments based on personal characteristics, the models used within optimisation tools intrinsically look at demonstrated customer behaviours and response trends, and not at what a customer looks like or what their personal characteristics might be. For example, a change in early repayment behaviour might influence the pricing to meet a volume or profit constraint, but that pricing recommendation is not influenced by the genders or ages within the changing portfolio segments.
Price optimisation does not necessarily mean higher interest rates for customers of credit lending products. Volume-neutral scenarios typically involve increasing rates for some segments while decreasing rates for others; indeed, volume-aggressive scenarios could in theory involve rate reductions across the board.
Advancing Multiple Strategic Objectives
Any financial services organization's strategic direction is likely to vary over time, and objectives change. Having a sophisticated data-driven pricing tool can help achieve the given objective. Such objectives may include:
Strategic Objective: Grow Market Share. Optimisation output may reduce prices. Profit constraints will control how low the rates might go to reach a balanced profit /volume growth objective.
Strategic Objective: Grow Banking Relationships. Price optimisation engines may be used to generate preferential pricing to existing customers, and address inertia, while meeting balance sheet needs.
Strategic Objective: Customer-Level Pricing and Communications. The power of optimisation modelling to weigh multiple segment propensities, risks, rules and product holdings against each other opens the way for customer-level pricing and communication strategies.
Whatever the objective, being able to determine the impact of any recommended strategy, across all customer segments, is key to success in setting the right goals, achieving those goals, and ensuring fairness in approach.
Any good optimisation engine allows users to set constraints against which the right pricing for the objective function must be determined. There is likely a need for competitive positioning and corporate objectives within the applied constraints. In addition, your pricing engine should allow you to:
Set business rules and optimisation constraints such as maximum price levels, relational pricing rules and minimum/maximum volume tolerances. This can ensure no one segment is unduly burdened, and will help you demonstrate the fairness of the pricing applied on the customer base, while also making these decisions transparent and auditable.
Continually monitor the actual results against your forecast or plan to be able to identify when to react and re-plan due to environmental changes (e.g. an unforeseen rate change by a competitor).
Recalibrate the models due to new data being available to further improve their accuracy.
Configure approval workflows to ensure that no pricing changes can be deployed into the market without executive-level approval.
Price optimisation is just part of the picture. Optimisation tools can be used to solve for any requirement or blend of multiple requirements, the right price being just one of these. Optimisation can be used to identify not just the best price, but the best associated offer or product structure to meet the expectations of both the customer and the institution. Powerful tools are available that can overlay blended optimisation strategies relating to product, pricing, and marketing decisions.
What an optimisation solution really enables is the future delivery of the right price, for the right product, with the right message, at the right moment, to the right customer. In my next post, I'll discuss price sensitivity in pricing optimisation.