Fraud Protection & Compliance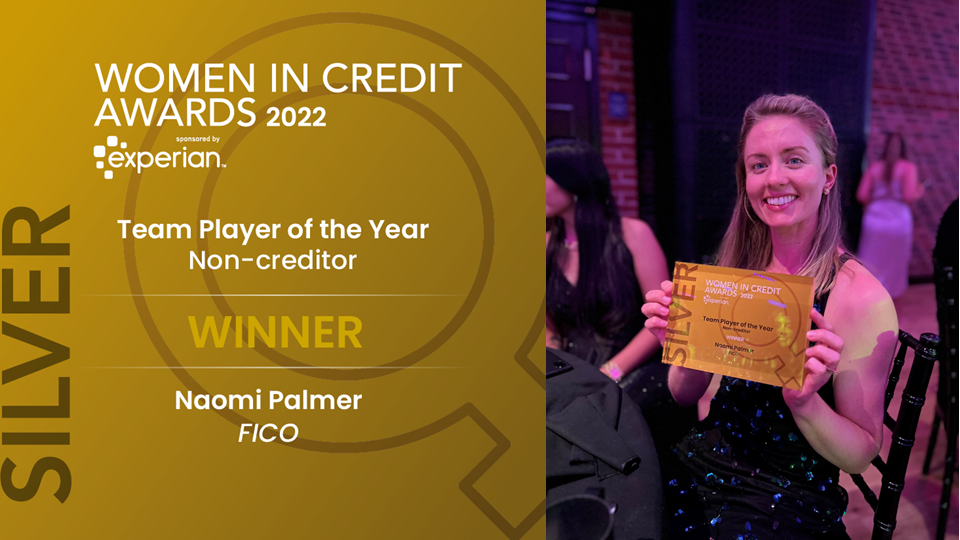 I'm proud to report that Naomi Palmer, one of FICO's fraud consultants, won a silver award for 'Team Player of the Year' at the Women in Credit Awards 2022, sponsored by Credit Strategy. Naomi is an outstanding consultant who has helped clients around the world combat fraud and protect their customers. Naomi has supported more than 40 FICO customers across the UK, the Nordics, Central and Eastern Europe, Africa, North and South America.
"I feel it is extremely important to understand each customer's specific needs and environment," said Naomi, who joined FICO from Barclays Bank. "If you come from a UK high street bank, it's common to have set ideas about how fraud should be managed and set up operationally. But banks in other regions, or of other sizes, are not always comparable. You need to really listen to what each customer needs, what capabilities they have, and help them get to the next level."
As a fraud consultant at FICO, Naomi brings a deep understanding of not only fraud management practices but the technical points of anti-fraud software. For example, she developed a ruleset for merchant acquiring fraud that helps FICO's banking customers detect both first-party and third-party fraud.
Naomi also worked with our fraud consultants across the region to analyze results for our European Fraud Map, which shows card fraud trends over the past 16 years and indicates what countries can do to improve.
Naomi has helped banks navigate both regulatory mandates and complex internal landscapes whilst addressing the demands of unique payment challenges. For example, she has helped banks in India and South Africa adjust their fraud systems to monitor new real-time payments platforms to ensure they prevent fraud while growing financial inclusion."
Congratulations, Naomi — we're proud to have you on the EMEA team!
How FICO Can Help You Improve Your Fraud Programmes