We are thrilled and honored to be recognized by Aite Group as best in class and the overall rankings leader for our Loan Origination Solution. For nearly 50 years, FICO has pioneered intelligent credit origination powered by world-class analytics. We have served lenders in all industries, enhancing decisions with flexible strategies and rules, improving analytic sophistication, maximizing profitability, and delivering relevant, engaging customer experiences.
We take our clients' success very seriously and are committed to helping our clients build their ideal portfolios by increasing application processing capacity, improving approval rates without adding portfolio credit risk, and decreasing manual reviews with improved credit risk productivity.
In mid-August, the Aite Group scored FICO's Loan Origination Solution as a Best in Class Leader for Retail Loan Origination Solutions (RLOS) and the overall rankings leader against 13 other scored vendors in their comprehensive vendor analysis report "Aite Matrix: Transforming Consumer Lending Through Loan Origination Systems."
In all, 32 vendors offering RLOS solutions were invited to participate in the process. FICO's Loan Origination Solution was also recognized as a category leader in:
Client Strength
Client Service
Product Features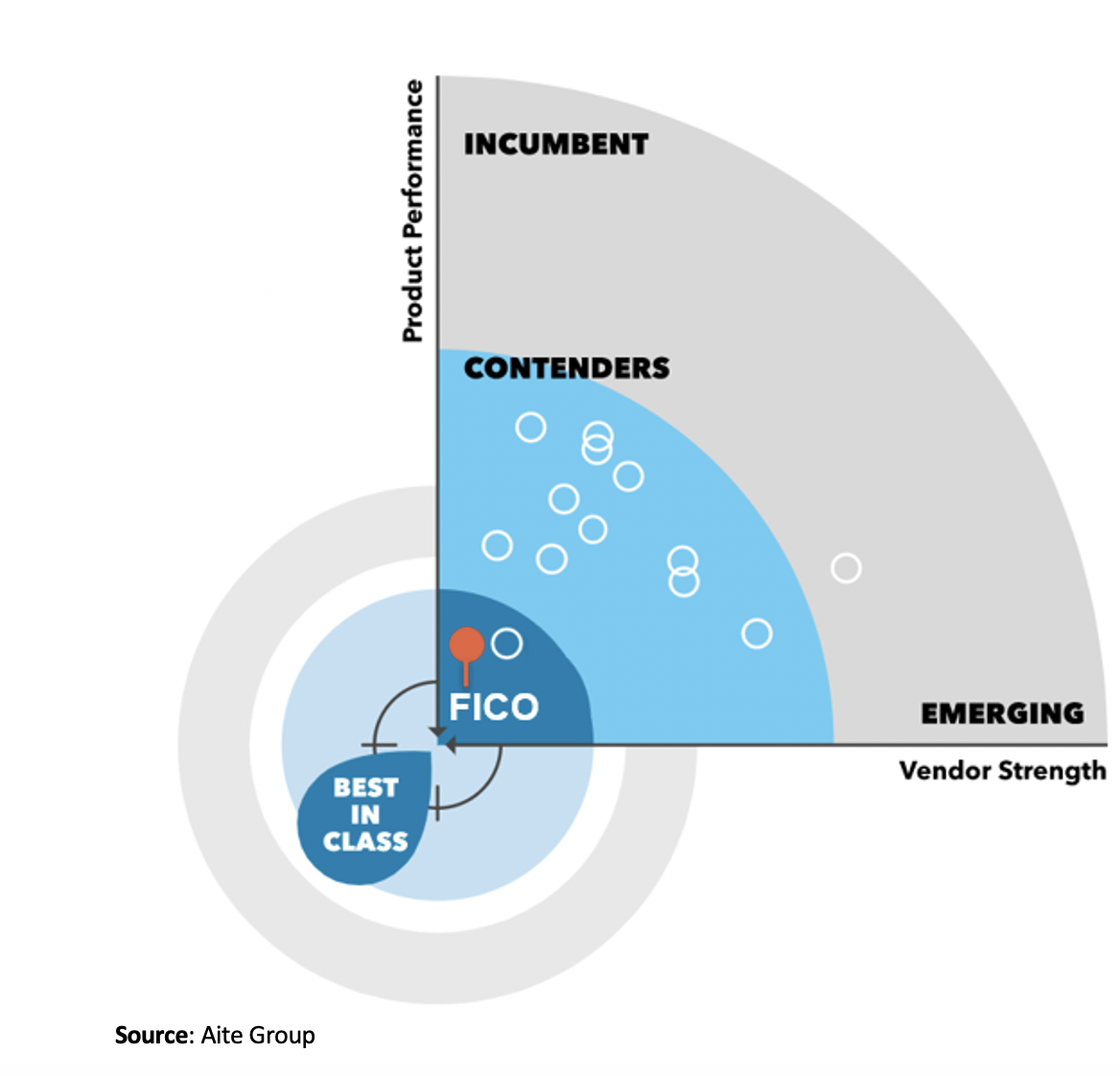 Report Overview
Leslie Parrish, senior analyst at Aite Group, introduces the report with:
"Justifiably spooked by a dramatic economic downturn, lenders are facing the same high borrower expectations and intense competition from their peers as before, but now in conjunction with the rapidly deteriorating financial health of many consumers and serious obstacles to loan origination through in-person channels. Those lenders that have already transformed their lending processes by using a leading retail loan origination system are arguably better positioned to weather this storm. The latest Aite Group report, Aite Matrix: Transforming Consumer Lending Through Loan Origination Systems, compares and contrasts the leading vendors' offerings and strategies.

Lenders that are looking to transform their lending to be more consumer-centric and efficient should look closely at what leading vendors offer in this space. Competitive RLOS solutions not only process loans in a compliant manner but also provide a frictionless application process, facilitate meaningful cross-sell opportunities, and provide lenders with insightful analytics to fine-tune their businesses."
FICO Origination — A Loan Origination Solution You'll Never Outgrow
Today's market imperatives for loan origination are unambiguous and more urgent than ever:
Today's customers demand convenience and personalization in their preferred channel. Lenders and service providers must provide fast, frictionless, engaging digital-account opening experiences, particularly in a COVID-19 world where digital engagement has moved from "nicety" to "necessity".
Legacy technology is increasingly inflexible and quickly outgrown. Lenders and service providers need agile, future-proofed, extensible solutions for business users.
Companies—of ALL sizes—must mature their digital and analytic sophistication to compete against increasingly aggressive online lenders and fintechs.
Lenders and service providers must intelligently balance growth, risk, and compliance. To build profitable portfolios, they must attract (and retain) the best customers, accurately assess and price risk, and stay compliant.
In Aite's vendor comparison, Parrish details how FICO's robust and flexible modular-based approach to loan processing can fill the individualized needs of a wide range of financial institutions (FIs) globally. As such, it is particularly worth a look for FIs above US$10 billion in assets and nonbank lenders that want to quickly transform one aspect of their loan origination process and perhaps deepen their relationship over time. Complementary solutions in the collections, marketing, communications, and fraud detection areas allow FIs to not only benefit from a modular origination solution but to also take advantage of adjacent solutions to reduce the number of vendors used across the entire loan lifecycle.
FIs can quickly deploy FICO® Origination Manager modules through out-of-the-box configuration templates, which can be easily configured by the FI to suit its individual needs. For smaller FIs without the relevant in-house resources, FICO offers scorecards and modeling built on its decades of scoring and analytics experience. In both instances, FICO's solution is tailored for FIs that do not have in-house resources to perform these tasks or do not want to take up precious IT resources to do so.
Parrish states, "This combination of flexible and comprehensive solution offerings, robust capabilities, and global reach make FICO one of the leaders in this space."
FICO Origination Solution: Key Differentiating Strengths
Componentized approach to a LOS solution
Templates with no-code configuration
Ability to readily integrate with other FICO solutions
Flexible modules that can be used together or individually
Stability and global reach of company
Ability to provide templates and scorecards based on FICO's analytics and scoring capabilities
I remain immensely proud to be part of a team that continues to help lenders across the world create mutually valuable relationships with their customers.
To learn more about FICO's Loan Origination Solution, visit us at: https://www.fico.com/en/solutions/origination-for-unsecured-lending