The duration and depth of the COVID-19 pandemic have been increasingly challenging to predict, especially its impact on consumer finances. Many credit card issuers were faced with making new operational decisions, adapting to new regulations, and providing a safe and engaging customer experience. Since March 2020, the impact of COVID has also influenced spending patterns, payment rates and delinquency levels across revolving bankcard debt. To date, the US bankcard delinquency rates have improved drastically largely due to reduced transactional spend, tax refunds, government stimulus checks and payment deferment programs.
This market update will help you keep a pulse on the changing circumstances that the pandemic has on consumers and payment trends. Follow my blogs to stay current with unique FICO data and reach out for guidance on how to adapt your own credit strategies.
Unemployment and Consumer Behavior
As we passed the one-year mark since the onset of the pandemic, most global economies are still in recovery. The US unemployment rate improved to 6.10% in April 2021 after hitting a record high of 14.8% one year earlier in April 2020. The number of jobs lost during the last 12 months is still in excess of 8.2 million with most impacted sectors occurring in food, travel, retail and recreational services. The global pandemic created a seismic shift in volume of online activity and experiences. US e-commerce purchases increased 32% year over year during the 2020 holiday season. Online and digital solutions have become the primary way for people to connect, work, shop and be entertained.
Over-Limit Spending
US Visa and Mastercard processor data indicates card issuers tightened up over-the-credit-limit transactional spend almost immediately following lockdown. Historically, approximately 32% of overlimit transaction attempts are typically approved and this percentage has now dropped to 27-28% and continues to track below pre-COVID levels through 1Q 2021 (Fiserv SpendTrend 2021).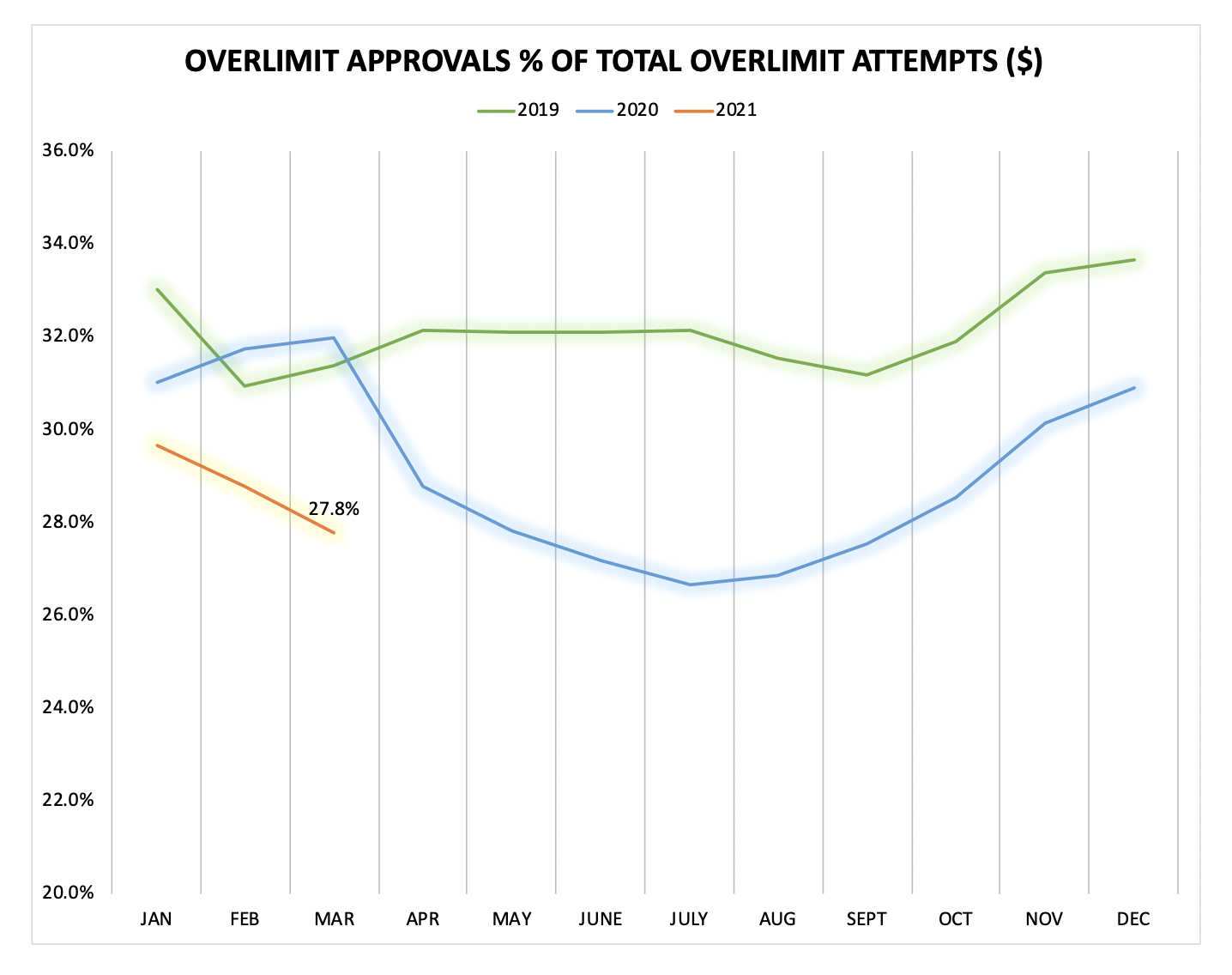 Authorization Approval Rates
On average, authorization approval rates are higher for delinquent credit card transactions.  Many issuers will approve delinquent transaction attempts, especially if the payment is only a few days late. Historically about 65% have been approved. However, many US card issuers modified authorization strategies to tighten criteria allowing fewer delinquent transactions to be approved. The approval rate dropped to about 50% throughout 2020 but has recently increased back up to 60% in March 2021, which is just below pre-COVID levels.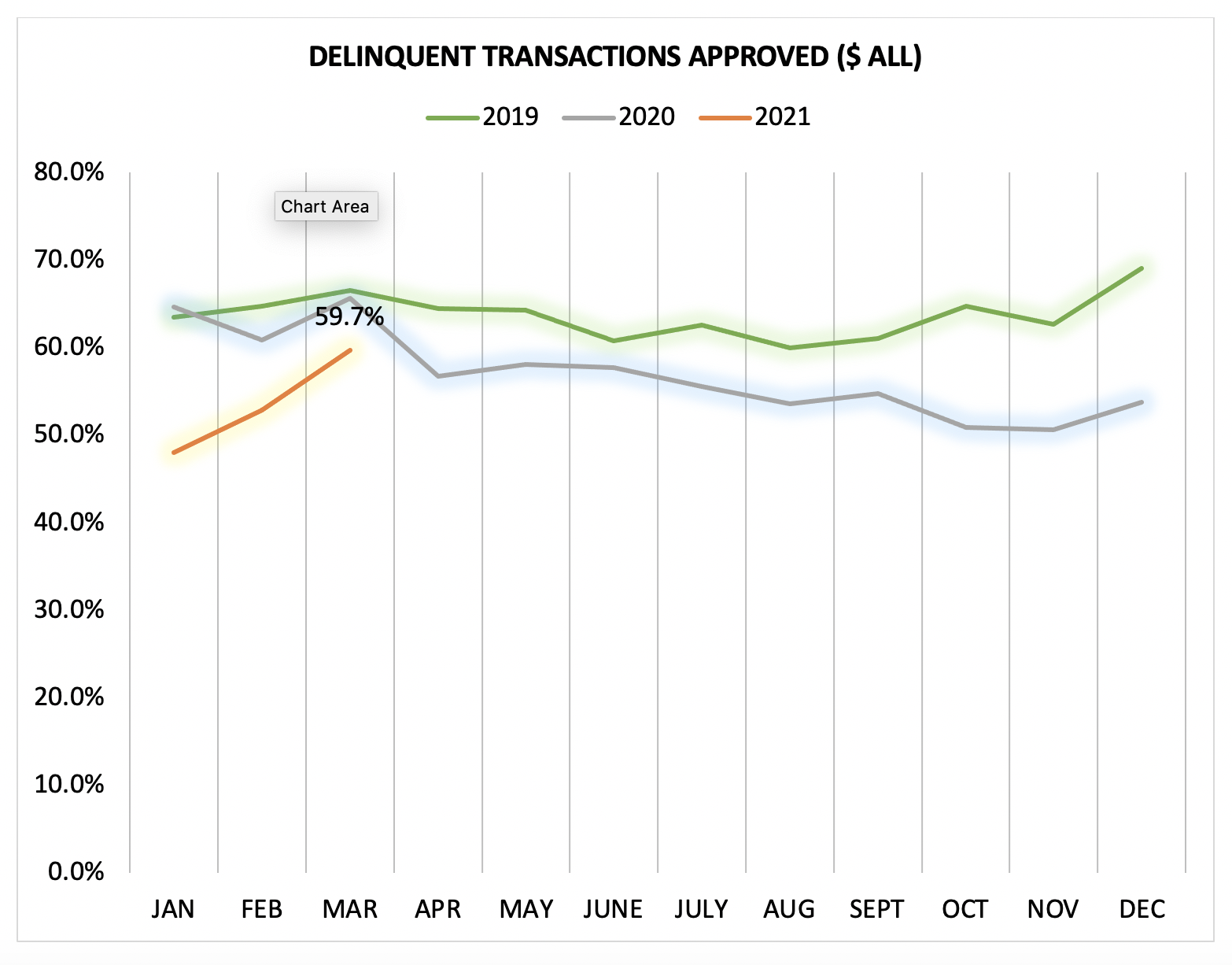 Approval rates are lowest when the account is already both delinquent and overlimit. These types of transaction attempts are only approved about 0.7-0.8% of the time. Beginning in May and June of 2020, the delinquent/overlimit approvals fell to almost 0% and lenders have not shown any signs of loosening standards to approve more transactions in this space.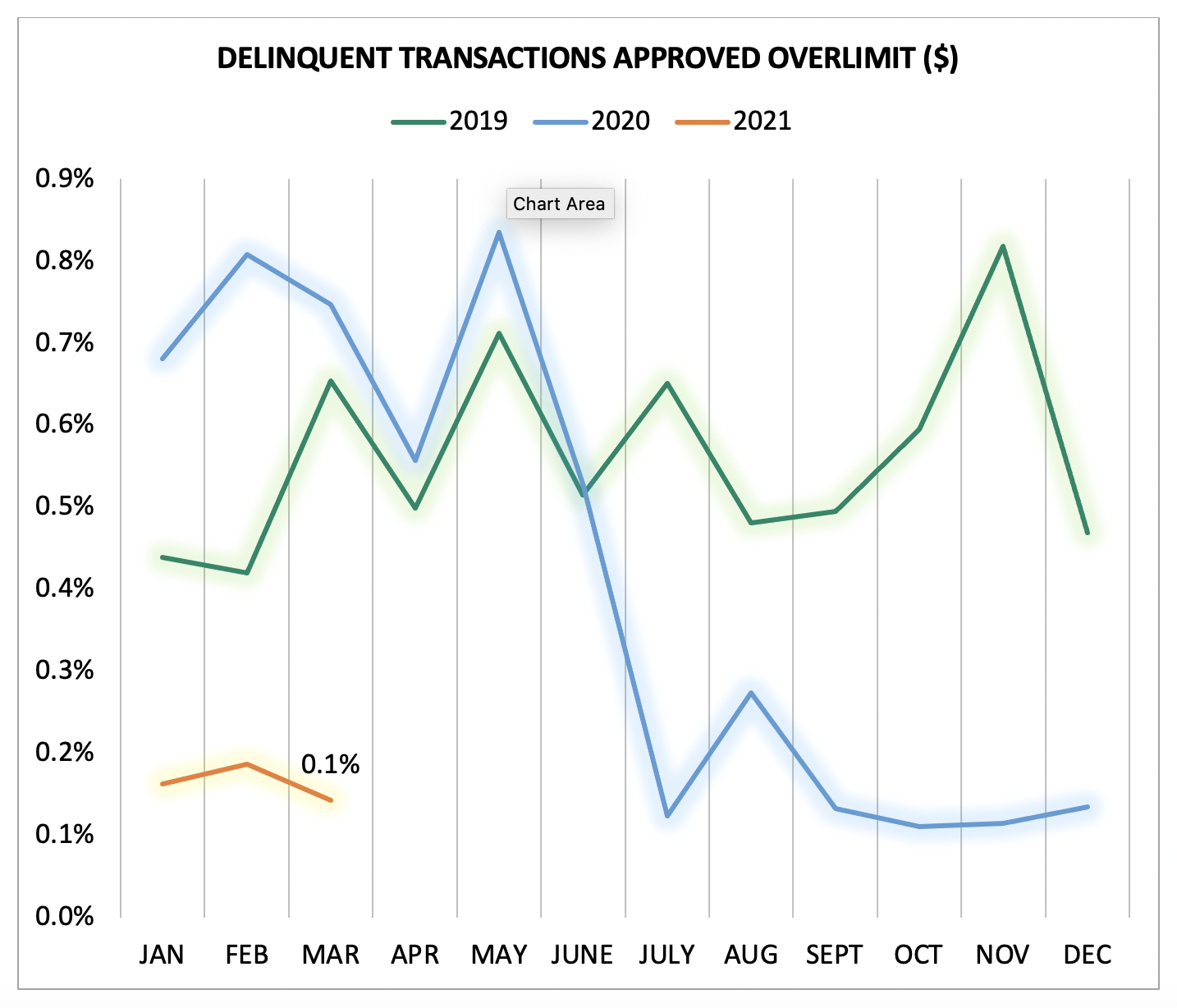 Payment Transaction Volume
As we track US Visa and Mastercard transaction volume on a year over year basis, the data strongly reflects the result of the constricting economy and closed or restricted business markets. March 2021 is the first time since the onset of the pandemic that transaction volume shows a positive increase year over year.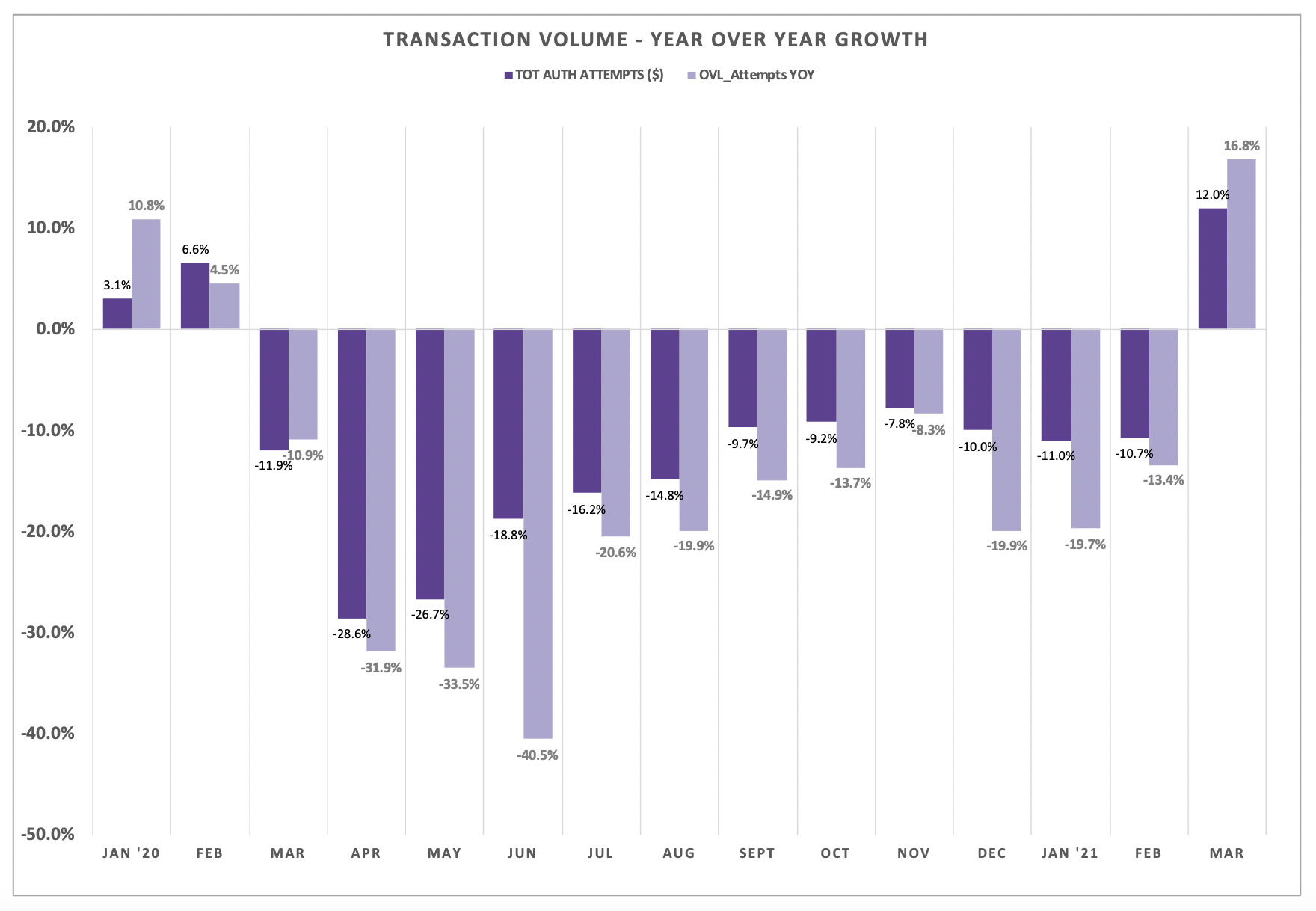 Following the seasonal holiday increase in spend, transaction volume fell month over month in January and February 2021. Transaction activity March 2021 surged to positive gains not seen in the last 14 months. Significant progress in vaccine development and increased consumer confidence has positioned the US for a strong economic comeback.  As vaccinations become more widely deployed and restrictions relax, a large increase in spending is poised to occur in the second half of 2021.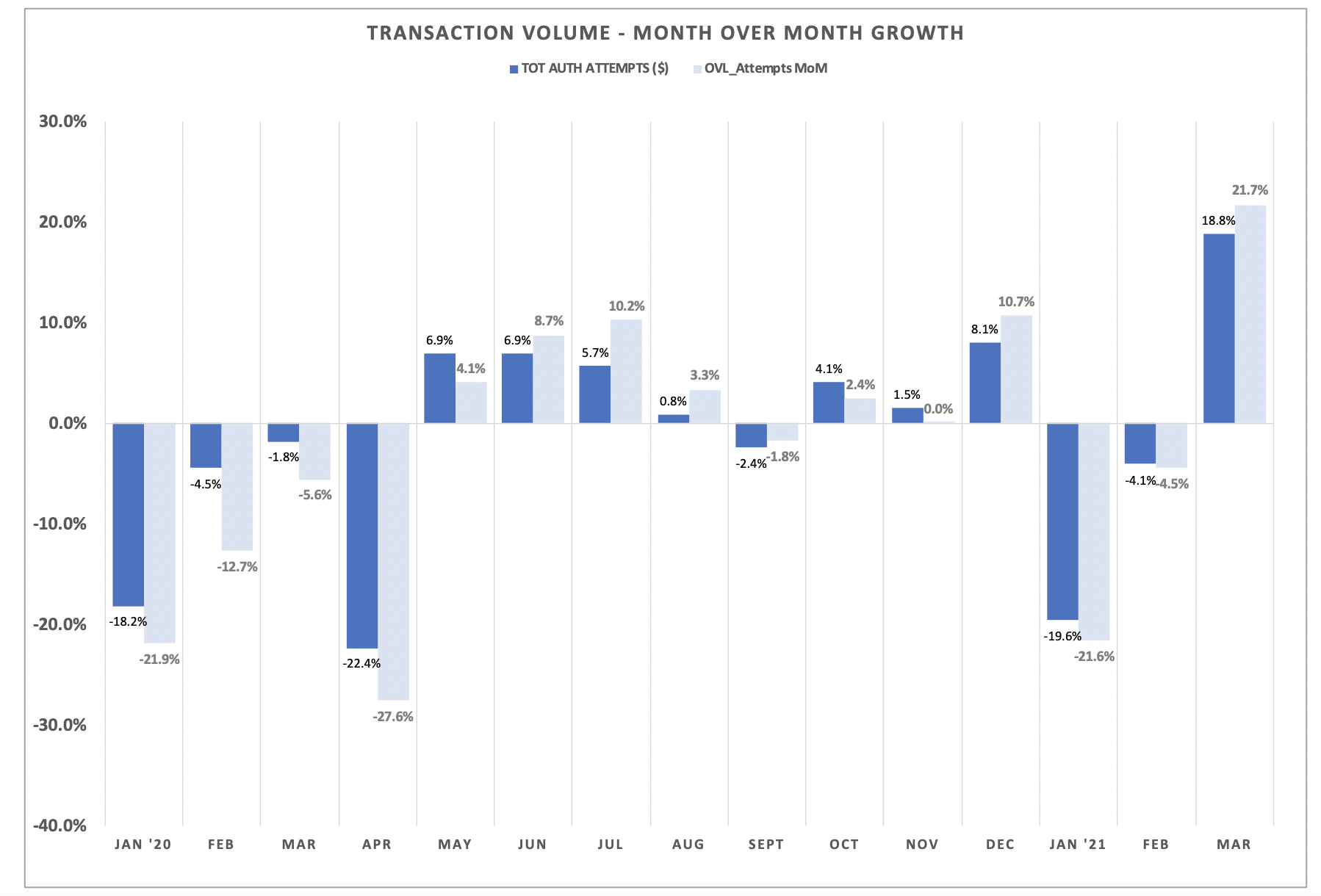 US consumer financial health continues to evolve as the economy recovers from the pandemic. Consumer spending and economic growth is showing positive signs which means now is a great time to position your organization to maximize growth opportunities. To develop the right strategies for the right resilient customers, it's important to closely follow consumer trends but even more critical to monitor how consumers are behaving within your portfolios.
Understanding your customers and their financial health and needs will help you set strategies to boost profitability while controlling risk for your business.
For more information, more visit: https://www.fico.com/en/solutions/credit-line-management.