Today we announced the FICO® Platform Summer '23 release with a collection of 19 new and major improvements to the leading Applied Intelligence platform in the market, FICO Platform.
These rich enhancements span the digital innovation lifecycle, from data to insights to actions to business outcomes and further differentiate our flexible capabilities like analytics & machine learning, decisions, mathematical optimization, and business simulation. These capabilities are market-leading, and our recent innovations further reinforce this position as well as our ability to effectively address transactional analytics across multiple use cases in financial services.
Last month in our quarterly earnings call, we announced that FICO Platform adoption rose year-over-year by 60%. This kind of dramatic increase is only possible with intensely customer-focused innovation, and I'm incredibly pleased with the enterprise platform customers around the world we partnered with to develop these improvements, as well as the countless hours of hard work that our FICO teams across the organization have put into solving their most pressing challenges.
To learn more about the many technical improvements we've made, I encourage you to check out our technical notes, but I'd also like to highlight three areas of strategic customer value that are uniquely enabled by FICO Platform.
1. Power Your Customer Connections
As consumers, we expect the companies we interact with to tailor each experience to our individual needs; those that succeed are rewarded with our trust and loyalty. For organizations to achieve this at scale and drive customer satisfaction and retention, organizations must execute fully individualized personalization with real-time AI.
FICO has a storied history using sophisticated AI techniques to detect and prevent fraud in ultra-low latency, and these learnings and unique IP (intellectual property) are guiding us in our journey to bring these innovations natively to FICO Platform so that you can power hyper-personalized customer experiences across the lifecycle, at each and every touchpoint.
2. Empower Your Enterprise Transformation
As organizations increase in size, an unfortunate side effect is that many become siloed by department and distant from the customer. To reinvent business in this new age, organizations need to empower their talent force to come together and innovate quickly to create compelling new value. Multiple roles across data science, risk management, marketing, operations, and lines of business can collaborate effectively to drive cross-functional change. Lastly, business innovations are now in the driver's seat to develop, deploy, and rapidly adapt AI-powered business strategies with tools that are easy-to-use and allow them to act without waiting for IT.
3. Drive Strategic Business Outcomes
With rapidly changing customer needs, market conditions, and new technology forcing organizations to move fast, the business needs more than the best data — they need a crystal ball that shows what the future holds. FICO Platform delivers this with high-fidelity simulation, testing and validation, and transparency and compliance for mission-critical decisioning. This ensures that every action taken drives the desired outcomes, both for the business and for the customer.
Major Capability Improvements for Applied Intelligence
I would encourage everyone to check out the detailed technical notes (link) to see everything that is new, however I'd also like to highlight how several multi-purpose capabilities and services work together to create groundbreaking new value. FICO Platform's API-first, modern, decomposed architecture has made it possible for enterprise teams to adopt these improvements at a new scale.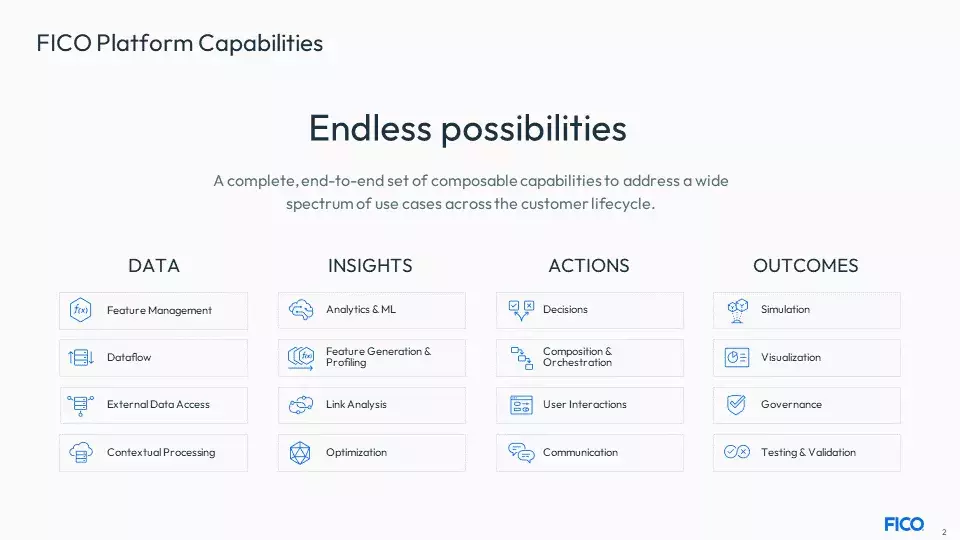 An increasing number of business scenarios demand that decision intelligence be applied as soon as data is received. In many cases, the organization does not have the luxury of waiting for a complete view of all data to arrive and instead must act as soon as it has just enough data to provide the confidence to act in the moment.
To deliver intelligence in real-time, we've improved our Contextual Data Service, which provides data aggregation and a feature store that works together with native platform services for executing machine learning models. This includes both patented approaches with highly differentiated IP (that we developed initially for fraud and are working to expand to any use case that requires real-time AI), as well as third-party models built in Python, PMML or SAS, so you can easily execute models built in your favorite modeling tool.
Optimization
The success of mathematical optimization for complex enterprise problems is impossible without high-performance solvers. Building on our heritage offering the world's best mathematical optimization, we've advanced our leadership position with performance increases of 11% over the last year and 25% over the last two years on mixed integer programming, and we've further enriched our open-source, industry-standard Mosel optimization modeling language. You'll also see noticeable performance improvements for solving exploratory optimization problems and new reporting enhancements that provide improved data visualization.
Simulation
To move fast with high confidence, organizations today need to simulate all aspects of their business. This empowers business staff to experiment, test, and learn without the risk of negatively impacting the customer experience or finding out that a desired result fails in the real world.
Continuing to enrich our market leading Simulation capability, we've made major improvements to the performance of action-effect-modeling with a 70-90% increase in performance, developed landmark improvements to the component architecture for Simulation (Xpress Insight 5.5), and made it more efficient to create new simulation applications and put them in the hands of business users.
Composability and Decisions
We continue to make substantial progress on our modern, API-first decomposed architecture, and numerous enhancements enable FICO Platform capabilities to be deployed as enterprise-standard, multi-use services that empower the business to rapidly address new scenarios and use cases. Unified platform orchestration, highly advanced decision modeling, and flexible dataflow provide a rich pallet of applied intelligence tools and services, so you can rapidly deploy across your enterprise to address new and emerging uses cases and scenarios.
Increasing Our Pace of Innovation
At FICO we are committed to investing in innovation for long-term sustained success, bringing to market new capabilities in FICO Platform and delivering new industry-focused innovations. You'll find many new enhancements in our FICO Platform Summer '23 release that continue to evolve both the platform's architecture and the core services that serve as essential catalysts that accelerate our client's success. Our mission is to build the single best platform on the planet for applied intelligence.
FICO World 2023 Conference
This week, FICO World attendees in Hollywood, Florida will hear much more about these revolutionary new platform innovations, both on mainstage and in our nearly 100 breakout sessions.
To the uninitiated, it can be overwhelming to appreciate the depth of innovation we've achieved with FICO Platform, and so for the first time ever, we'll have an entire track of FICO Platform Demos that will showcase these new improvements with nearly six hours of live demo content. We'll also highlight some of our world-class customers like BMO, PNC, Itaú, Wells Fargo, Banco Bradesco, and Swisscard, as well as hear from independent industry analysts such as Forrester, Gartner, Aite, and Chartis on what they see as the transformative and disruptive opportunity for decision intelligence and AI decisioning platforms. I can't wait to see you all there!
How FICO Platform Can Help Your Enterprise