Prosper's New Card a Hit with FICO's Credit Knowhow
Prosper, the first peer-to-peer lending marketplace in the United States, has used FICO® Scores for its new Prosper® Card to extend credit services to over 200,000 near-prime customers and proactively manage credit line changes based on the customers' latest FICO Score. In total, Prosper extended more than USD $225M in credit access to these consumers.
Prosper also proactively mitigates credit risk and meets the increasing credit demand for creditworthy customers based on their monthly updated FICO® Scores. As of March 2023, Prosper has effectively managed credit limit changes for over 25,000 customers, with over 70 percent of them receiving credit limit increases.
"Millions of consumers in the U.S. are currently credit invisible and need a path to access credit," said Prosper CEO, David Kimball. "At Prosper, financial inclusion is at the heart of our business and by utilizing FICO's reliable and predictive scores as an input to our models, we are able to identify and offer access to affordable financial solutions to improve consumers' financial health as they move across the credit spectrum."
You can read more about this story in the full media release.
When Prosper was developing the Prosper® Card to help serve more consumers, including the near-prime population, a tool was needed to mitigate credit risk. By partnering with FICO, Prosper was able to build a thoughtful, risk-based credit framework. Prosper used FICO® Scores and FICO's historical US consumer performance bands to build a comprehensive unit economic model.
This development enables Prosper to reward customers with improved credit, the opportunity to receive credit line increases.
"As a result, the Prosper Card has offered people access to affordable credit when they need it, including after challenging life events such as job loss, bankruptcy, and divorce, as well as financial tools and resources to help them get back and stay on track," said Kimball.
A Commitment to Education
To provide further transparency and help customers gain a better understanding of their financial health, Prosper also partnered with FICO to enable borrowers who obtained their personal loan through Prosper to view their FICO® Scores for free through the FICO® Score Open Access program. This empowers borrowers to track the credit factors that impact their score, see a history trendline of their score, and access a comprehensive library of educational content to help make money matters easier to understand and practice. Topics include Mastering Credit, Credit Scores, Financial Literacy, Financial Wellness, Managing Debt, and Home Ownership.
Since the launch of the FICO® Score Display in February 2022, over 167,000 Prosper borrowers have utilized this feature, while Prosper's informative blog articles receive over 25,000 monthly visits.
"Prosper's commitment to financial inclusion is championing a way to improve people's access to credit and advance economic development, particularly in the aftermath of the pandemic," said Kimball. "Prosper is pursuing opportunities to create a more efficient, accessible, secure, purposeful, and equitable financial system for underserved customers."
Managing Lending Risk with FICO Scores
Throughout the almost twenty-year history of the Prosper personal loan platform, anticipating macro-economic downturns is a core principle. By building and maintaining credit playbooks based on through-the-cycle performance, defined in conjunction with FICO® Score industry benchmarks, dynamic credit playbooks have been created based on historical performance well before portfolios are at scale and fully vintaged.
This comprehensive and systematic framework allows the ability to quickly develop and deploy highly effective, granular, and customized strategies for customers and prospects. Empirically derived credit lifecycle management tools empower responsible credit practices, investor return, and lower borrowing costs.
For its achievements, Prosper won a 2023 FICO® Decisions Award for Financial Inclusion.
"Prosper's commitment to providing wider access to credit has been impressive," said Neeti Aggarwal, CFA, senior research manager at The Asian Banker and one of the FICO Decisions Awards judges. "Its ability to develop and deploy dynamic credit playbooks based on historical performance demonstrates its focus on risk management and responsible lending."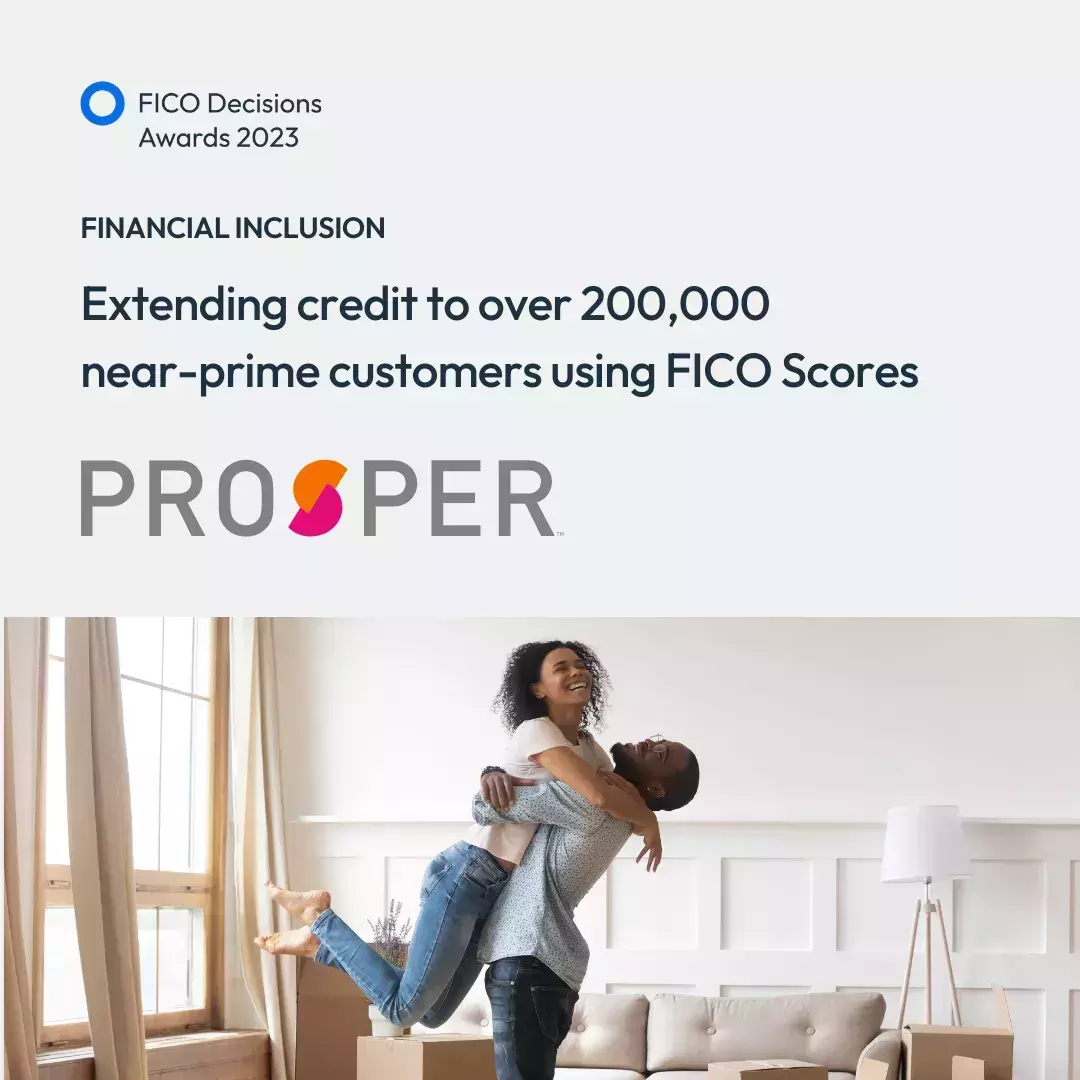 How FICO Can Help You With Financial Inclusion