I am passionate about advancing women in the workplace, and fostering the next generation of women leaders. I founded a FICO Women Leaders initiative that uses networking and the power of community to help women succeed as leaders in a highly complex technology firm. We have seen impressive results: since joining the program, 32% of the participants have been promoted, and 71% have seen their responsibilities expand. Last year, participants in the program were twice as likely as eligible non-participants to be promoted to Director or Vice President levels.
But it's not enough to do this work at FICO alone. FICO has customers worldwide, and I am intent on increasing opportunities for women in technology and financial services.
At our annual FICO World event, we host Women in Leadership seminars and forums. We have also organized regional forums for female leaders in fintech, such as a recent Women in Leadership event held in Toronto in December 2022.
One rewarding initiative came about in December with Swisscard, one of FICO's customers and a leading credit card company in Switzerland. Nadia Benitez, head of authorization and fraud risk at Swisscard, was at FICO World 2022 and was inspired by the goals and results of our FICO Women Leaders program. She asked if we could share our experiences with the Swisscard Female Network. Of course, I jumped at the chance.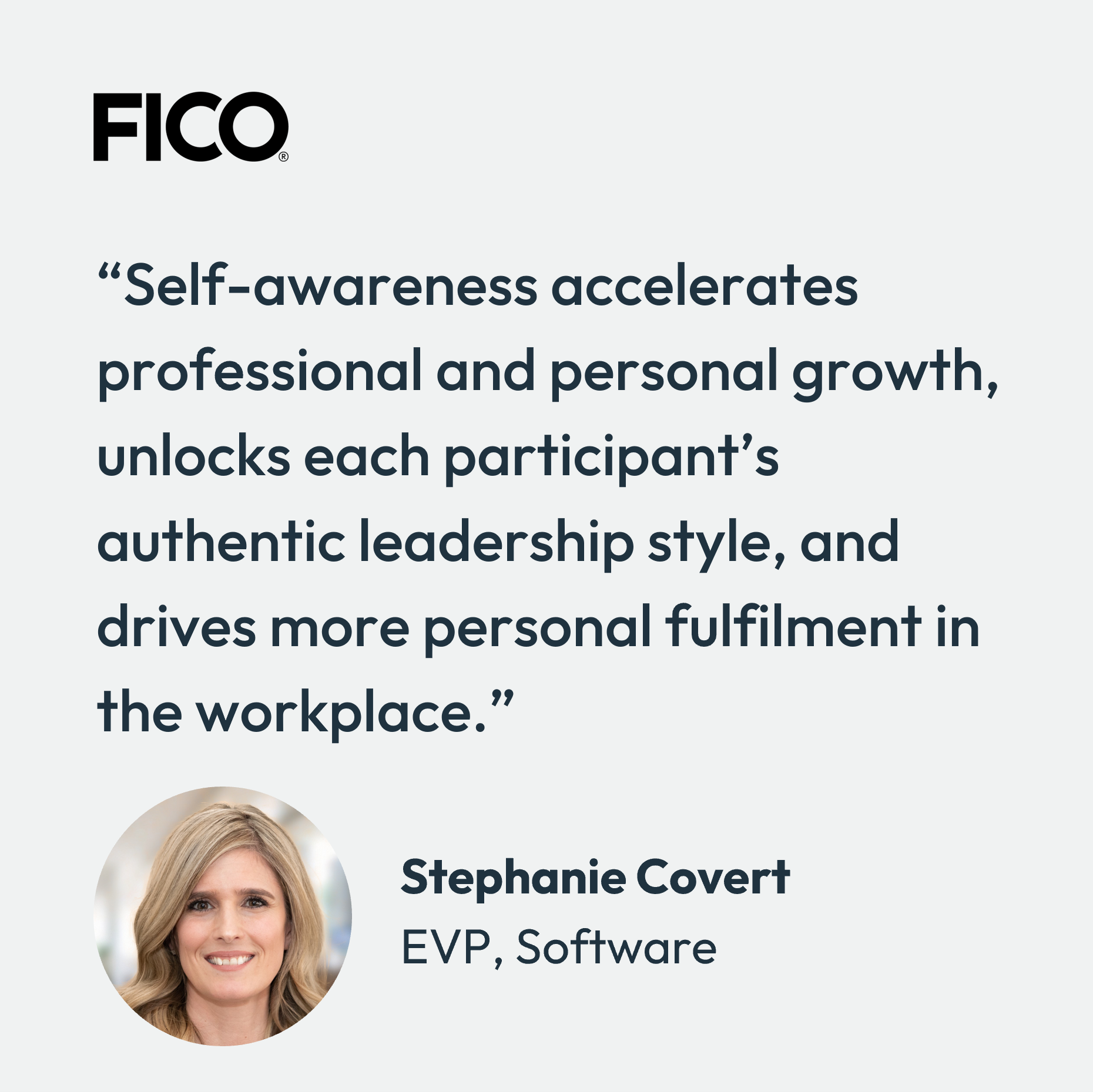 I participated in a Zoom meeting of the Swisscard Female Network on December 19, along with Coachability founder Raj Anderson, and Anna Hamilton, VP of global sales and service strategy at FICO and the program lead for FICO Women Leaders. We discussed how FICO Women Leaders was launched and what we see as its vision mission, and values; what the partnership with Coachability adds to the program; how FICO Women Leaders navigated growing pains as it took shape over time; and the importance of community and networking to women in general. The session, moderated by Nadia, was followed by an open Q&A session for Swisscard Female Network attendees.
We discussed the importance of the coaching approach of "leadership starts with self". There is power in spending time to understand your personal motivations, strengths, and core values. I've seen this work time and time again, for me personally and the women that participate in the program. Self-awareness accelerates professional and personal growth, unlocks each participant's authentic leadership style, and drives more personal fulfilment in the workplace. These benefits are amplified through the power of our community – where participants are heard and step into partnership – celebrating each other and helping each other become the best version of themselves.
This is just one of many ways the FICO Women Leaders program seeks to share knowledge and best practices with fellow women around the world. Our aim is to give back, help more women develop and grow, and champion the message and value of community and network for all.
This year, we will again have a Women in Leadership program at FICO World, which will be held May 16-19 in Hollywood, Florida. Join us there!