Replacing human bias with data-driven science
FICO's impact on social good was one of the main reasons why I came to work for FICO. As a data scientist working on credit models in the late 80s, it was a mission to help replace human bias with data-driven science.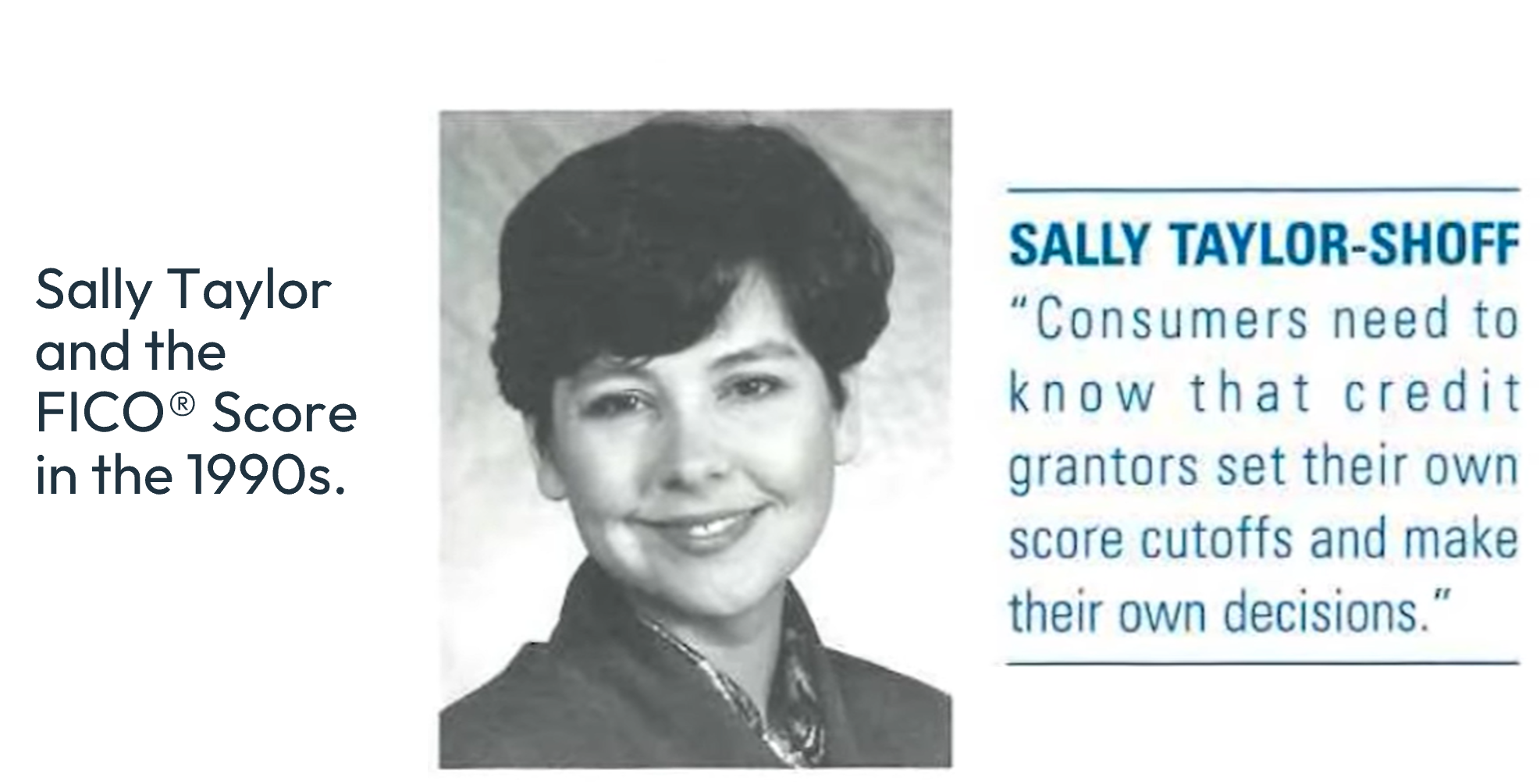 When the FICO® Scores were introduced in the U.S. in 1989, it meant lenders of all sizes could leverage the technology of scoring and open up credit to consumers that they might not have lent to in the past. This was one of the contributors to the tremendous market expansion during the 90s which has continued to present day.
That expansion created economic opportunity for many. Credit when it's offered responsibly is a social good. For many, it creates an opportunity to improve their life circumstances; to get an education, to buy a car to get to work, or to own a home. The lending and financial services industry can provide that social good, as long as it's done in a way that is both responsible and fair.
Expanding access to credit around the world
While the introduction of credit scoring technology introduced by FICO in the late 50's changed lending forever; it's worth exploring what it takes to make a social impact today.
For FICO, it means taking the technology global. It means the inclusion of credit markets that are less developed, where a larger part of the population is underserved. Plus, it means going beyond the FICO® Scores based on traditional data, so we've also developed scores utilizing new alternative data sources that are specifically designed for financial inclusion. For example, in Mexico with our partner Círculo de Crédito we jointly launched the FICO® Extended Score, which analyzes information on a credit applicant's household credit history, to offer more context and insight and score people with no credit history who might otherwise find it hard to get credit.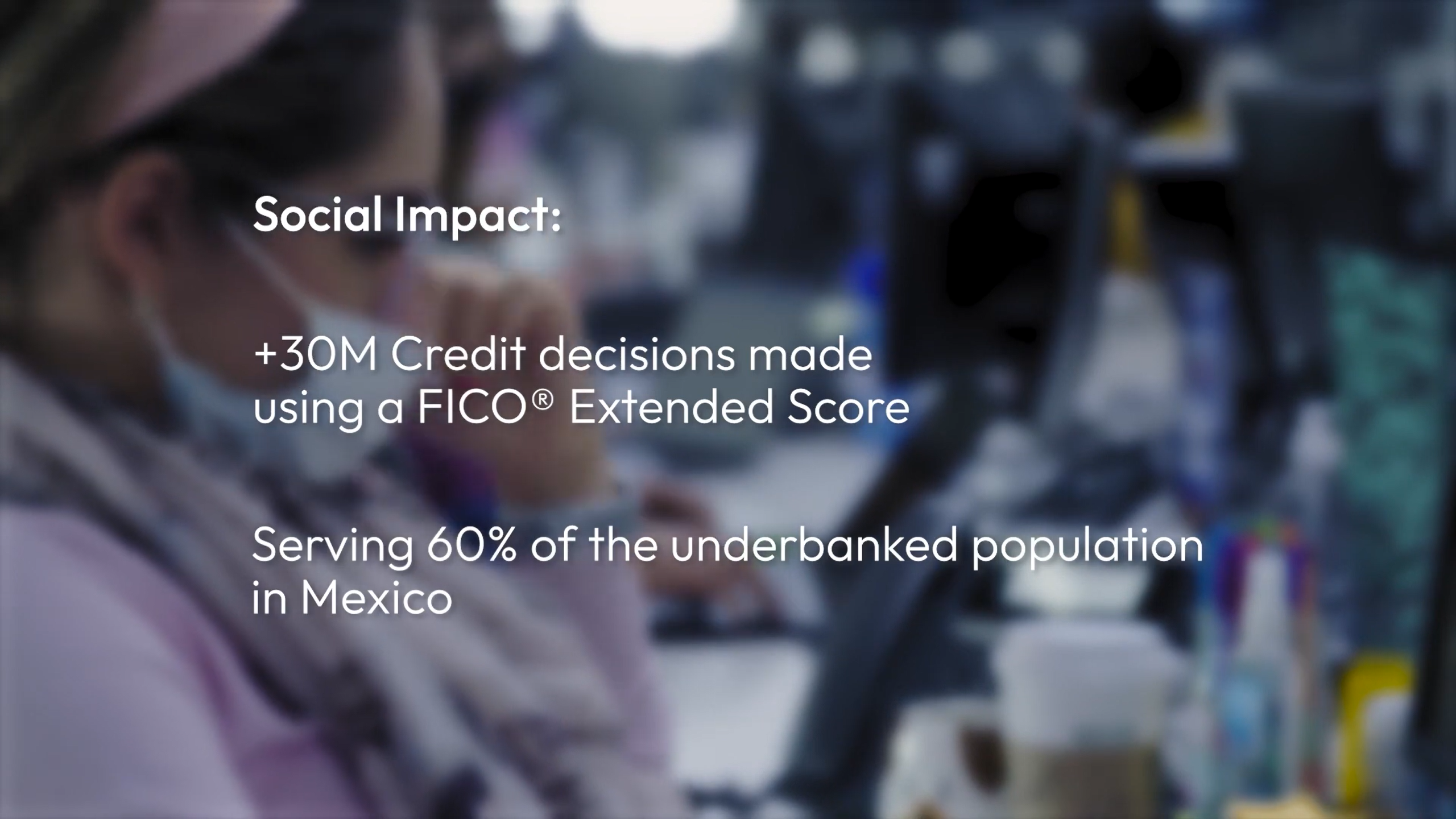 Since introduction to the market this innovation has enabled Círculo de Crédito to help an additional 22 million Mexicans obtain a credit score and put them on a path toward credit access. In addition to Círculo de Crédito, we also have FICO® Scores utilizing alternative data that support economic inclusion in South Africa, India, the Philippines and many other countries. In fact, solutions developed by the FICO Scores team enable credit access for an estimated 1.3 billion consumers globally using alternative data.


Using new approaches to improve financial inclusion
Financial inclusion also means investing in innovation. It means investing in research to validate forms of alternative data. It means integrating new technologies into lenders workflows and operations. It means forming unique multi-party partnerships, such as we did with Equifax for an offering in the U.S. There we use the Equifax NCTUE database, that looks at telco and utility data, as well as property and record data from LexisNexis.
Then there's the UltraFICOTM Score, where we partnered with Experian, and Finicity, a data aggregator that's part of MasterCard. In addition to traditional credit data, the UltraFICO Score reviews open banking or consumer permission data, such as how the consumer handles their finances which can be revealed by their checking and savings accounts. This ground-breaking score allows consumers to give permission to share data from their accounts, putting that consumer in control of their data sharing.
I'm happy to announce that we've completed the pilot of UltraFICOTM Score, where over 35,000 consumers shared their data with lenders and lenders were able to integrate this advanced technology into their underwriting workflows to safely grant credit where they may have previously declined.
The importance of integrity
Finally, you can't talk about social good without talking about integrity. Integrity is reflected in two key principles that we stand for: Transparency and responsibility.
We supported score transparency starting with our industry-leading direct-to-consumer FICO Scores launched through myFICO.com in 2000. Then, again, with our FICO® Score Open Access program that we launched in 2013. Hundreds of lenders in the U.S. are part of this program, where FICO Scores used by financial institutions are shared with consumers for free.
Through that program, and many other ways for the consumers to access their FICO® Score, we offer reason codes and educational material to provide insight to the consumer on their score. Through myFICO we also offer score simulators, which provides another level of educational information.
Plus, in many U.S. markets, we offer a program called Score A Better Future. This is where consumers can get their FICO® Score, understand what impacts their score and have free access to independent third-party credit counsellors so they can better understand their credit and take control of their financial future. In other words, we help consumers help themselves and understand the possibility of better credit outcomes.
It's worth noting that when we develop new versions of the FICO® Score, we keep the impact on the consumers at the forefront of our design decisions so that we can stand behind this principle of transparency. When I talk about integrity, I don't just mean the integrity of what FICO does. I also mean the integrity and the soundness of the credit ecosystem. Because FICO is not just another vendor. The FICO Score, as with other FICO solutions, lies at the very core of how the credit world operates.
Standards that won't be compromised
When we create new versions of the FICO Score, we do it to benefit lenders, consumers, and the soundness of the credit ecosystem. FICO wants industry and the community to know they can count on us to do nothing less than that.

Take financial inclusion, one way to score more people in the U.S. would be to eliminate the minimum scoring criteria. These are the rules that are used to ensure that there's enough information on the report to provide a reliable score on the consumer. But is eliminating the minimum scoring criteria the best way? No, it's not. You need to know, when you have a score on a consumer that you're getting a solid indication of credit risk, you need to know that you're not putting the consumer at greater risk of a foreclosure because a score used in a credit decision for a mortgage or auto loan, was based on a small amount of data, or stale data.
We believe that the best way to score more people is to use more data, to leverage alternative data to shine a light on the people who are currently underserved. This is the responsible way to broaden financial inclusion and have more credit for those who don't have a traditional credit report. This is how we do that, including for immigrants who are new to the country, young people who are trying to gain a foothold in credit, or those with past mistakes, who are rebuilding their credit.
FICO is leading the charge in this front and that's what I mean when we talk about integrity. There is a lot of focus in the finance world on ESG decisions and it requires us to consider how business can better serve our collective social good. How can we improve financial inclusion? How can we use innovation to bring more people the financial resources they need? And how can we do this with integrity to make sure that lenders can manage risk in a sound manner for the good of the lender, the borrower, and the whole credit ecosystem?
These are the big challenges for lenders and we're here to help lenders meet them. Our goal is to help you lend to more people responsibly and be able to explain every decision you make using FICO analytics.

How FICO Can Help You Make Lending Decisions That Drive Social Good