Putting customers at the core is a business fundamental. It's 101 stuff.
But today, the challenge facing companies is, how do you engage customers successfully around their self-interest without bankrupting yourself?
Whether you are a thriving café, a legal firm or a big bank, consumers are rightly or wrongly expecting you to understand them on an individual level and make doing business with them easy, quick and hopefully a pleasurable experience.
Obviously, your local barista learning your coffee order requires effort but is achievable. Your local bank knowing your finances, what you might like to buy next and making you an appealing offer is immeasurably harder due to the sheer scale and complexity required of those decisions.
Making these decisions effectively at a low cost is a big nut to crack. It is something that FICO has been trying to continuously improve since it was founded.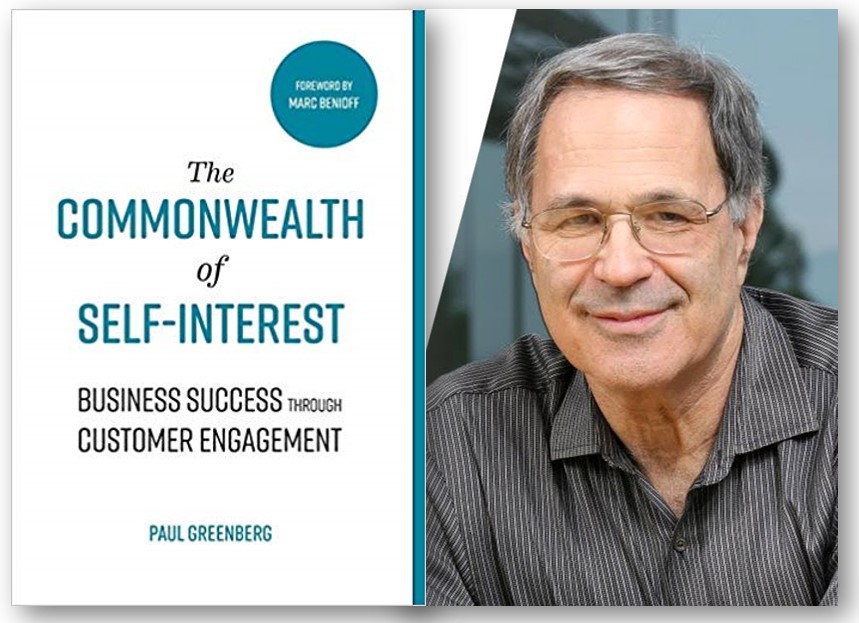 Of course, we are not the only ones talking about how to be successful at customer engagement. I recently read a book by marketing thought-leader Paul Greenberg (
@pgreenbe
) called
"The Commonwealth of Self Interest: Business Success Through Customer Engagement"
.
I was particularly interested in what he had to say about attempting personalization at scale, which is critical to the challenge facing our many banking clients, which he summarized nicely.
 "…more than just identifying the products, services, tools and consumable experiences necessary for the customer to sculpt their own choice of engagement with the company, businesses are now in a position where they must anticipate customer behavior and then develop optimized offers or programs for those individual customers in real time or close to that."
This is no small task and is a real dilemma when you have thousands or perhaps millions of customers. To solve this, Greenberg makes a strong argument for predictive analytics, pointing out that while they are not totally foolproof, they do "a great job of using history to predict future patterns."
Beyond The Transaction To The Prediction
So, where do banks start when it comes to improving their business? Scott Rogers, one of the experts quoted in the book, explains that there is a 'disconnect between attitudes and behavior' when you look at credit unions.
In the US around 30 percent of people are members of a credit union. They regularly achieve high Net Promoter Scores for their personalized service and yet they only hold 7 percent of the market. So why do consumers leave their credit union if they rate them so highly on customer engagement?
The simple answer is that their 'people' service might be engaging but their offering and products are often found lacking. We completed surveys on this topic at FICO  and the responses zero in on factors such as poor digital banking offerings, less personalized offers and smaller networks of branches and ATMs.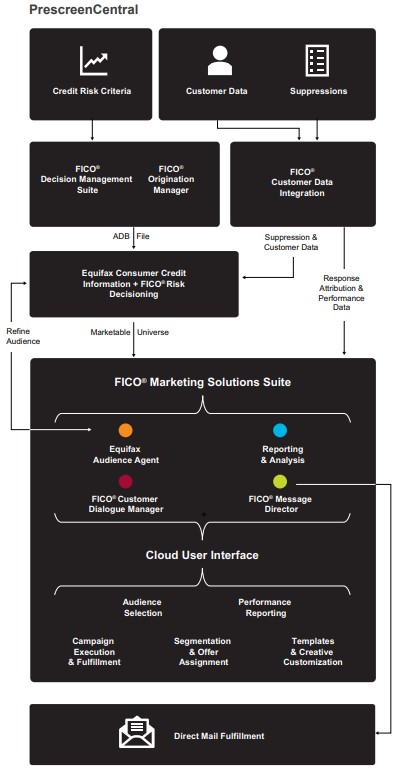 This highlights an opportunity that exists for credit unions and smaller lenders in the market to use technology to level the playing field. Therefore,
FICO partnered with Equifax to create a PrescreenCentral marketing automation solution
that helps small to medium-size banks grow by providing them with an affordable FCRA-compliant prescreen service to identify and market preapproved offers. ​ It's differentiated because it is affordable and flexible.
This is a solution that democratizes the prospect database by offering it up in bite-size pieces with transactional pricing that allows for smaller campaigns and the ability for banks or credit unions to campaign every month if they want. ​
Innovative solutions are closing the gap and allowing smaller lenders to engage customers successfully around their self-interest, or what's important to them. In this case, by making a better targeted offer, which appeals to the customer and is priced accordingly to credit risk and other customer attributes the bank wants to consider.
This is the embodiment of Paul Greenberg's main edict in the book for being a successful business.
"If a customer likes you and continues to like you, they will continue to do business with you. If they don't, they won't."
While this is a simple definition, he is dead right. Customers expect you to know their personal details, their income, their credit utilization, the number and types of products they have with you and more. Getting that right in your marketing campaign with the right prescreening ensures you only offer to those that fit your targeted profile. Once a customer feels like their bank really knows them, they are more likely to like them and continue doing business with them, and not to forget recommending them. Word of mouth is free advertising.
Plotting The Destination, Before Starting The Journey
At FICO, we always tell our customers to spend time thinking about what busine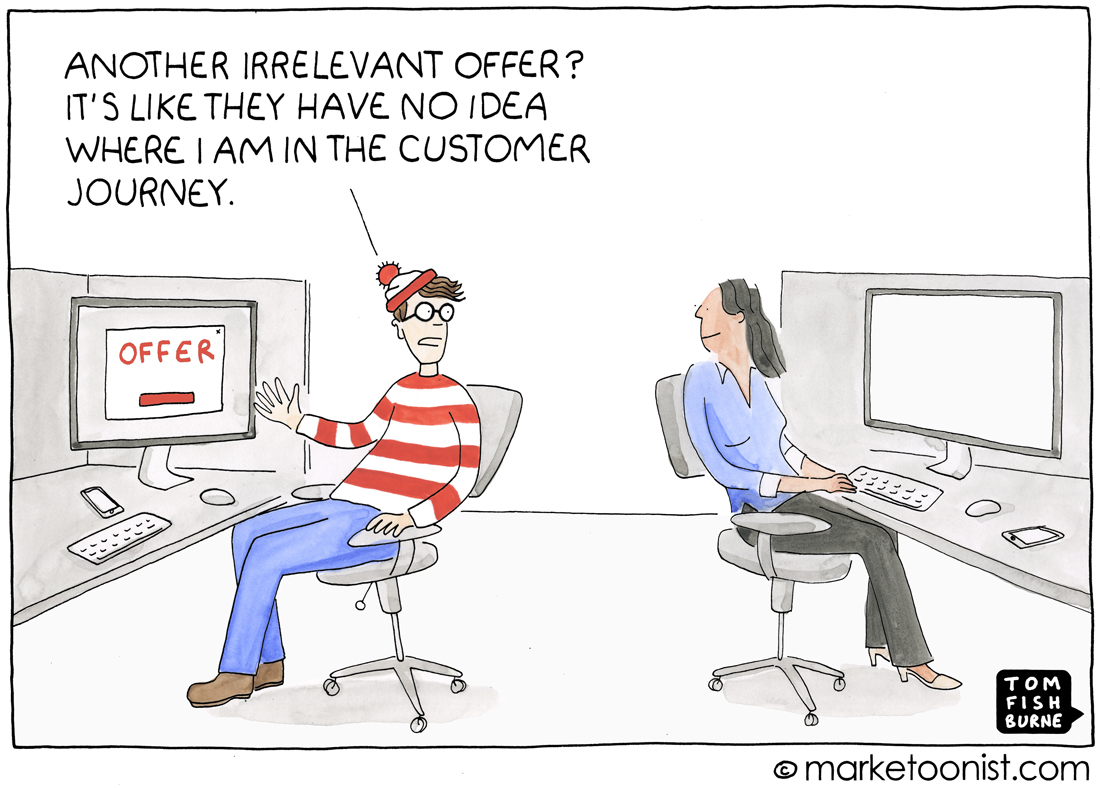 ss outcome they want to prioritize before we start looking at what data they have and what analytic solutions we might employ.
Similarly, Greenberg shared a case study involving a major European bank and management consultants McKinsey. The bank announced a multiyear plan to revamp its operating model to improve customer satisfaction and reduce the bank's costs by 35 percent. However, the consultants suggested that they target the ten most important journeys for customers, in what one would call the application of the 80/20 rule. By rationalizing and streamlining their processes they were able to lower costs, increase online customers 20 percent and the number of mobile app users grew 50 percent.
Paul quotes McKinsey's approach as the following:
"Instead of working on separate initiatives inside organizational units, companies have to…focus on customer journeys and the internal processes that support them. These naturally cut across organizational siloes – for example, you need marketing, operations, credit and IT to support a customer opening a bank account. Transitioning to the next-generation operating model starts with classifying and mapping key journeys."
What I have seen at FICO is that our most successful customers move through their onboarding process in this way. We're committed to making FICO's customer experiences easy, repeatable, personal and appealing. Because "If a customer likes you and continues to like you, they will continue to do business with you. If they don't, they won't."