First-party fraud refers to an applicant or customer's intention to commit fraud, whether through use of a true, manipulated or synthetic identity. It's difficult to define the problem and many banking professionals debate the merits of who "owns" the first-party fraud problem — the credit risk group or the fraud group.
However, even as the two groups have distinctly different functions at most financial institutions, both touch almost every point of the customer lifecycle — from marketing to origination, to management, to account closure — including collections and recovery. Given that analysts estimate 20% of the bad debt book is actually fraud, I would posit credit risk and fraud are two sides of the same coin when it comes to first-party fraud
Banks shouldn't be asking themselves, "What function should own the first-party fraud problem?" Instead, they should be asking themselves, "How do we stop first-party fraud across the customer lifecycle, regardless of function?"
Check out my latest Hot Topic, "Predicting First-Party Fraud: Bridging the Chasm Between Credit Risk and Fraud," to learn more about FICO's perspective on how we can manage customer relationships in a more informed, profitable way. Here are some highlights.
The Relationship Between Credit Risk and First-Party Fraud
Because it's very difficult to detect first-party fraud, there is no standard definition of it. As a result, money lost to first-party fraud often gets written off as bad debt, and that's a credit risk problem.
For example, when I reviewed the annual reports of several regional banks, with $125 billion to $375 billion in assets, gross charge-offs for credit cards ranged from $100 million to $200 million. If we conservatively estimate that 10% of that is first-party fraud, there is $10 million to $20 million in annual losses we should be trying to mitigate.
Furthermore, we have more recently observed that brute-force fraud attacks can result in $10 million or more in losses over the period of just a few weeks. Post-mortem investigations of these attacks suggest that losses to first-party fraud can be tenfold as high as those from identity theft.
Credit Risk and Fraud Across the Customer Lifecycle
This is easily visualized with a timeline perspective. In fraud, our opportunity to stem the tide of losses begins at point of application and flows through monitoring post-book customer portfolios for evolving application fraud risk over time, detecting account takeover and payments fraud, and automating the resolution of fraud cases and disputes.
In credit risk, underwriting and account origination are tied to application fraud. And the intelligence learned here should be carried downstream for further risk mitigation in customer and account management, collections, and more. Mapping out these product lines together, visually, shows a clear lifecycle continuum.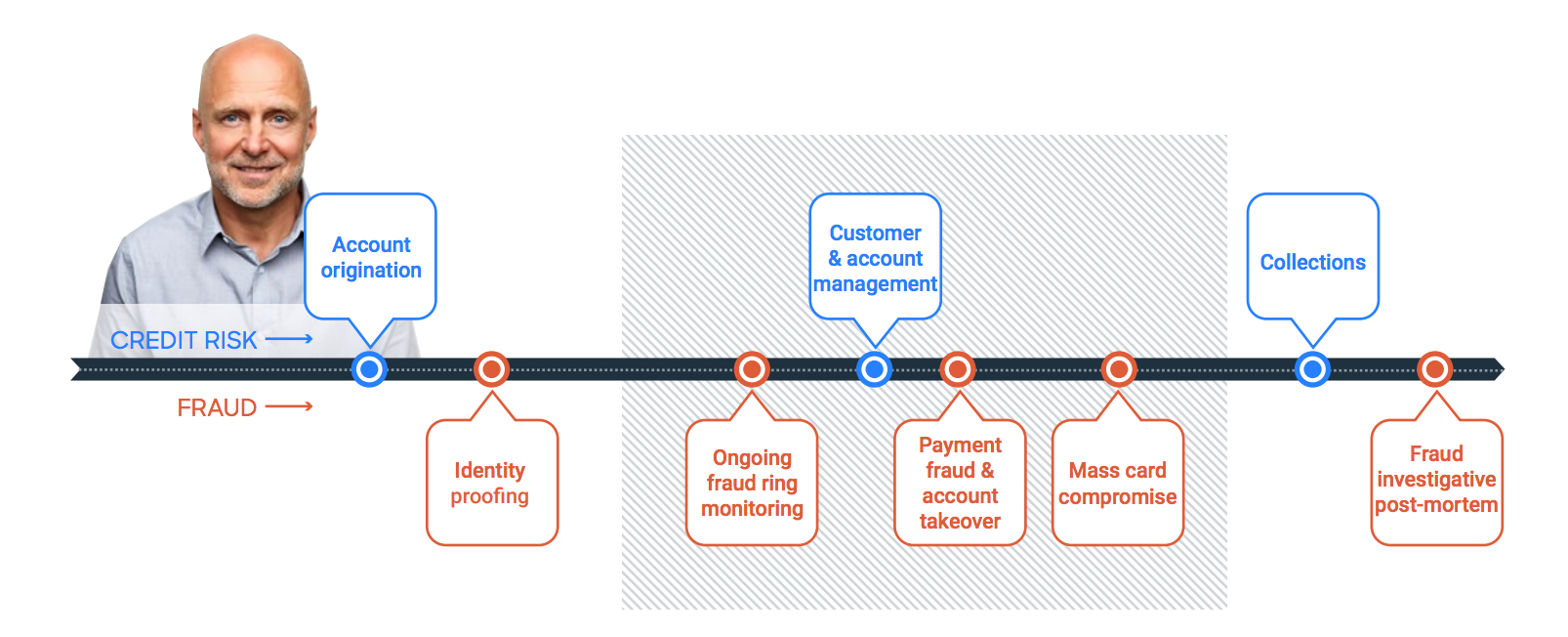 How FICO Takes an Analytical Approach to Stopping First-Party Fraud
Simply put, when we know about someone's potential for fraud, we can use that data to inform strategies across the customer lifecycle, to protect against first-party bust-out fraud. First-party fraud risk doesn't have to be black and white; it can exist on the scale of an analytically derived, machine learning predictive score.
How Fraud Risk Can Change Over Time
Our perception of customers actually changes over time based on new data we learn from and about them. Any customer can start out looking legitimate, but we often gain access to new information once they are on book that suggests fraudulent intentions.
FICO® Identity Resolution Engine helps monitor first-party fraud risk over time by automatically ingesting and analyzing emerging customer information and behaviors to continuously evolve our understanding of fraud risk.
Download "Predicting First-Party Fraud: Bridging the Chasm Between Credit Risk and Fraud" now to get the full story. Follow me on Twitter @LizFightsFraud to keep up with my thoughts on a wide range of fraud topics.