This week marks approximately a year since our new normal started and became, well, our 'new normal'. While the phrase has become a bit hackneyed (I did grit my teeth a bit while I wrote that first sentence), this past year the pandemic truly impacted not just major parts of our personal lives, but how we handle our fight against fraud and financial crime. 
To learn more about these changes, FICO commissioned research and analyst firm Omdia to perform independent research to reveal the major challenges financial institutions faced over the past year due to the impact of COVID-19. Previously, I touched on some COVID related trends we were seeing linked to money muling and credit card fraud, but in this comprehensive study, Omdia surveyed over 100 senior executives that oversee fraud and financial crime functions at financial institutions in the U.S., Canada, UK, Brazil, Germany, and the Nordics to understand the broad pain points institutions have been facing.
Across the globe, the increase in fraud attacks proved to be the biggest challenge for institutions (as shown in the chart below). Some companies fell victim to systems that couldn't adapt quickly enough (or at all) to new customer behavior (see my checklist below to understand what capabilities these institutions should have been harnessing and how FICO can help) – leaving these systems to identify legitimate customer behavior as suspected fraud and customers feeling frustrated. Following closely in the ranking was the struggle to maintain controls when most of the workforce suddenly became remote.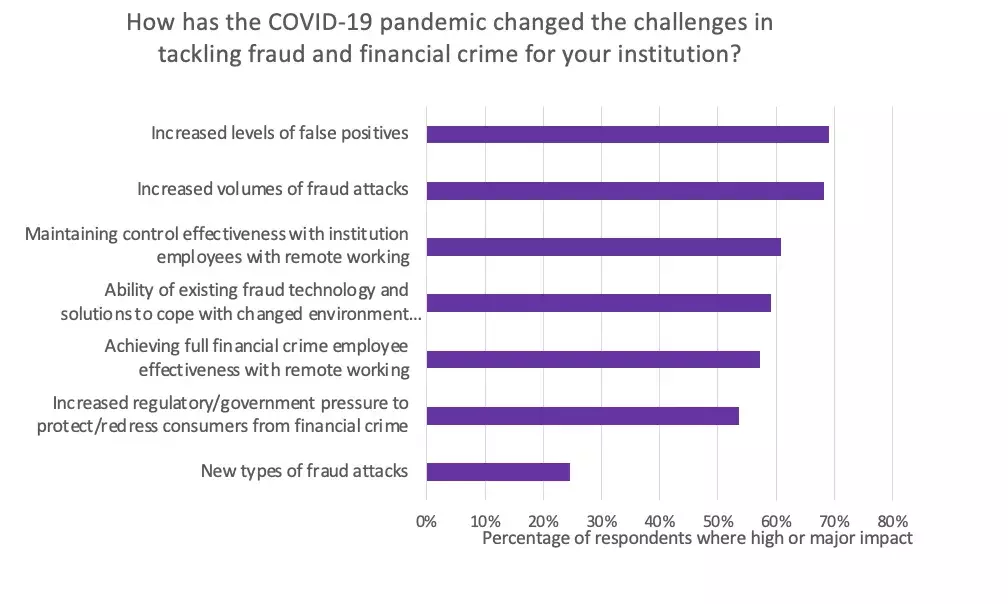 Throughout the pandemic, one of the biggest demands on fraud and financial crime technology has been the ability to quickly adjust. In our study, senior executives identified multiple areas that they are looking to improve on their platforms. Two areas worthy of noting are the need for institutions to better identify emerging financial crime challenges (54%) as well as the increase the speed in responding to evolving threats (38%). Finally, they also stated that they need to better be able to enable remote work (64%).
Preparing for the Next COVID-19
While we don't know what the next event will be or how it will take shape, you should take advantage of the opportunity to learn from the lessons COVID-19 taught us.
For a full deep dive into the learnings, read the full whitepaper from analyst firm Omdia.
Here's my checklist on how to be better prepared for the next unprecedented event:
Leverage centralized intelligence – You'll find that when you are trying to quickly adapt to changes in behavior, especially when it changes at the pace we have seen with the pandemic, that it is imperative to have a centralized solution or connected solutions that address your needs from pre-book prevention to post-book detection and management. Data that you acquire throughout the customer lifecycle can then be best leveraged to keep your customers secure.
Make sure your technology enables unbridled data ingestion – The right platform gives you the power to access all your data, regardless of location or format. Whether you need internal, external, stream or batch data to keep up with evolving threats, your system should be feeding you the right data at the right time.
Ensure your technology provides analytic flexibility – Your solution for models needs to be innovative, flexible, and most importantly, deployable. In terms of flexibility, it should give you enough options that as the fraud and financial crime climate quickly evolves, you can choose the appropriate solution – whether you need to access proven models provided by your vendor, use third-party models, or build your own.
Tap into automation to lighten the workload and become more efficient – Rising fraud and financial crime have left many institutions struggling to find enough skilled talent, leaving them insufficient resources. Companies should look to solutions that offer robotic process automation (RPA) to relieve some of the stresses on personnel, allowing them to focus on high-value tasks while automating routine tasks.
Consider the jump to the cloud for increased flexibility – Adaptability has been a prevalent theme in dealing with the impacts from the pandemic. The cloud allows you to seamlessly add server capacity and scale flexibly to your needs while also providing an easier framework for employees to access what they need to do their jobs. For more on the benefits of a cloud-based solution, read the post by colleague Doug Clare who previously shared four of the main benefits.
FICO Solutions
FICO solutions tackle all these pain points and more. Our purpose-built solutions adapt to ever-evolving fraud and financial crime threats and prepare you and your institution for the next unprecedented event.
Across our offerings, you can access unconstrained adaptability, with powerful data ingestion and the ability to bring new context to your data at just the right time. Our flexible model development gives your data scientists the options they need: proven FICO models, third-party models, custom models and even the option to build their own. Integrated robotic process automation replaces routine tasks across connected solutions. Depending on your organization's appetite to move to the cloud – or not – FICO can accommodate your organization's needs.
Speak with an expert to learn more.
Additional Resources
Join Senior Research Director at Omdia and lead researcher for this survey, Daniel Mayo, and I when we dive deeper into this topic in our keynote session at our upcoming FICO Virtual Event session, Fraud and Financial Crime: The Covid-19 Impact.
In the meantime, follow me on twitter @fraudbird to hear the latest on fraud.