Thinking long-term while in the midst of a crisis is a challenging exercise. As fraud practitioners, it's easy to see the immediate impact on our lives – from reduced operational capacity, to the proliferation of COVID19 scams, to the need to modify our strategies as consumer spending habits have suddenly shifted.
However, it's critical that we also take the time to reflect on the longer-term changes that will impact our mission to stop fraud and financial crime. Will the shift to online and mobile payment channels be a permanent boost? What does fraud risk mitigation look like in an increasingly digital world? What will the lasting impacts of the newest flavor of social engineering be for identity and authentication?
What I'm talking about is building a resiliency plan that considers the lessons of the past and shapes data-driven plans for the future.
On April 20, FICO will launch a month-long virtual event entitled "Building Resiliency: Adapting to the Challenges of Today". With a series of webinars held across the globe, FICO subject matter experts will share learnings, best practices and strategies on topics that fall within six tracks: adaptability, digital customer engagement, risk management, operational efficiency, building trust and protecting customers.
Fraud and resiliency will be a major focus of this series. Here are some of the sessions you might be interested in: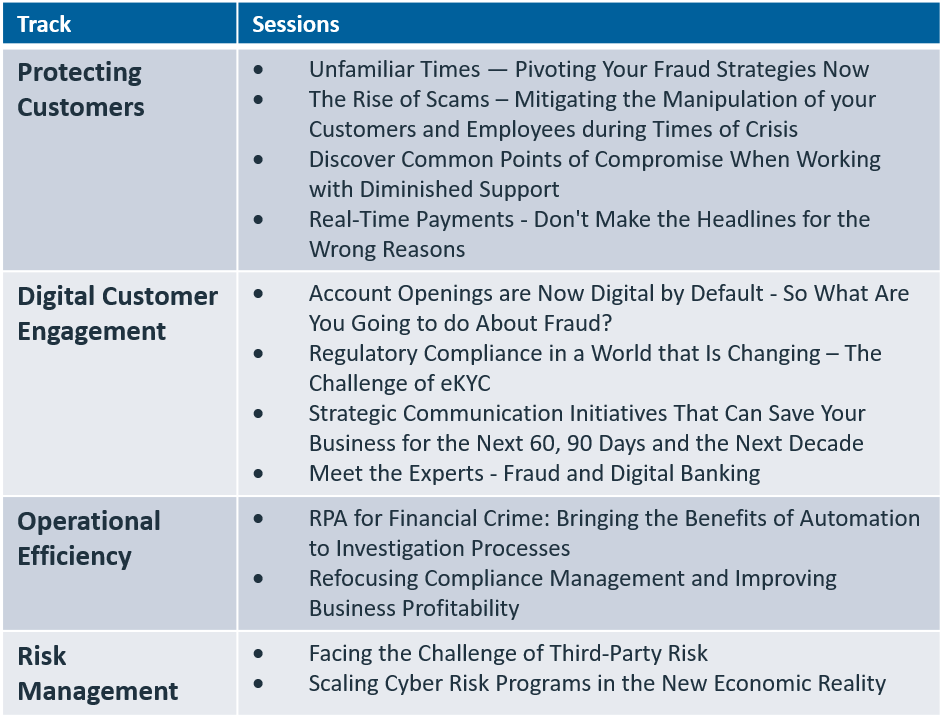 Registration is free and open now. We hope to see you there!
Want to learn more about fighting fraud? Follow me on Twitter @LizFightsFraud