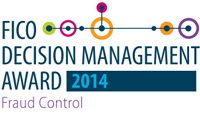 As I've noted several times in this blog, enterprise fraud management is something of a "holy grail" for banks. Few have managed to make it a reality. Today, FICO gave an award to one that has – Turkey's second largest bank, Garanti.
Garanti took home the 2014 FICO Decision Management Award in the Fraud Control category. The bank is using its deployment of the FICO® Falcon® Platform to centralize fraud protection and case management across credit cards, debit cards and current / demand deposit accounts (DDA). In addition, Garanti uses FICO application fraud models to detect potential fraud in credit card and consumer loan applications.
Garanti has been able to increase detected credit and debit fraud cases, keeping its fraud losses down during a period when fraud attacks were doubling, whilst at the same time minimizing impact upon genuine consumer spend. To do this, last year Garanti Bank expanded its use of FICO Falcon Fraud Manager to cover all transaction channels for its current/demand deposit accounts (DDAs), in addition to debit and credit cards.
The most impressive part of their approach is that Garanti's anti-fraud team now uses FICO Falcon Fraud Manager to protect multiple accounts for each individual, and to view them at the customer rather than simply the transaction or account level. Supervisors can write and define rules and improve the agility of their parameters, which enables the bank to respond faster to high-priority risks, to better delineate between fraud and genuine transactions, and to stop flash fraud as it's unfolding.
If a risky transaction is identified, Garanti can now create a new case, temporarily block the relevant account facilities and send an SMS or other notification to the customer, instantaneously. Multiple actions give the bank's analysts a chance to make contact with the customer much more quickly, and through the customer's preferred channel, giving them a better experience.
As Beyhan Kolay, the former senior vice president for Anti-Fraud at Garanti who oversaw the centralized fraud protection and case management initiatives, notes in the news announcement: "Garanti Bank is the first bank in Turkey to integrate different fraud controls in the same department, using a customer-centric approach. Our approach enables us to carefully manage the impact of fraud management controls on customers, so that we can not only protect them but also keep them engaged, thereby making them more profitable for us."
Garanti is also using application fraud models from FICO to stop first-party and third-party fraud applications. This is critical in Turkey, where banks demand relatively little documentation in order to simplify the lending process for customers. In the first six months of use, FICO's application fraud models have been able to detect 80% of third-party and first-party fraudulent applications.
Garanti's results and advanced approach impressed the panel of industry analysts and journalists who judged the FICO Decision Management Awards. Congratulations to Garanti's Anti-Fraud team on this well-deserved win!
Read about our winner in the Customer Growth and Retention category, Westpac.