The latest installment of our quarterly survey of risk managers at U.S. and Canadian banks shows real concern about a possible re-inflation of the real estate bubble. In the survey, 56% of respondents directly involved in mortgage lending expressed moderate to heavy concern that "an unsustainable real estate bubble is inflating."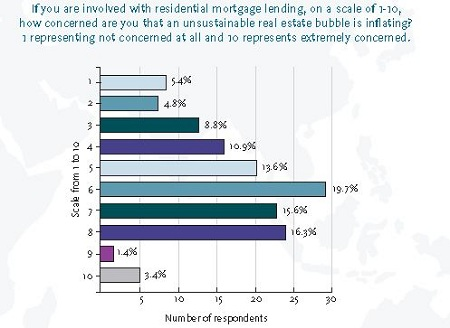 The actual data I've seen is a mixed bag. There are roughly six million homeowners in the U.S. still underwater on their mortgages. The average negative equity among those six million households is 33%. That level of negative equity won't disappear anytime soon.
However, home prices are soaring in many cities, and total homeowner equity in the U.S. is at its highest level since late 2007.
I'm not sure that is a tenable situation. Given that state of affairs, I understand why many lenders in both Canada and the U.S. are concerned about the risk in residential mortgages.
The survey also found that bankers are paying close attention to consumer debt as the re-leveraging trend continues. For the last two quarters, about 65% of our respondents said they think credit card balances are headed higher. Those are the two highest figures we've ever seen in our survey.
And when we asked our respondents about the underwriting process (for all types of consumer loans), most of the folks we polled (59%) cited "high debt-to-income ratio" as their top concern when reviewing loan applications. The second and third most common concerns were "multiple recent applications for credit" (13%) and "low FICO® Score" (10%).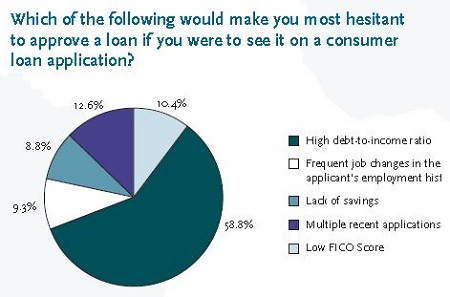 So while we have yet to see lenders really pull back on lending, I interpret the results of our latest survey as evidence that bankers are wary of a return to reckless borrowing. It will be interesting to see if and how this concern manifests itself in the coming months.
On a more positive note, the survey responses regarding small business lending were quite optimistic. While 34% of respondents last quarter expected delinquencies to rise on small-business loans, only 26% expected such an increase this quarter. And last quarter, 40% of respondents felt credit supply would fall short of demand for small-business loans. That figure dropped to 28% in the latest survey.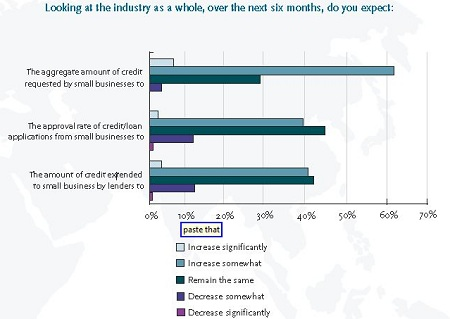 To view all survey responses, I invite you to download the full report. As is often the case, this quarter's survey results have sent us mixed messages. But one thing never changes – the results are always fascinating!