Fraud Protection & Compliance
In just a decade, ridesharing services like Uber and Lyft have changed the way people get around. Hailing a cab or driving yourself has morphed into requesting a pickup on an app from these and other peer-to-peer transportation network companies (TNC). But has this shift in consumer habits created a growing rideshare fraud problem?
Using large data sets gathered from FICO® Falcon® Intelligence Network and processed through FICO® Falcon® Fraud Platform, we analyzed how ride-sharing services of TNC companies have impacted transaction and fraud patterns in the Taxicab and Limo services industry in the US.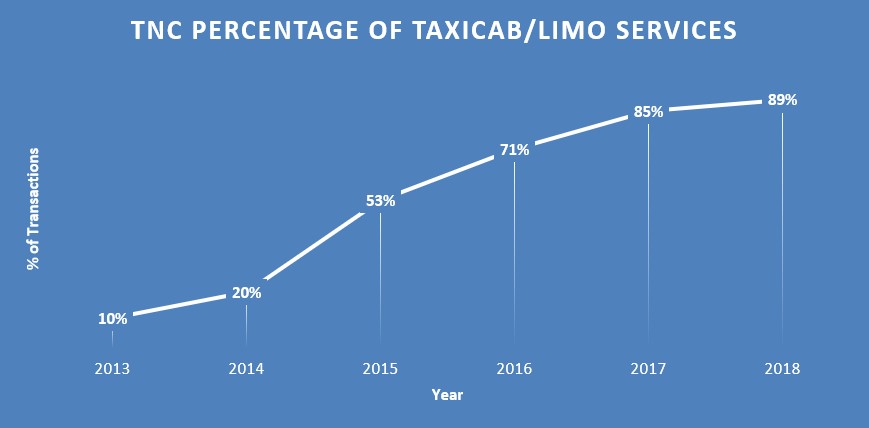 TNCs have gradually changed transportation preferences within the card-not-present (CNP) Taxicab and Limo service category. Since 2013, there has been a significant rise in TNCs' market share in the US within this merchant category. By 2018, we have seen players such as Uber and Lyft, which dominate the rideshare industry, reach 90% of card-not-present payments in the Taxicab/Limo service category in the US.
Uber and Lyft are Popular with Fraudsters
While these peer-to-peer TNC applications on smart phones are convenient for users, they have also become new targets for fraudsters to go after. Rideshare fraud provide an ideal testing ground for stolen card numbers, which are loaded into the ridesharing apps to fraudulently pay for rides.
In 2013, even though Uber and Lyft were still fairly new, their fraud rates were noticeably higher than traditional taxicab services, by almost 40%. Over the next few years, as Uber and Lyft made significant market gains, and the TNC fraud rates decreased somewhat (to 31% higher than traditional taxicab service in 2018). Interestingly, spikes in fraud rate occur beyond the 31% mark in more risky, less-populated regions in the US.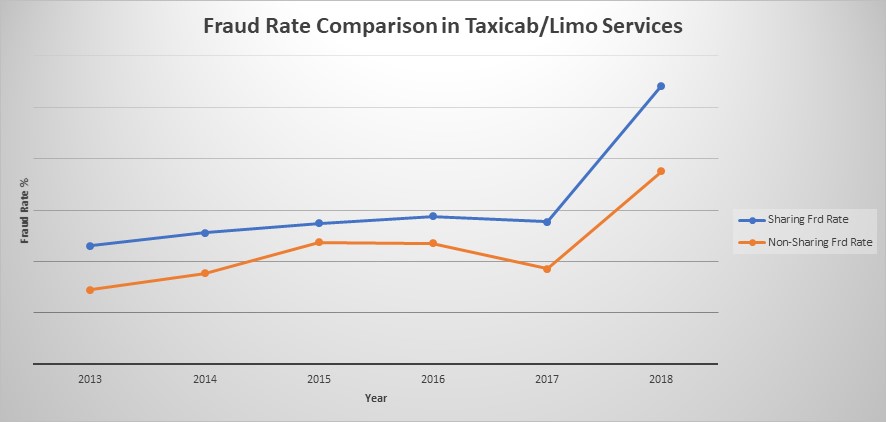 Fighting Back Against TNC and CNP Fraud
FICO is fighting back against TNC and rideshare fraud with new technologies that have been incorporated into FICO® Falcon® Fraud Platform models to better detect CNP frauds. These enhanced models continue to be at the forefront of using innovative AI and machine learning technologies to maximize fraud detection rate. They excel at detecting high-value CNP fraud transactions (such as a long rideshare trip to the airport), thus flagging fraudulent rides and reducing future losses on any given fraud episode. In addition, the models Incorporate analytics to monitor very low-value CNP fraud transactions (such as a trip a few blocks long) to capture fraudsters trying to stay under the radar with lower-valued transactions, or to "test" the card for use elsewhere.
By monitoring multiple aspects of a cardholder's regular payment behavior — spending amounts, frequency of CNP transactions, preferred merchants, time of use, etc. — FICO's new models can predict the likelihood of a given TNC transaction to be fraudulent much faster than ever before. As TNC companies continue to grown and dominate Taxicab and Limo services, FICO's latest model designs are well prepared to catch rideshare fraud.
Follow me on Twitter @ScottZoldi.