Debt Collection & Recovery
As noted in my 2021 debt collection predictions, and in previous posts, what we are experiencing is nothing less than a debt tsunami. Just as an actual tsunami is a series of waves caused by the displacement of a large volume of water, a debt tsunami is a series of consumer arrears drivers affecting the credit portfolio of a large body of creditors.
Some of those drivers are routine and some are exceptional. When we look forward to March 2021 we are likely to be impacted by the aggregate of:
Seasonal post-December peak – high credit utilisation, worry later about how it will get paid
Uncertain economy – many do not know today what their financial stability will look like next March
Masking of current and near-term affordability through furloughs and payment holidays
Masking of employers' near-term ability to pay salaries through business interruption loans
Unexpected expense increase from income tax to Brexit (If no deal, estimated >5% cost of living)
Increased cost of credit – both from payment holidays and need for creditors to cover losses
Reduced pension incomes – market volatility already showing a 14% swing
The above list is not exhaustive, and we all know that different markets, industries and sectors will have differential return to norm profiles. Some have no profile!
Here's one indicator of "masked" impact: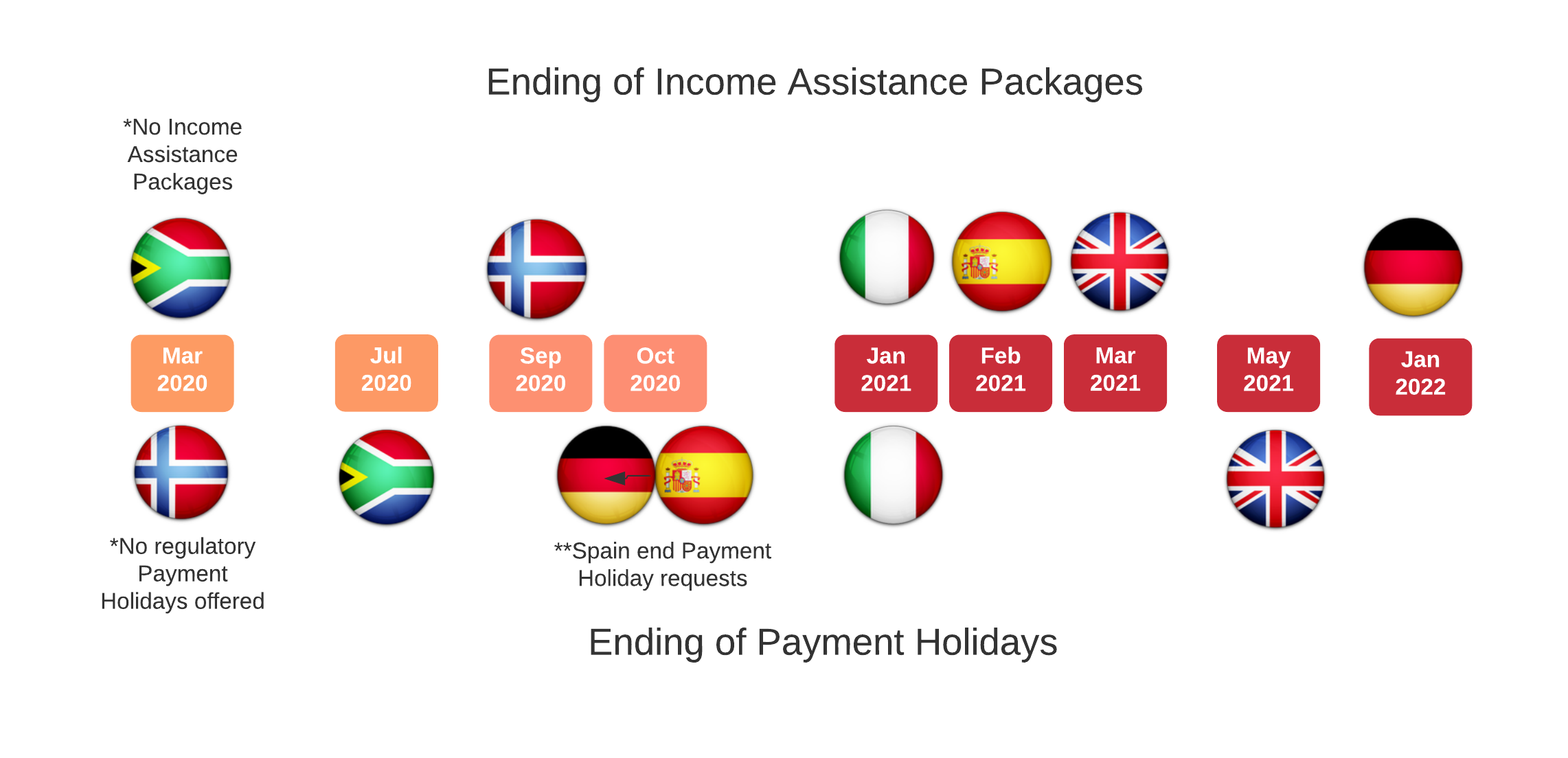 With payment holidays for mortgages or credit ended, in flight or extended across Europe and South Africa, and income assistance packages also coming to an end, the full extent of consumer indebtedness will take time to materialise. Not all borrowers and SMEs will realise the true cost of taking a payment holiday or the extent of payment increase until after the payment holidays have ended.
Halifax, a UK bank, gives the example of someone with a £100,000 repayment mortgage at a rate of 2.75% with a 20-year term remaining. Following a three-month holiday, their monthly payment will rise by £9 – from £542 to £551. Because the balance is remaining higher for three months, the total amount to repay goes up by £485 to £130,605. The average mortgage size for first-time buyers in 2020 is £170,301, which is considerably higher than the example given by Halifax.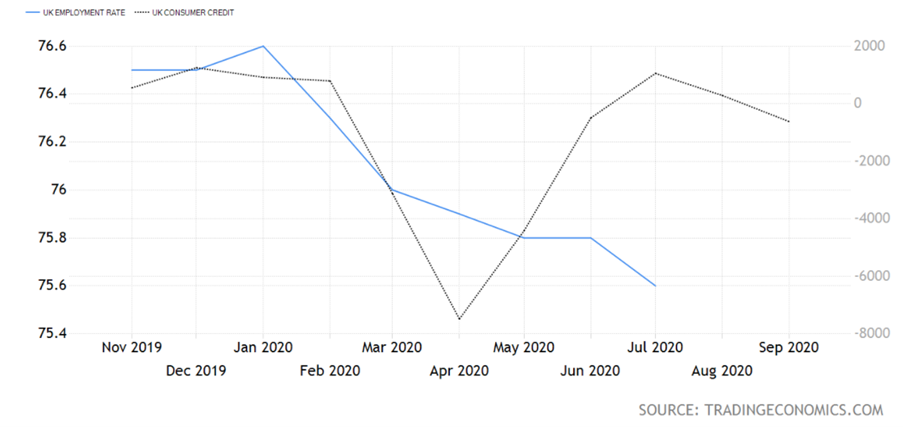 In the UK, with the employment rate falling and consumer lending increasing, debt defaults will see a further rise. We see similar trajectories across the EMEA region. Collections volumes normally rise anyway during this season, due to increased spending over the festive period and company end-of-year restructures that lead to redundancies, both related and unrelated to the pandemic.
FICO have mentioned in recent blogs that a much higher proportion of customers in collections will be good customers in bad circumstances. Those creditors who can't identify and treat these customers appropriately will increase their credit losses and haemorrhage future good customers.
Now is the time to ensure you truly can deal with customers fairly, with appropriate personalisation, within regulatory guidelines, at scale through automation.
Rate Your Capabilities
These brief questions cover very important capabilities. If you're not answering Yes, it will most likely mean: collectable arrears are running to loss, cost to collect is not where it could be, customer attrition will be running higher than necessary and you will not be able to boast you have a best practice capability and performance.
Do you deploy collections-specific scorecards at each cycle 1- 3, with recovery-specific scorecards from 90+?
Do you deploy propensity models for contact, promise, pay, restructure and litigation?
Do 65%+ of your cycle 1 customers auto-resolve arrears payment without talking to an agent?
Can your customer auto-resolve arrears payment anytime 24/7?
Do you know the probability of take-up and default of the forbearance solution you intend to offer each unique customer?
Do you know which agency will deliver the strongest yield on each unique customer you place?
Do you have the capability to validate a customer's income in real time, online through Open Banking?
Do you enjoy a 100% automation capability across your collection and recovery ecosystem?
Do you call on all and any permissively available data, in real time, to influence a customer treatment decision?
At a time when there is a clear spotlight on collections and recoveries, it is vital that personal and businesses customers are treated in line with achieving the best outcome, ensuring good customers can remain customers for the long term, promoting high customer satisfaction and retention. The ability to easily capture data insights using all types of data, such as structured, unstructured, internal or external, allows for more effective customer engagement due to the level of personalisation. Once the personalised data and insights are available, they can be used to enhance and optimise multiple areas. Automation of the right customer treatments and personalised resolution options should be provided to each and every customer based on these insights as well as using affordability validation at that specific time.
To mature many of the capabilities necessary to boast best practice collections and achieve the related performance does not necessitate building the Three Gorges Dam. Many capabilities can be matured on the go, in parallel, tactically with alignment to strategic direction and with low capital investment.
The debt tsunami could not be avoided, but the degree to which the resulting flood gets managed and stays around is very much down to your organization's ambition to have collections be a core competency and key determinate of profit. It also demonstrates how much your organisation values its good customers in bad circumstances.