2020 has resurfaced how important Supply Chain Resiliency is and how an event like COVID-19 can impact companies all around the world, both across their logistics and their credit risk.
Fortunately, at FICO we have the privilege of working with leaders in global supply chains. We have over the years helped them to develop new approaches to creating resilience, we have helped them become leaders, and they have helped us understand what it takes to deliver value from analytics and optimisation in practice. In fact, many of the cream of the crop within the recent Gartner 2020 Supply Chain Top 25 report are actually FICO Xpress customers, including companies like Amazon, Nestle, Pepsico and P&G.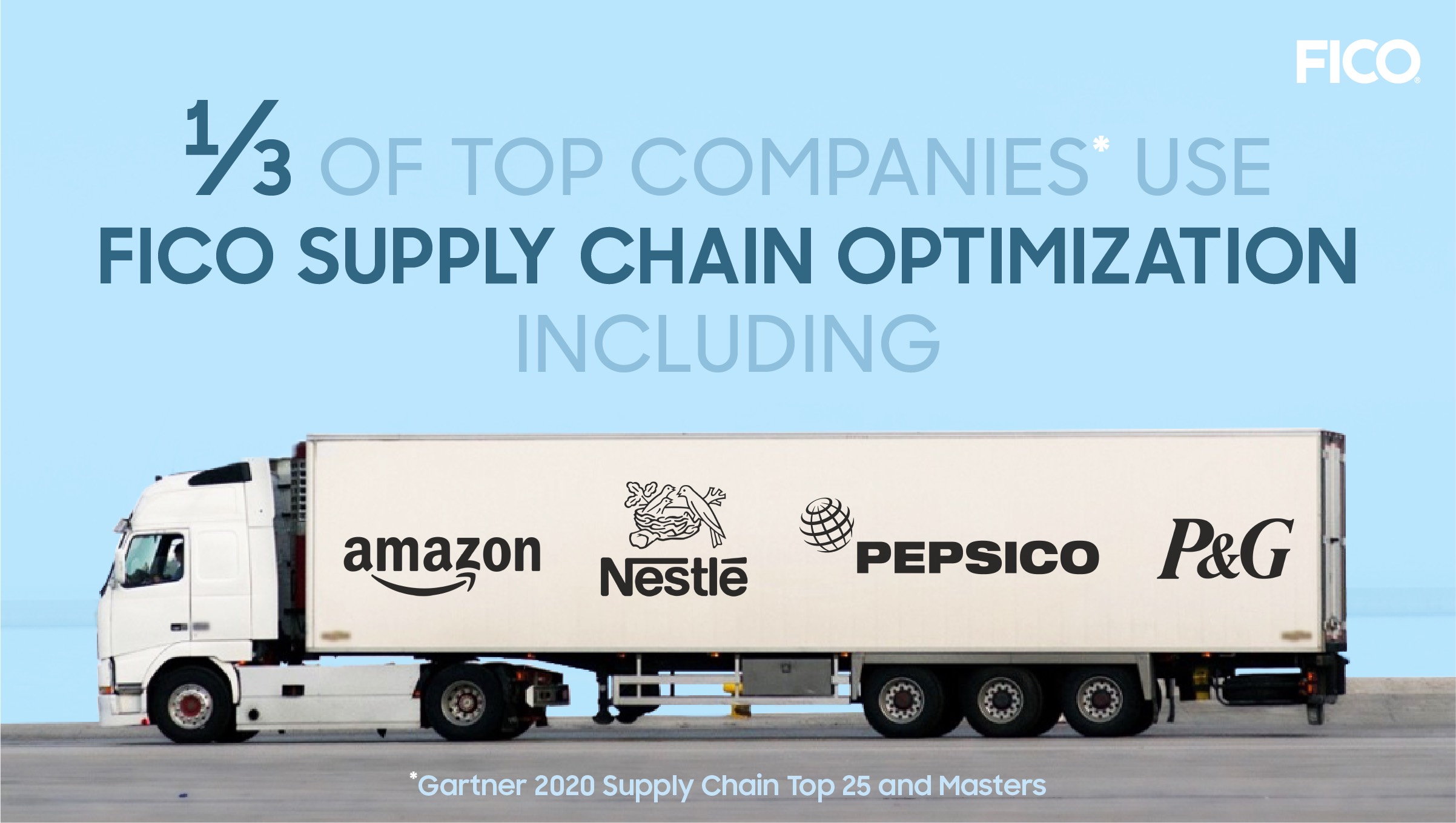 All of these firms have a plan in place to deal with usual disruptions like natural disasters, strikes, political instability, price shocks and so on, (like the examples below in 2015), however, almost nobody puts plans in place for a once in one hundred years pandemic of this scale. And to be clear: no one outside public health supply chains should build sufficient resiliency to survive the next global pandemic – that would be uneconomical during the other 99 years or so between events of the magnitude of the one we are experiencing now.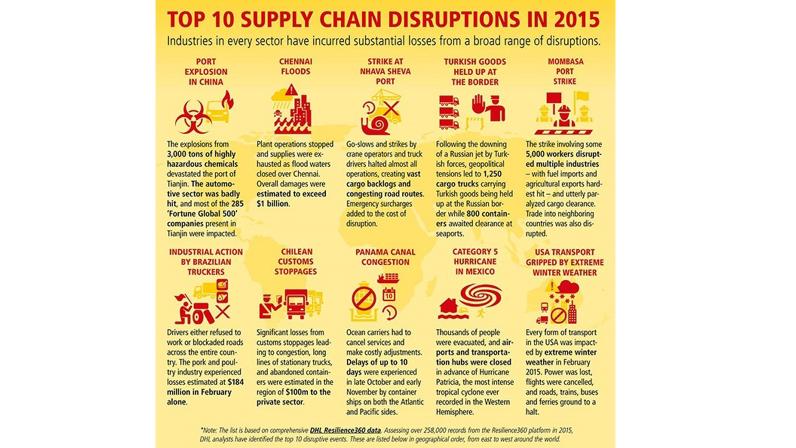 Source: https://www.dhl.com/global-en/home/about-us/delivered-magazine/articles/2014-2015/a-look-back-at-2015-the-top-10-supply-chain-disruptions.html
However, the advanced approaches and technologies used by these top companies did mean they knew how to pivot and address the situation the best they possibly could. For others, the experience of 2020 has now forced a rethink for many to once again take a closer look at supply chain resiliency and at how to address everything from trade flows, to warehousing, to credit risk and managing the anxiety of operations teams on the front line. Let's take a look at what is required.
Supply Chain Resiliency – Only As Good As The Weakest Point
Just as the pandemic was starting my father-in-law bought a new car. The arrival of the car in that context reminded me of work that Professor David Simchi-Levi did with Ford Motor Company on supply chain resiliency, which earned him a Wagner Prize in 2014. That work showed that it isn't necessarily the most obvious, complex, or expensive components of your supply chain that test your ability to continue operating. Here I was, staring at this new car and asking myself: Imagine if the cover of the door handle was missing? Who would accept their new car, as amazing as it might be, if this piece, this tiny plastic piece was missing?
A more direct first-hand experience: I was once asked to optimize the scheduling of a sophisticated consumer goods manufacturing plant. Talking to the managers, we found that they would frequently run out of the plastic wrap required to pack boxes of finished product onto pallets, which would cause portions of the plant to slow down or stop.
It was clear that David's submission was insightful in a rare and powerful way. Even though both my team and the team of a former student were finalists that year, I had no qualms congratulating him on the well-deserved win even before the prize was announced!
The concepts he presented caught some attention beyond the academic community. However, after some initial hype back in 2014, I was disappointed that the interest in supply chain resiliency seemed to wane after a while. And then 2020 happened. As the pandemic took hold, container ships got parked, factories across the world shut down and demand fell off a cliff to settle in a new and still unclear steady state. The entire business world was suddenly interested in resilient supply chains again.
So, what should companies be thinking about and how can they use technology to help them with some of these challenges?
Supply Chain Resiliency – Recovery, Discovery, and Resiliency
My global colleagues at FICO, led by Zahir Balaporia, who specialize in supply chains and together have more than 100 years of commercial supply chain experience, wanted to help by putting forward their response. The resulting heuristic approach allows supply chain executives to frame their response going forward around three pillars: Recovery, Discovery, and Resiliency.
Within that framework we combined a compilation of the best academic thinking available with original ideas to create a set of principles that help our customers design and operate supply chains that are more resilient when extraordinary disruptions happen. If you are interested in viewing the resulting webinar, you can do so here:
However, let me summarize some of the highlights for you as well.
Recovery is where we still are now, in mid-2020.

The winning strategy will be: all hands on deck, keeping it simple. None of us has seen this in our lifetime, nor have our models. Rather than machine learning, scenario building will be key to survival.
Leaders will: use descriptive summaries of the dynamic state of the network to empower experts to build a handful of explainable scenarios that will drive decision-making.

Discovery is where the leaders will be sometime later this year.

The winning strategy will be: understand and exploit the data from the natural experiments that have emerged as a result of this tragedy.
Leaders will: develop a more precise understanding of their entire supply chain network. That understanding will enable them to engineer an efficient new normal, whatever it may be. That efficiency, especially in retail and transportation, will become a strategic asset that will define the industry, potentially for a generation.

Resiliency will come later, sometime in mid-2021, and will become a permanent fixture of the supply chain.

The winning strategy will be: use the outcomes of the discovery phase to produce a supply chain that is more robust and resilient to the extraordinary but not catastrophic shocks we are likely to experience from time to time.
Leaders will: have a real-time strategic map of their supply chain network, which they will stress-test using scenarios; demand more transparency from their suppliers, and share risk and resiliency with their customers; use that understanding as a lever to reduce their cost of capital. The ROI will come not only from efficiency in the operations themselves but also from cost of capital and stability gains throughout the enterprise.

It is possible to increase resiliency without increasing operating costs.

The winning strategy will be: to improve the mapping and monitoring of the supply chain. There is no free lunch – if it were easy to make supply chains resilient, they would already be so. People are smart. The reason resiliency hasn't been front-of-mind is that it requires more sophistication. Now we understand that resiliency is worth more than we thought, so the extra sophistication becomes worthwhile. The cost of operating the supply chain does not have to increase, but the productivity of the chain must increase to support more resiliency at the same cost.
Leaders will: replace tedious calls between demand planners begging for inventory with automated, scenario-based allocation, more refined inventory policies, more responsive forecasting, better markdown, risk-sharing between suppliers and customers, and other risk mitigation mechanisms

While there are some tough times ahead, there will also be short-term and long-term winners.

The winning strategy will be: to work with your financial institutions early on, to clarify your supply-chain risk positioning and negotiate risk-sharing and mitigation mechanisms with both suppliers and customers.
Leaders will: come to the table prepared. Financial institutions will understand the supply chain risk associated with each customer and sector. For example, my APAC colleague Sherine John recently completed an analysis for one of our customers quantifying the impact that the fortunes of each sector would have on that customer's loan book and predicting the impact that that sector's fortune would have on each SME customer's risk profile. That bank can now use that information to ask more precise questions of their customers in each sector, both SME and institutional, and make difficult decisions regarding loan modifications with better information and understanding. The leaders among those customers will also benefit from preparing answers to those questions in advance of those difficult meetings.
So in 2020, while we are all saddened by the tragedies that so many of us are experiencing this year, and by the economic consequences we are all living with, we see a brighter future ahead.
We have full confidence that the extra visibility provided by analytics and optimisation will help businesses build more efficient and more resilient supply chains going forward, and that our financial services customers will have the visibility required to enable innovators to deliver a brighter future quickly while retaining the stability required for continued progress.