Fraud Protection & Compliance
I recently spoke with FICO's Adam Davies about contextual intelligence, a new approach that banks, other financial institutions and telecommunications companies are embracing to prevent fraud and financial crimes. Contextual intelligence builds on the convergence of fraud and compliance systems, solving the essential question, "What answer, to what question, do I need to know, at what moment in time in the customer journey, to make sure the transaction is legitimate?" In this blog, the second in a two-part series, I'll talk with Adam about how FICO can help organizations get on the path toward applying contextual intelligence.
---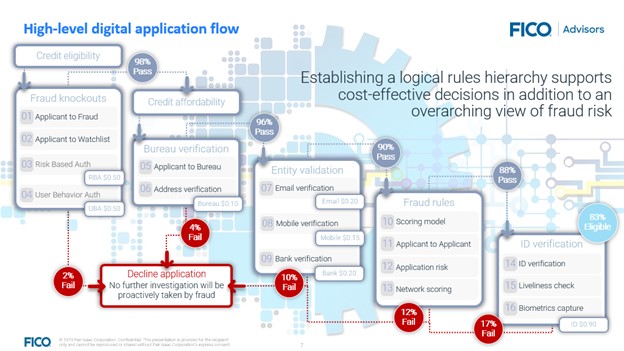 Doug: That's a pretty complex diagram! Please explain.
Adam: This diagram captures a standard process flow for credit originations. It's a generalized flow that could be for an application for a new credit card at a bank, a new phone at a mobile service provider, a car loan or many other types of credit. There are five distinct stages that require validating the applicant's information and assessing their creditworthiness. Similar types of flows can be established for enterprise fraud detection, know your customer (KYC) for anti-money laundering (AML).
Doug: How are processes handled in most organizations today?
Adam: Complex processes like credit originations, fraud detection, KYC and AML are traditionally managed by different teams. Each of those teams may have their own technology platform, built and managed independent of the others. But all of these processes share many of the same components. As an example, let's look at the use of the mobile phone as a verification variable. Credit, enterprise fraud, KYC and AML share numerous common questions including:
How long has this person been a customer?
How long has it been since they last accessed their account?
How long has it been since they last changed their phone number?
How many phone numbers does the customer have on file?
How many devices do they use to access their accounts?
In addition, each of these groups typically pays for their own external data streams, another expensive duplication.
Doug: That's a lot of redundant efforts. How can FICO help to reduce these inefficiencies today?
Adam: FICO's contextual intelligence capabilities allow organizations to become more efficient and effective in two important ways.
First, contextual intelligence is the ultimate vision for FICO® Falcon® X, our converged solution for fighting fraud and financial crime. We've talked a lot about the convergence of fraud and financial crime management in a single system, and the process efficiencies that can be gained. Contextual intelligence is the natural next step — it offers a powerful new level of insight that is "greater than the sum of the parts."
The FICO® Platform provides a powerful, polished environment for building an organization's contextual intelligence engine. The Platform allows repeatable processes to be built — like I mentioned in answering your first question — that can be orchestrated and deployed again and again, reducing redundancies and bringing new efficiencies. From an execution standpoint, DMP's Data Orchestrator is a key tool. It allows third-party data to be grabbed in the most cost-effective ways, to optimize the consumption of external data.
Doug: So, what FICO is doing is providing organizations with the capability and the technology stack to be able to create amazing insight — create it once and use it for multiple different decisions, regardless of whether it's an online banking login from a new and very different location, or a compliance check.
Adam: Exactly!
Doug: How about one more example of how contextual intelligence makes for more effective customer interactions?
Adam: OK. In our previous conversation we talked about a customer being on holiday in Thailand, properly authenticated in accordance with the risk level of the activity she wanted to do: pay a bill. Let's say she next wants to do a new activity, wiring $3,000 to a new beneficiary. This raises many more risk flags that require stepped-up authentication. Not only is the customer using a new device from a relatively risky geolocation, she failed five login attempts before getting in, and her initial navigation around the main online banking page is inconsistent with previous patterns.
In this instance, we will step up to biometric authentication. When the customer successfully authenticates with a voice or face biometric login, the bank can be quite certain it's really her making the transaction. The bank allows the wire transaction to go through without further friction.
In older, siloed environments, a fraud management system could easily flag as fraudulent an out-of-pattern transaction like this, a money wire to a new recipient, placed from a location half a world away from her home. Restricting the customer from the wire, particularly if she'd just authenticated to pay a bill, frustrates the customer and is highly inefficient for both her and the bank.
Doug: Thank you, Adam, for explaining how contextual intelligence simplifies the complex world of banking we now live in, helping banks to be more efficient and effective in delivering experiences that delight customers.
---
Follow me on Twitter
@dougoclare
to keep up with my latest thoughts on fighting fraud and financial crimes.
Don't miss my colleague, TJ Horan, at the upcoming Aite Financial Crime Forum, where he'll participate in the feature panel, Best Practices for Operationalizing Converged Intelligence, on Tuesday, September 14 at 10:30 am ET. Learn more here.