It's no secret that the holidays mean more spending. But that can become a problem when spending leads to significantly higher credit card balances, missed payments, and a lower credit score.
If this happens to you during the holidays, you aren't alone. Average revolving debt – the type of debt incurred by using credit cards – was 4.5% higher in January 2017 than in October 2016. Young consumers (age 18-34) exhibited the largest percent increase (5.0%) of any age group, driven by the fact that their average revolving debt levels are the lowest of all age groups.

Even more notable, 33% of Americans increased their total credit card debt by 10% or more between October 2016 and January 2017.

Not only can increased credit card debt feel stressful, but credit card debt can have an impact on FICO® Scores. Credit card debt increases your credit utilization ratio, which impacts your credit score. Credit utilization is a key component of the "amounts owed" category of the FICO® Score, which determines roughly 30% of a consumer's FICO® Score. "Amounts owed" is the second most important category in the FICO score, behind only whether you make your payments on time, which makes up some 35% of the FICO® Score calculation.
So the amount of debt on revolving accounts is an important driver of your FICO® Score. Racking up large revolving balances may mean that you are overextended, and more likely to miss payments.  Similarly, people with lower debt and credit utilization levels tend to be less likely to miss payments, and as such, are rewarded by the score for their more careful use of credit.
To quantify the impact that a holiday ramp up in revolving debt can have on the FICO score, we analyzed FICO score shifts of those consumers with an increase of 10% or more in revolving debt amount between October and January of the following year.  To analyze the stability of this trend over time, we examined the FICO score impacts of holiday shopping over the last 3 winters (see Figure 1).
Of this population, almost twice as many consumers see their FICO® Score decrease vs. increase between October and January
57% of these consumers experience a FICO® Score decrease between October and January, while only 33% see their FICO® Score increase
1 in 5 of these consumers experience FICO® Score decreases of 20 points or more

This is higher than the total population, where only 1 in 9 consumers have FICO® Score decreases of 20 points or more
Figure 1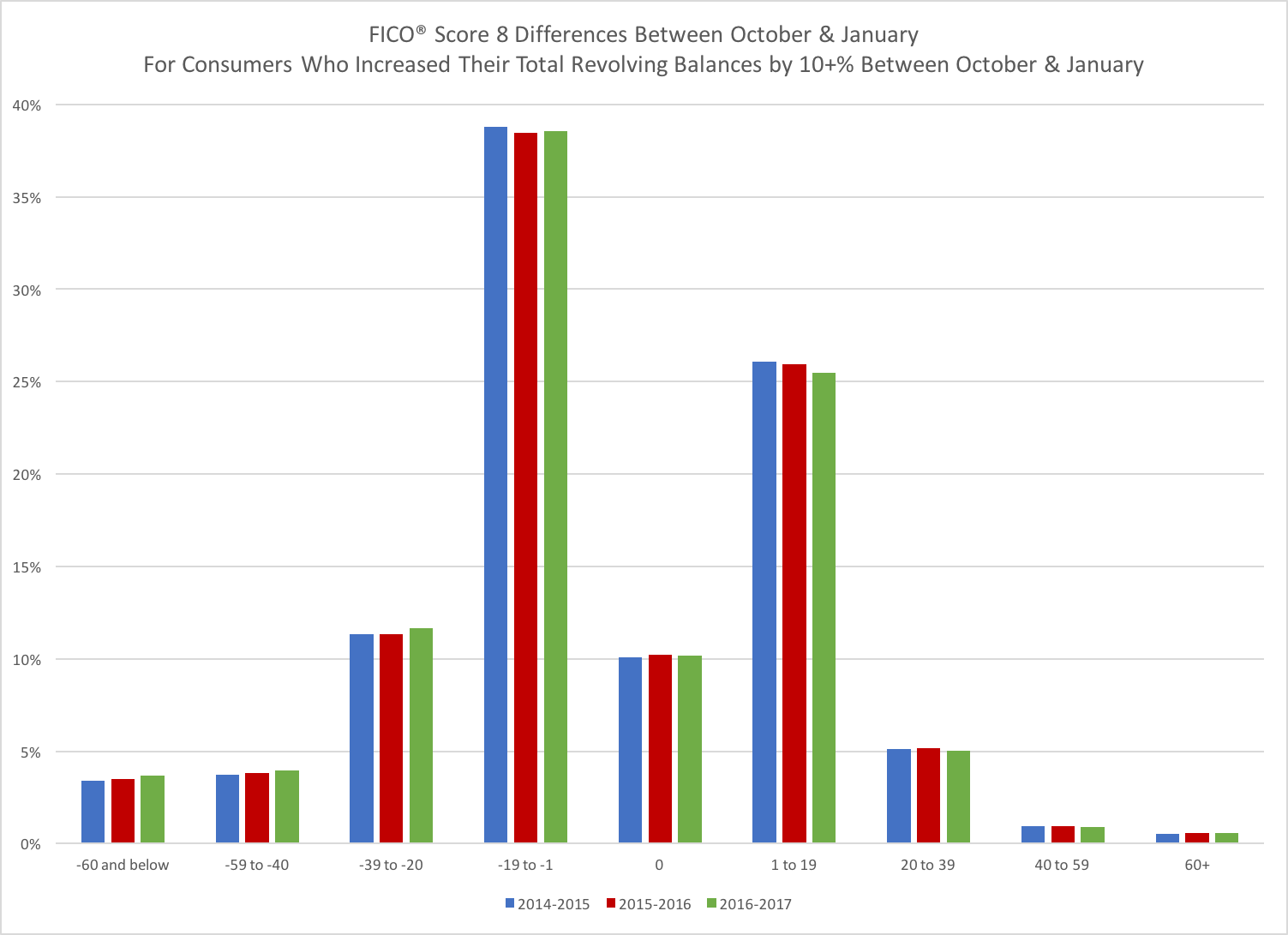 Because of the additional spending during this time, we also saw a small increase (0.35%) in the percent of consumers with one or more missed payments in the last three months. In October 2016, 9.27% of consumers had a recent delinquency, compared to 9.62% in January 2017. Young consumers had the largest increase (0.53%) in recent payment delinquencies of any age group (from 12.45% in October 2016 to 12.99% in January 2017), often because they do not have as much experience with how their credit score works.
For those consumers with recent delinquencies as of January, almost half experience FICO® Score decreases of 20 points or more between October and January (Figure 2). Roughly two out of three of these consumers see their FICO® Score decrease. This is in contrast to the total population, where only 36% of consumers have a FICO® Score decrease.
Figure 2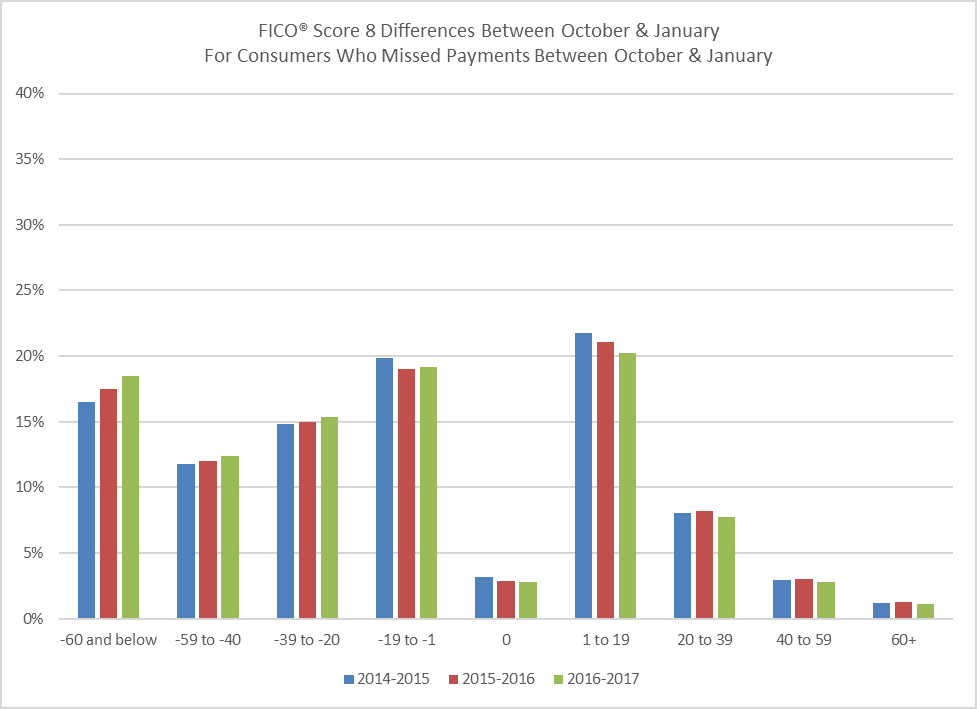 The score impact of a recent missed payment is greater for high-scoring consumers.  This is intuitive, as higher-scoring consumers have further to fall should payment blemishes suddenly begin appearing on their previously spotless credit record. Roughly 9 in 10 of consumers scoring 750 or higher in October 2016 have a score decrease of 20 or more points when they had a recent delinquency as of January 2017, while this is true for only 3 of 10 consumers for those scoring less than 600. So it is especially important for high-scoring individuals to ensure that they make their payments on time during the holidays.
While you may feel the need to spend more for the sake of holiday cheer, it's critical to keep your credit score healthy this holiday season. Resist opening store credit cards or consider leaving your credit card at home – opt to shop with cash to keep from overspending. To avoid the post-holiday blues for your credit score, monitor your holiday spending and make sure to pay your bills on time. These two factors are the most important components of the FICO® Score calculation. If you successfully rein in your spending during the holidays, you may not need to make any resolutions around getting your FICO score back in shape in the New Year!