There are dynamic shifts occurring in terms of how customers  prefer to communicate with the companies that they do business with, especially when it involves debt collection. Today, customers have an expectation around personalized services and convenient communication channels. Traditional phone calls are no longer the communication channel of choice for most. Customers today want to script their journey, or seamlessly self-serve, across the multiple communication channels.
This is digital omnichannel communication. Forcing a customer to stick to a single channel or making them start at the beginning when switching channels creates friction and impacts the customer's experience. Digital omnichannel communication acts as a "virtual agent" that guides the customer through simple self-service which will result in increased account resolutions.
This shift in communication preference is causing companies to rethink the customer experience with their brand. This is especially true when it comes to managing debt collection accounts. We all know that there are many demands on customers' time and getting their attention on an outstanding debt is not easy. A live conversation about debt can be awkward and one people try to avoid. Automated technology actually empowers the customer and eliminates the embarrassment most feel when speaking with a live agent during a collection attempt.
But there are ways to make debt collection easier, and here at FICO, we see it every day. Companies are embracing implementing a self-serve communication strategy. When a self-service communication strategy is executed properly, companies can expect to see a significant improvement in their customer engagement and operation efficiencies. It also helps identify where a company should focus its efforts and at the same time, delight customers who appreciate the anonymity of this debt collection communication approach.
Adopt 2-Way Communication
The best way to leverage digital communication is to get started by introducing new channels of contact beyond a phone call – such as SMS, email and push notifications. Often companies will initiate 1-way contact through new channels to get a message through to the customer. Once they get the customer's attention, they move to a 2-way exchange, and they quickly start to realize the significant lift in performance by communicating this way. We have seen that the performance metrics from a 2-way communication far exceeds anything that companies experience with traditional phone calls or letters.
In the debt collection market, companies that implement a digital loss prevention strategy glean immediate results from adopting a digital communication strategy. Companies can continue to optimize their performance by applying analytics to newly captured consumer behavior data.
Lead with Personalization
Customers expect personalized communication. They want messages that speak to their situation.
If a customer falls into arrears, debt collection departments should be sending communications to resolve the situation. They should not be sending inconsistent and uncoordinated messages. Companies should personalize messages aimed at the whole customer and not the product line that they have bought into.
When it comes to loss prevention, implementing tone-appropriate messages based on risk segment along with omnichannel treatment paths are proving to achieve much better results. Offering easy self-service for payments removes friction from the process, improving results further. For the debt collection department, a focus on targeting more personalized messages while removing friction from the process with a smarter interface is the way towards continuous improvement. Those executing an omnichannel digital strategy are seeing payment arrangements increase by 40% and the cost to collect being cut by 50% through the use of a virtual agent approach.
Introduce an Omnichannel Strategy
The next step after adopting personalized messages would be to graduate to a sequenced, same-day intra-day omnichannel contact strategy. This approach leverages business rules to determine and execute the sequencing of contact channels by customer to provide the optimal response rate, adjusted by risk segment - identifying best channel or channel sequence, frequency, tone and timing.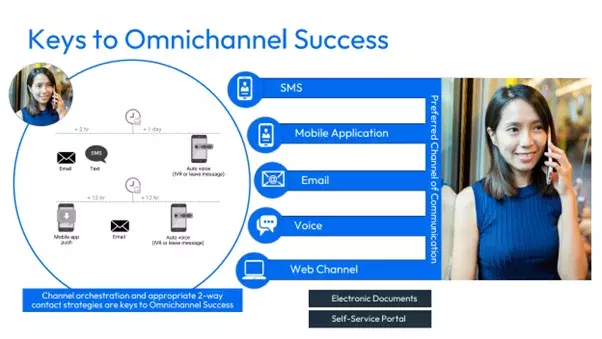 Omnichannel communication is more than multi-channel. The key difference between the two is that omnichannel joins all the different communication touchpoints together so that the experience is consistent and unified, whichever journey the customer chooses to take..
An omnichannel communication environment supports heightened control over customer treatment and simplifies behavioral data collection that facilitates improved analytics for optimized performance. Attempting the same functionality with disparate delivery channel software has proven to be inefficient and less effective than a single omnichannel platform.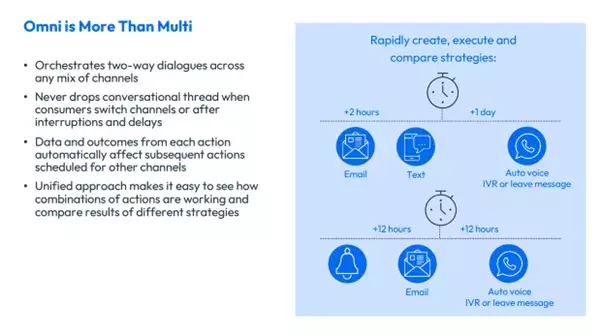 Ready?
Embarking on this digital communication journey will increase a company's understanding of their customers' behavior. Most companies will rapidly evolve their digital capability with the goal of making the desired action frictionless with expected ease of use and transparency of message. Promoting simple self-service with an omnichannel approach results in happier customers, measured by significant complaint reduction, while the containment rate of customers who complete self-service payments continues to increase.
How FICO Can Help You Improve Debt Collections Communications