Fraud Protection & Compliance
As part of our survey of 14,000 people across 14 countries, we set out to uncover customers' attitudes to digital account openings for financial services. We also wanted to see whether people have a good understanding of why they must prove they are who they say they are.
Globally, the survey showed an overwhelming majority are willing to open some kind of financial account digitally – using either a providers website or app - as follows (click through to see infographics with more details):
•           UK — 85%
Of the sample, more than half — 58% — say they are now happy to open a personal account (e.g., checking or current account) digitally.
The highest figure of those surveyed willing to open a personal or checking account digitally was seen in New Zealand, at 78%. This is perhaps a reflection of the banking sector there, and the country's demographics. The population is relatively small - around 5 million people – and there is a developed consumer market made up of relatively highly educated people. Advanced Open Banking standards and a collaborative approach to financial services provision have also allowed for rapid integration of fintech across the nation.
Meanwhile, the survey unearthed that only 280 of the 1000 (28%) Indonesians questioned said they would be happy to open a checking/personal account digitally. However, in Indonesia, the percentage of those happy to open a savings account digitally was a relatively high 79%. The apparently low rate for a personal or checking account could simply be because this is not an account type that the respondents were familiar with.
While mobile phone-based digital account opening is now identified as the preferred method in all countries for account opening with providers previously used (with a response average of 61%), it was interesting to learn that young people aged 18-24 — perhaps the most digitally savvy generation — prefer using apps over websites.
It could be about the technology that people are used to that makes that division between websites and apps. In other words, these individuals are very capable on their smartphones but may not have the same confidence when it comes to a desktop or laptop computer.
With the seeming ubiquity of mobile phones, that's no surprise, and this mobile-over-website preference really comes to the fore when we examine the data from Southeast Asia, where people were the most 'app-happy'; or rather, most comfortable with creating new accounts via mobile apps rather than websites.
In general terms, we can see that in developed economies, people are more likely to prefer using websites over apps, whereas those in growth economies prefer using apps. This may simply reflect the technology available to respondents, or it could be that developed economies have provided digital account openings via their websites for longer — and people have gained familiarity with them that is not easily replaced by the newer in-app channels.
Growth economies could also be 'leap-frogging' their counterparts in developed economies by moving straight to more modern in-app account opening experiences. This is similar to how growth economies leap-frogged fixed-line telephony systems.
Do Consumers Understand the Threat from Identity Theft and the Need for Identity Proofing? 
People do need to be protected. A significant minority say their identity has 'definitely or probably' been used by a criminal to fraudulently open at least one account - on average, 14% say this. This theft of ID figure ranges from 24% of Vietnamese participants to just 8% of South Africans.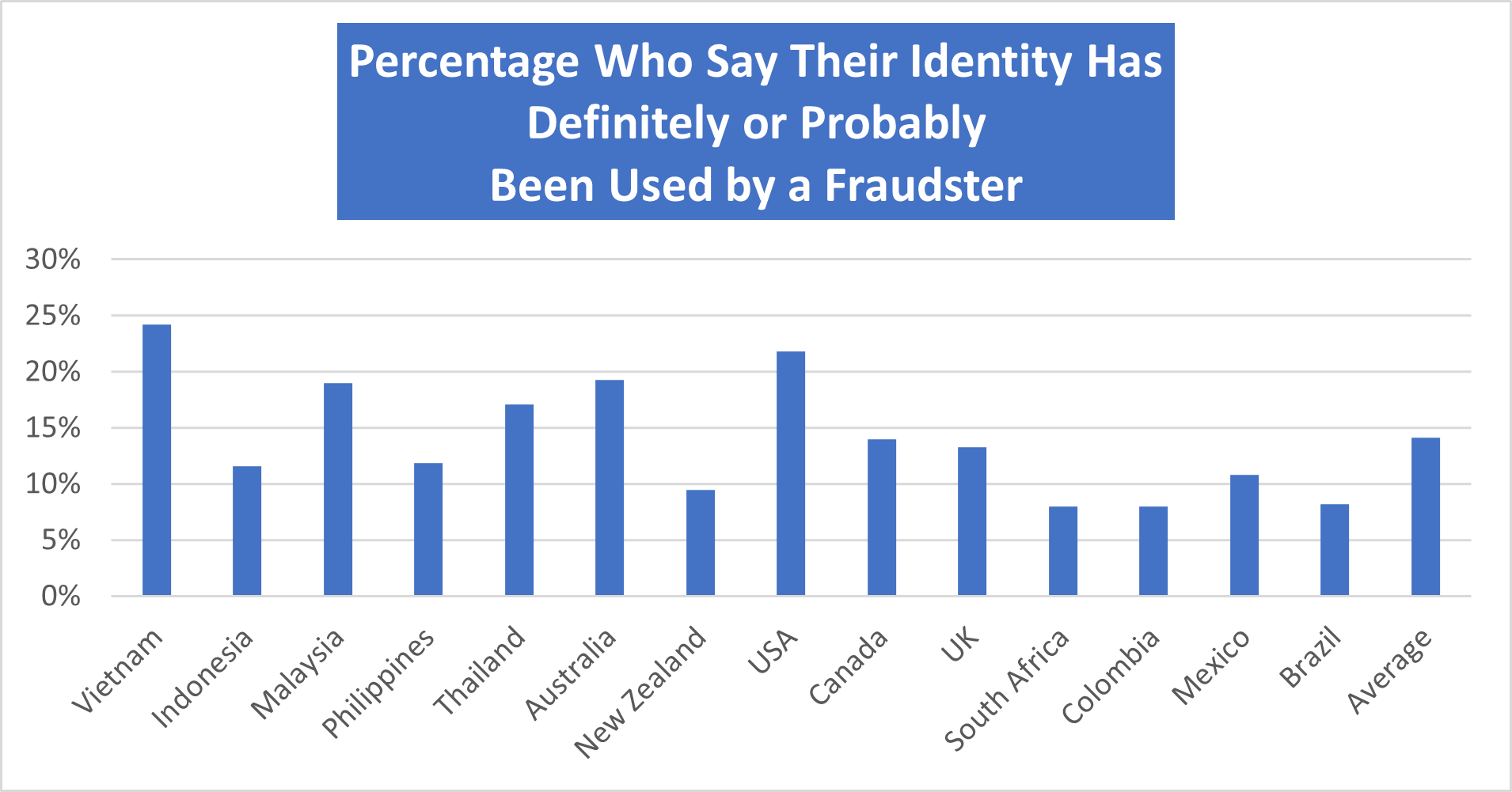 Source: FICO Survey
The real cost of this can be better understood when we consider numbers of people affected. For example, in the USA, this equates to well over 45 million adults who say their identity has likely been used in such a way, and the equivalent of almost 21 million people who say that their stolen identity has been used by a fraudster to open an account.
The survey has good news for financial service organizations — the need for identity proofing is universally clear and understood. Globally, the data showed that a majority of those surveyed feel happy to undergo identity proofing when the need for it is clearly explained. Most (on average 73%) acknowledge that identity proofing is a measure that happens to protect them. There was even a reasonable understanding of the role identity proofing plays in money laundering prevention, although this varied significantly by country. Just 19% of Brazilians understand that identity proofing helps prevent money laundering, compared to 56% in the United Kingdom.
Generally, people are not cynical about the need for identity proofing. On average, just 14% think it happens to enable banks to sell more to them – though this was as high as 28% in Vietnam and 27% in Thailand, suggesting banks in those countries still have work to do on educating their customers on the necessity of identity proofing.
Learn More
What to know more about the results of the survey?
Check out our podcasts on www.FICO.FM
Review our ebooks with regional findings:
North America – Covering Canada and USA