Recently, 31 states announced a joint settlement agreement with the three major credit bureaus regarding changes to the reporting and treatment of consumer credit data, including medical debt.
The handling of medical debt is an extremely important issue as the adoption of FICO® Score 9 gains traction. As we explained in a prior blog post, FICO® Score 9 introduces two noteworthy changes in the way the FICO® Score assesses collection information (i.e., information about credit accounts that have been sent to third-party collection agencies), including medical collections. First, FICO® Score 9 disregards all paid collection accounts. Second, FICO® Score 9 differentiates between unpaid medical collections and unpaid non-medical collections. These changes were implemented based on extensive research showing they would improve the score's predictiveness.
Given the tremendous interest in medical debt, it's worth taking a closer look at these two decisions.
Ignoring Paid Collection Accounts
As we prepared to develop FICO® Score 9, we evaluated the treatment of paid collection accounts. Based on our research, we concluded that ignoring collection accounts that have been paid would help the FICO® Score's predictiveness.
For example, the chart below shows one such segment of the population where bypassing paid collections resulted in a more predictive score. The "baseline" score shown here represents the status quo (i.e., including paid collections in the calculation of the score). "Test1" (the green line) represents a version of the score with paid collections bypassed from the calculation of the score. For this segment whose only derogatory information in the credit file is a medical collection, we found that ignoring paid collections resulted in a slightly more predictive model, as evidenced by the fact that the "Test1" curve is slightly above the "Baseline" curve.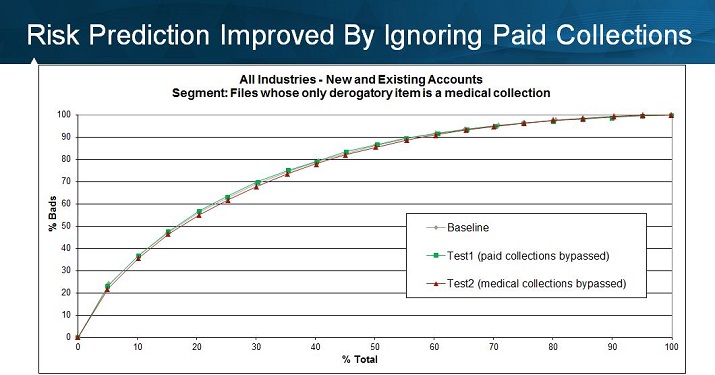 Keep in mind that any missed payments associated with the original credit account before it was sent to the collection agency will still be considered by FICO® Score 9. It is only the third-party collection account that is ignored, if and when that collection account is paid.
Note the chart also shows that ignoring ALL medical collections, regardless of whether those accounts have been paid, can have an adverse impact on score predictiveness. This is evident by examining the red "Test2" curve, which falls slightly below the baseline curve, indicating weaker predictive power.
Intuitively this makes sense given the prevalence of medical collections – over half of all consumer collection accounts are medical collections, and the vast majority (~90%) of those accounts are unpaid. Our research has consistently found that individuals with unpaid collections are more risky (i.e., less likely to repay loans) than those who do not have unpaid accounts. Therefore, it is not surprising that disregarding this information could harm the FICO® Score's predictive power.
Differentiating Medical Collections from Non-Medical Collections
The second key enhancement to the treatment of collection account information by FICO® Score 9 is the differentiation of unpaid medical collections and unpaid non-medical collections. Thanks to enhancements in the data elements captured in the bureau file, it became possible in the past few years to distinguish medical and non-medical collection agency accounts at all three major credit bureaus.
We leveraged the refined bureau data to analyze risk patterns associated with medical and non-medical collections. The graphic below (pulled from a sample of millions of anonymous consumer credit files) illustrates our key finding: consumers with unpaid medical collections are less likely to default on credit accounts in the future than people with unpaid non-medical collections.
Note that while consumers with unpaid medical collections are less risky than those with unpaid non-medical collections, they are still substantially more risky than the population with no derogatory information in their files (represented by the horizontal blue line in the graphic below).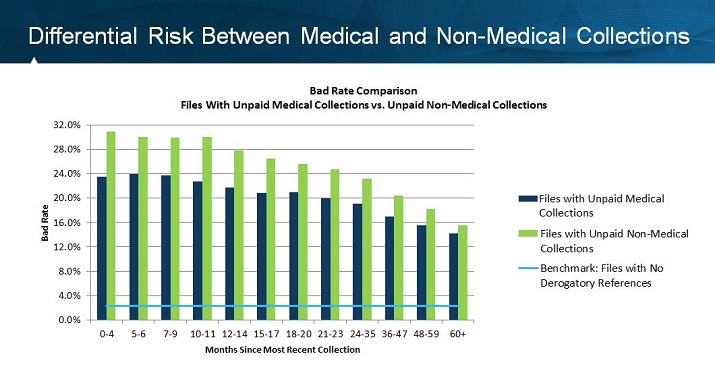 As a result of the findings shown above, we introduced two sets of variables in the FICO® Score 9 algorithm – one set that evaluates only unpaid medical collections, and one set that evaluates only unpaid non-medical collections. This differentiated treatment resulted in unpaid medical collections having a smaller impact on the FICO® Score than unpaid non-medical collections. In fact, we found the median score for consumers whose only major credit blemish is a medical collection (or even multiple medical collections) to be approximately 25 points higher with FICO® Score 9 than previous versions of the FICO® Score.
As data scientists, we constantly challenge ourselves to make the FICO® Score more reliable and predictive. Often the changes are subtle. However, we occasionally find that changes to the treatment of major items in credit reports, such as third-party collection accounts, hold the key to improving our scoring algorithm.