This week, we have the privilege of coming together again to host FICO World 2022, our marquee decisions conference showcasing the innovative ways organizations are leveraging FICO technology to protect and grow their businesses.
Above all else, one fundamental theme has emerged: The customer is in the driver's seat, and their expectations have changed. Success will be defined not only by how well we can adapt, but by how we elevate new and compelling experiences. The new normal represents an opportunity for organizations to reinvent themselves by bringing together the best of human and artificial intelligence to create force-multiplying value for their customers.
While the pandemic accelerated many digital transformation roadmaps, too many organizations still struggle to achieve the desired outcomes with technology investments. AI and machine learning continues to advance at a rapid pace, but organizations are falling behind as they fail to put these technologies into practice.
At FICO, we understand what it takes to turn data and insights into actions in order to achieve the desired business outcomes. At the end of the day, if an organization isn't yet achieving their outcomes at the speed they need, they aren't truly successful. Our longstanding heritage in decision management has helped leading  companies around the globe operationalize their analytic and machine learning insights to make smarter, faster, and more profitable decisions. And now, we're doubling down on this approach.
FICO Platform represents the future of our software business as the next generation cloud platform for applied intelligence. Applied intelligence is your key to transforming information into competitive advantage. With FICO Platform at your core, you are able to build a rich, contextualized view of your customer with all the right data, apply the latest AI and advanced analytics to gain competitive insights, put these insights into action with real-time decisioning, and ultimately drive the tangible business outcomes that matter.
Today, we announce an integrated set of 17 enterprise capabilities that make up FICO Platform: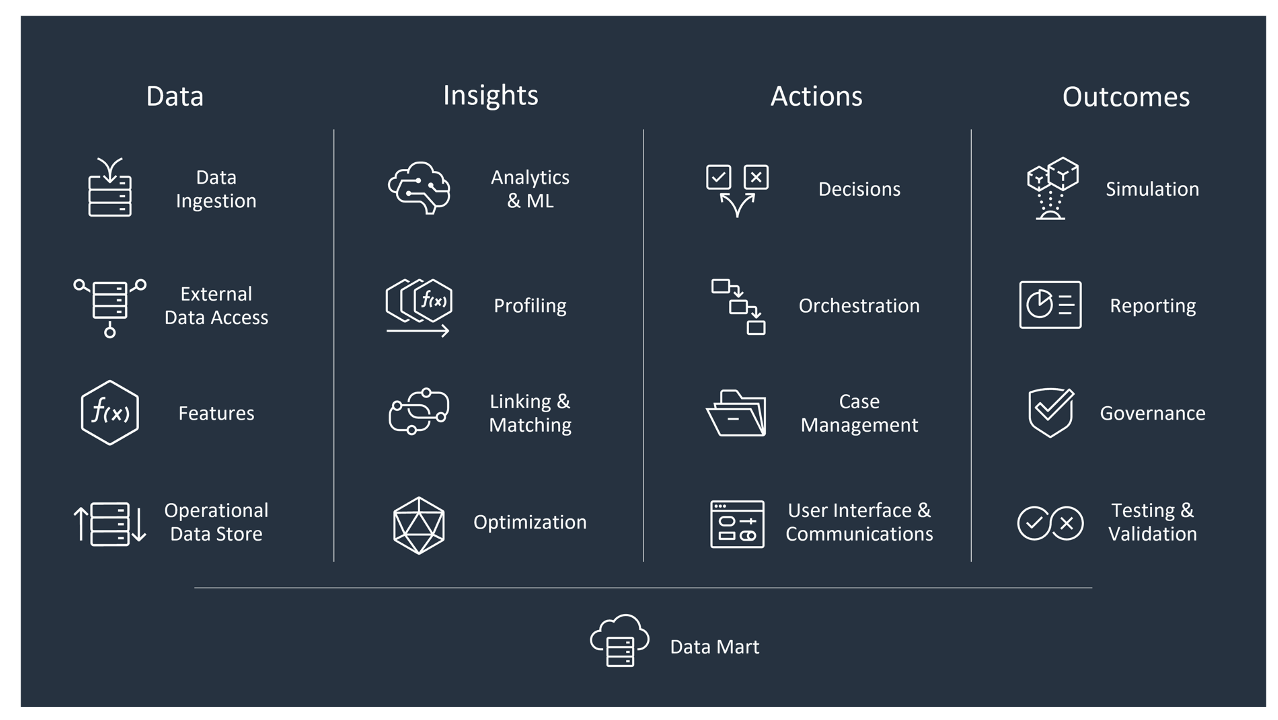 Our open, unified, and extensible platform architecture connects data and decisions across departmental siloes to enable an event-driven, holistic approach to building, maintaining, and growing profitable customer relationships. No matter the use case, FICO Platform provides you with all the capabilities you need to quickly deploy intelligent solutions across the customer lifecycle.
Bringing these capabilities together into a single, unified platform is the result of years of experience implementing game-changing line of business solutions for customers in banking, insurance, telecommunications, and automotive finance. Combined with our deep domain expertise in these industries, FICO is helping enterprises across the globe deliver an optimal customer experience at each and every interaction.
For those of you who couldn't join us in person this week, we hope we'll see you at next year's FICO World! In the meantime, here are some links on how FICO Platform can help you become customer-obsessed: