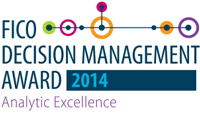 In 2013, deal-hungry consumers and brutal competition led to the Canadian grocery industry's first sales decline in almost two decades, according to Canadian Grocer's annual market survey.
Amidst this market turbulence, Loblaw Company Ltd., Canada's top food retailer, launched a revolutionary new loyalty program — PC PLUS™ — in the grocery category that delivers a true one-to-one customer experience.  In six short months, more than one-third of all households in Canada have begun participating in the PC PLUS™ program.
The project result has made Loblaw the 2014 FICO Decision Management Award for Analytic Excellence winner.
Loblaw PC Plus™ provides each program member with a personalized set of offers every week. Loblaw's product assortment contains hundreds of thousands of SKUs, which require thousands of specific offer templates. Each offer template has its own predictive model that is scored against each member, every week.
The FICO system produces 10 billion scores every week, which lead to more than 35 million offer recommendations, allowing Loblaw to:
Allocate marketing investment according to a member's current value to the company, their potential value (opportunity for share-of-wallet growth), where they shop (discount versus conventional grocery stores), or any other identifiable attribute of interest. This enables precise tactical investments across a pinpoint set of stores.
Balance the conflicting objectives of offer relevance (something the customer would likely buy) and product incrementality (something the customer would be unlikely to buy without the offer).
"We were in a unique position to design a next-generation loyalty program that would embrace customer analytics for one-to-one marketing," said Uwe Stueckmann, senior vice president, marketing, Loblaw Companies Limited. "Our analysis showed us that the best customers accounted for more than 60 percent of revenue, but market data suggested that we were only capturing about 50 percent of the grocery spend of these customers. We have a large opportunity to grow sales with our best customers."
The Loblaw program earned praise from the award judges, including Tom Davenport, co-author of Competing on Analytics, distinguished professor at Babson College and director of research at the International Institute for Analytics. "Loblaw is known as an innovative retailer in general, and its PC Plus loyalty program suggests that its innovation also extends to analytics," he said. "The program is highly granular and predictive, and it makes personalized offers to customers that they really want. The program has also benefitted Loblaws' suppliers. The FICO Decision Management Award judges were all very impressed by the Loblaw application. It's one of the most well-designed loyalty programs I've ever seen."
Read more about this award winner in our news release. Plus, check out the awards for BNP Paribas Bank Polska, Daimler Financial Services (Debt Management), Nationwide Building Society (Customer Originations), Garanti (Fraud) and Westpac (Customer Growth & Retention).