One of the all-time great television shows for the STEM-inclined was a 1980s action drama called MacGyver.  It starred actor Richard Dean Anderson as Angus "Mac" MacGyver, who, unlike most American action heroes, eschewed firearms, resorting to them only twice in 94 episodes.
Instead, MacGyver stymied his enemies with his "genius-level intellect, superb engineering skills, and an excellent knowledge of applied physics." But what made him a truly formidable adversary wasn't just his knowledge of mechanics, chemistry, physics, and other basic sciences: it was his ability to look at an inescapable situation, survey commonplace items in his surroundings, and – using piece parts that everyone else overlooked – improvise a solution that saved the day.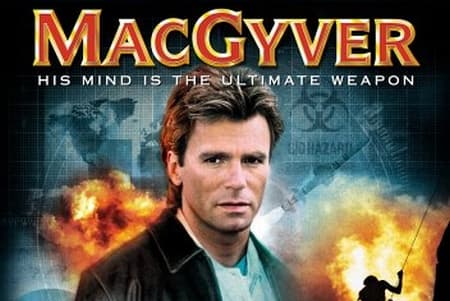 According to one fan site, some of the all-time best "Mac Hacks" include:
Escaping imprisonment by making an arc welder out of jumper cables, generator, and two quarters (S1: E60)
Flying to safety on a hang glider made of old satellite parts and a plastic shield (S1:E17)
Building a bazooka (during a high-speed car chase, mind you) out of a car muffler, gear shift knob, seat cushion stuffing, and the car's cigarette lighter (S1:E10)
Building a spectroscope out of a lamp, sunglasses, nail polish remover (S6:E9)
Building a hot air balloon our of a ball, kerosene, newspaper, and cotton (E1:S20)… though he later eclipsed this by building another hot air balloon out of a tool shed, tent, parachute, homemade superglue, welding equipment, and a gas tank (S3:E6)
Perilous Digital Straits Facing Banks and Insurance Firms
Unless they have successfully completed their digital transformation – something only 30% of companies have succeeded in doing – executives in the traditional banking and insurance industries could use a little dose of MacGyver-ism given the precarious situations they face with digital disruption and all-digital competitors circling them.
I intentionally make a distinction between the two because "digital disruption" means more just all-digital start-ups: seeing the success Fintechs and InsurTechs are enjoying, experts report that 85% of your long-standing traditional banking and insurance competitors are busy transforming themselves for the digital battlefield.  According to recent surveys of more than 400 executives conducted by American Banker and Digital Insurance:
88% of financial services firms believe that digital disruption is a looming threat to the financial services industry; only 3% of traditional are very confident have already taken the steps necessary to be "digital disruption-proof"
 
Similarly, 81% of insurers believe that digital disruption poses threat to the insurance industry; only 19% are very confident have taken the steps necessary to be digital disruption-proof
Digital Transformation: What Would MacGuyver Do?
For most traditional banks and insurers, the situation looks dire.  Venture capitalists have poured more than $20 billion in InsurTechs and $150 billion in FinTechs the past three years… and Q1 2021 was the biggest fintech VC funding quarter ever.
Looking around them, what might established banks and insurers have at their disposal that, with a little MacGyver-ish ingenuity, could help them stave off such aggressive attacks on their portfolio and customer bases?  (That was a clue: "attacks on their portfolio and customer bases.")
Though banks and insurance companies typically lag behind FinTechs in terms of technology sophistication, they do have several tricks up their sleeves:
They have size - most companies have billions of dollars of assets under their control; though FinTechs and InsurTechs have speed, venture funding, and clean technology stacks, banks and insurance companies hold the high ground in terms of the amount data that can be weaponized.
 
They have a multitude, hundreds of thousands if not millions, of established customer relationships – some dating back decades with corporate clients and HNWIs – that are the envy of new digital startups.
 
FinTechs and InsurTechs tend to focus on niche solutions whereas traditional banks and insurers have broad portfolio of profitable product offerings (in the case of banks, credit cards, mortgages, and a wide array of loan packages; for insurance companies, home, auto, life, etc.)
 
They are sitting on years and years of rich customer information… in some cases, billions of pieces of data that, like Legos, can be reassembled  into compelling, hyper personalized customer strategies, and serve as important clues as to how to improve customer satisfaction, retention, and life-long share-of-wallet
The Race is On
Depicted graphically, the battlefield looks something like this: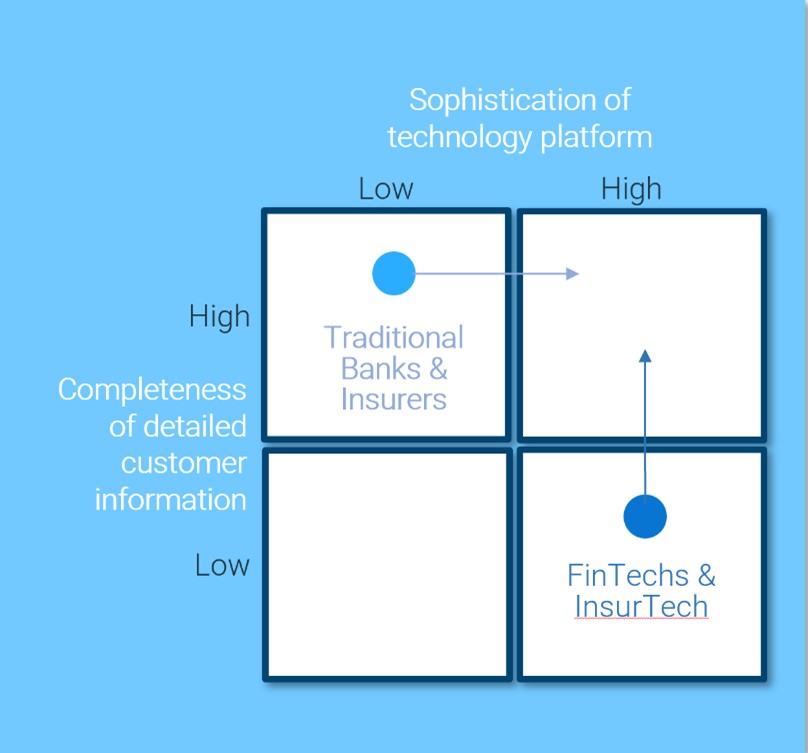 Traditional banks and insurance companies are brimming with decades of information from millions of customers, but are struggling to synergize it
FinTechs and InsurTechsare bristling with elegant technology, but being new, are thin when it comes to customers and the data they have in hand
The first ones to shore up their weaknesses will seize the high ground
Finding the Invisible Value
Getting started involves a five-step process:
Unify all the customer information that exists – in every conceivable application and format –everywhere across the enterprise; you can't achieve an omnidirectional view of your customers until you remove the blind spots caused by missing or unverified data.
 
Put your business users to work on the data.  It's a non-obvious strategy: Big Data projects are assigned to data scientists, right?  Not anymore.  With today's powerful, but easy-to-use tools, business users bring "street smarts" to the solution in a way that complements the IT community's "book smarts." They instinctively think in terms of the customer motivation and lifecycle, to fashion data-driven customer strategies.
 
Armed with all of your aggregated data, now in the hands of your most savvy business users, create per-personalized user experiences… just like we all have grown accustomed to from Amazon, Netflix, and Google.  Think in multiple dimensions: 1) what is the ideal customer journey, 2) what does the data tell are triggers that indicate an existing customer or new prospect is ripe for an offer, and 3) everything in your portfolio that your conceivably market to them, if the timing and offer were right.
 
While the combination of experienced business instincts and best-in-class data science greatly improves your likelihood of success, given the high cost of customer acquisition, it is wise to be certain of your outcomes and your ROI.  Simulate, validate, and optimize your strategies before you deploy them, to ensure that you will achieve the expected results, and fully understand the efficacy of your programs.
 
As strategies and their underlying data show promise, broaden and maximize their use, as well as the use of underlying "decision assets"… attributes, characteristics, strategies, analytics, decision models, processes, objectives, constraints and all that which embodies the unique intellectual property around how you operate your business to a competitive advantage. (This is often referred to as the "brain" of your digital engagement.)
Spinning Straw into Gold
So, having organized your people, process, and technology for success, here's where the ingenuity, resourcefulness, and the ability to think multi-dimensionally comes in. How can business rules, analytics, AI, and your own expertise come together with your risk and fraud models to create winning customer strategies that raise retention and increase share of wallet?
Say you are a bank, and a long-time credit card customer suddenly starts to carry higher balances but making smaller payments on a percent-of-balance basis; this might signal that they are having cash flow problems… and they might be receptive to an offer from your mortgage refi or HELOC departments. Or over her past three statements, another credit card customer charged $450, $675, and $925 in auto repairs and local rental cars… might they be a good prospect for an attractive new car loan offer?
Or you are an insurance company, and a long-time customer – who for years only insured his family's 10-year-old minivan with you – suddenly adds a new Ford F150 pickup with the optional Max Trailer tow package to his policy… wouldn't it be valuable to know what they are towing?  Might that be an opportunity for your RV, motorcycle, water sports, or even second home insurance line of business?
There's no limit to what sorts of strategies you can devise, armed with the right information and insights.  And you don't have to be as ingenious as MacGyver to connect these dots, and save the day for your bank or insurance: the decisioning platform does all of the heavily lifting for you. You just need to accept the accolades, and keep building on your own success.
FICO is a recognized leader in enterprise decisioning with a proven track record in helping clients across all industries achieve their digital transformation goals.  For more information on please visit our new Digital Transformation Hub. For industry-specific information, visit our our Centralized Decisioning solutions for financial services and insurance.