A growing trend in banking fraud management is giving customers opportunities for a degree of control and participation in protecting their accounts. For instance, customers who elect to receive two-way automated fraud alerts on suspicious transactions can help stop fraud sooner. These quick communications also increase the effectiveness of adaptive fraud analytics by providing more abundant and frequent fraud/no-fraud data.
But such involvement should always be the customer's choice. A FICO survey found that while 63% of consumers in the US said they would like to receive such alerts, only 51% of Canadians and 46% of British consumers were interested.
Some customers will want to go further. In the same FICO study, 50% of consumers surveyed in the US, Canada and UK said they wanted to use a mobile app to control the types of transactions for which their cards could be used (e.g., "no online purchases") and the maximum purchase amount for allowable transactions—along the lines of what's illustrated in the graphic.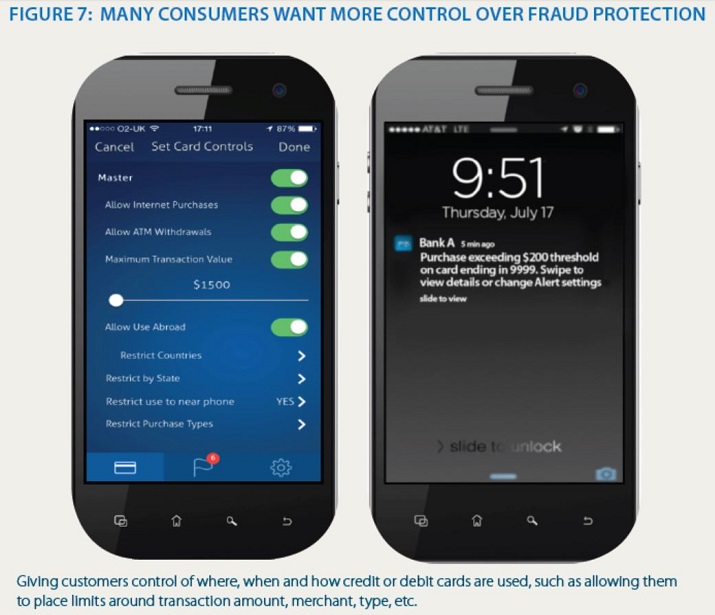 This customer control and choice is the concept behind today's announcement of FICO® Consumer Fraud Control. It's a new solution for banks that enables their customers to configure card usage controls and transactional alerts via the bank's mobile app. These customers can proactively monitor account and card activity, control and limit spending, and instantly pause card function in the event of suspected fraud or loss.
Solutions like these can make allies of your customers in your fight against fraud. Not to mention, engaging and empowering customers in this way can play a key role in advancing your relationship-building efforts.
For more ideas on how to improve customer experience and protection in one fell swoop, read our Insights white paper, "Fraud: Customer Experience Breaker or Maker?"