Innovation in Media Planning Optimization
RSG Media, a global media tech company headquartered in New York, is achieving significant benefits for its customers from its new ML-AI driven media planning and scheduling platform called 'Prophet.' The platform has been designed to help media companies compete in today's fragmented and rapidly changing TV viewing landscape. The incorporation of FICO® Xpress Optimization creates more effective and efficient use of inventory, with a 10 to 25 percent lift in viewership conversions across sister channels by targeting the appropriate viewers and up to a 17 percent saving on inventory which can then be allocated to other promotional campaigns or given back to advertising to recognize ad dollars. The use of FICO Xpress Optimization also helps to dramatically speed up the media planning process with new promo plans generated in just 10 minutes instead of weeks.
The use of FICO Xpress Optimization in the Prophet platform allows TV marketers to take a more scientific and tactical approach to promote programming. With real-time tracking of mid-flight campaigns, businesses can make necessary adjustments in real-time to optimize results. This contrasts with general industry practice where existing promo placement is done exclusively on reach and frequency with no consideration given to efficacy or efficiency. Thanks to the RSG Audience Media Planning & Scheduling Optimization Platform (Prophet), businesses no longer have to wait for weeks to create promotional plans. Instead, the platform generates highly effective and efficient plans within minutes.
You can read more about this story in the full media release.
Scheduling Promos According to Audience Behavior
"The Prophet platform showcases how machine-learning and optimization like FICO Xpress Solver make it possible to increase the efficiency of reach and conversion through behavioral-based targeting," said RSG Media President & GM, Mukesh Sehgal. "The secret is a new science of hyper-targeted campaign management that matches the right message with the right viewer on the right platform to get the right response."
The platform uses behavioral-based targeting, placing potential viewers into affinity groups based on how likely a viewer is to be interested in a particular show. These affinity groups refer to a viewer's propensity to view a show. Planners can then use a special index of these groups on the platform to find the right viewers on the right programs across sister and off-network channels.
"Marketers have long struggled to target viewers who fall within the right demographic but don't show a genuine interest in their product or service," said Sehgal. "Thanks to the cutting-edge Prophet platform, this challenge is a thing of the past. Our behavioral approach allows us to analyze viewing habits and place potential viewers along a continuum of interest, from unlikely prospects to highly engaged customers. By prioritizing affinity groups over demographics, we can identify the right viewers for each campaign and increase the efficiency of each ad dollar spent."
Planning and Adjusting Campaigns in Real-Time
In the past, planning and scheduling TV promos was done manually and took weeks to prepare. With the new Prophet platform, the entire process is automated and generates the most optimal inventory plan and promo scheduling within minutes.
Because the new tools track actual performance and can adjust promo placement, if a campaign is achieving all its goals ahead of schedule, it gives planners the option of freeing up promo spots for other uses. If a campaign is underperforming, managers can see why and adjust accordingly. This feedback loop and real-time analysis mean that managers have far more control.
"It's the difference between trying to hit a target with a slingshot or with a laser-guided cruise missile digital platform," added Sehgal. "With a full set of options, the marketers can treat their shows much as a traditional advertiser might, looking at the costs and effectiveness of each option."
By utilizing FICO Xpress Solver, RSG Media's platform for promotional planning and scheduling optimization achieves optimal and efficient utilization of linear marketing inventories through the following means:
Placement efficacy: Determining which shows and times are most effective to promote a specific show to a target viewership.
Dynamic plan adjustment: Modifying plans on the fly to take advantage of opportunities and avoid pitfalls that the data illuminates.
Cross-channel promotion planning: Extending calculations to take full advantage of a multi-network programmer's entire promo inventory.
Off-network promotion planning: Calculating the costs and benefits of promoting programs through other means.
Optimize off-channel DMA (designated market area) buys: Through looking for more cost-efficient DMAs that would yield a greater ROI. There are 225 DMAs in the United States.
These efficiencies, adjustments, and capabilities result in additional advertising time and increased network revenues.
For its achievements, RSG Media won a 2023 FICO® Decisions Award for AI, Machine Learning & Optimization.
"RSG Media's Prophet platform has truly revolutionized media planning and scheduling, allowing for dynamic plan adjustment and cross-channel promotion planning," said Michal Lodej, group editor at Shard Financial Media and one of the FICO Decisions Awards judges. "Their innovative use of ML-AI and FICO's optimization solvers has been able to significantly increase reach and conversion rates, delivering optimal promo placement and scheduling for maximum revenue and profit."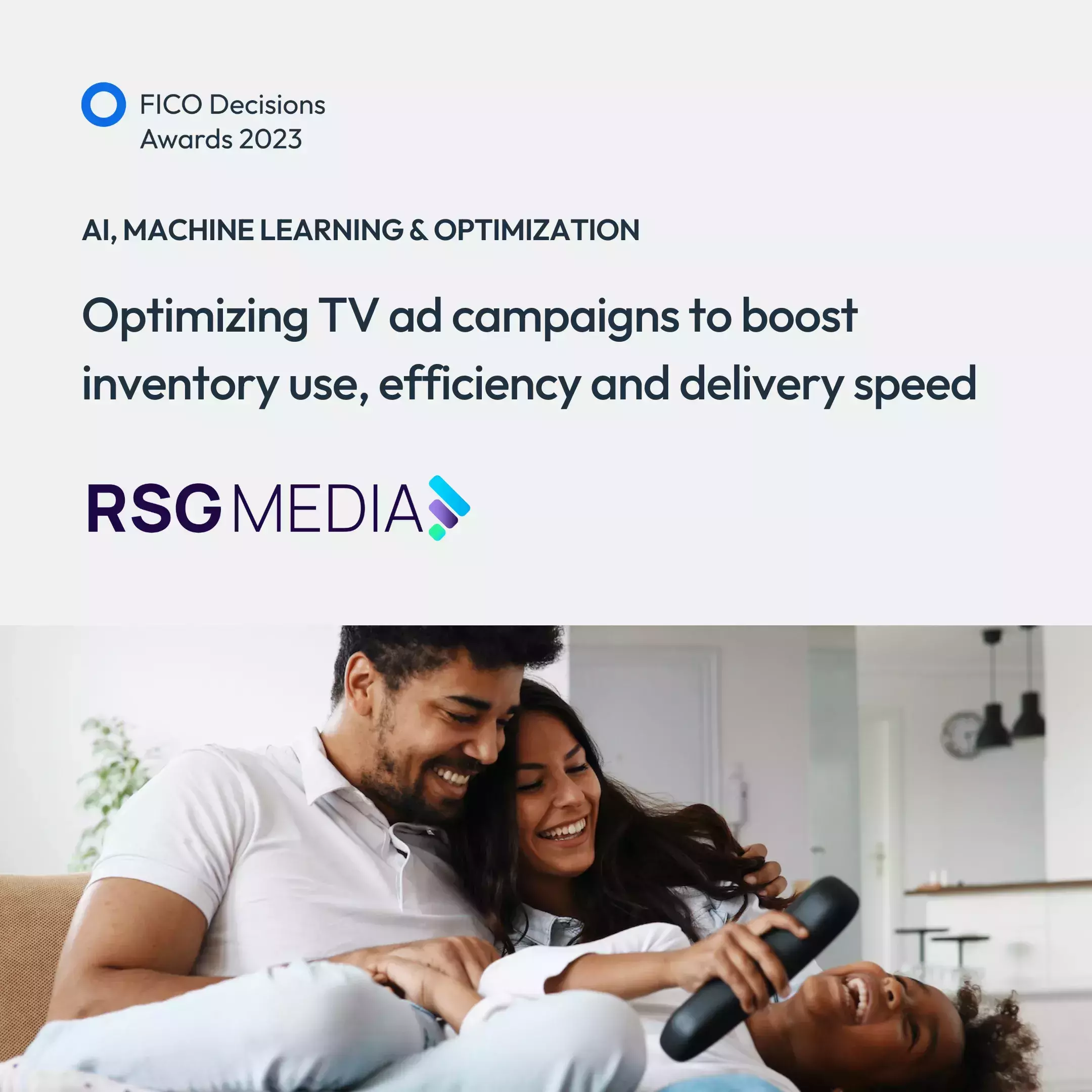 How FICO Can Help Improve Your Optimization