More than 100 million people in America have health care debt, according to Kaiser Health News. This medical debt often arises from unforeseen events leading to unpaid medical bills, and can be exacerbated by complicated, and at times confusing collection agency and billing practices in the healthcare industry. In July 2022, the three credit bureaus are scheduled to change the handling of certain medical debt collections in the credit report:
Paid medical debt collections will no longer be reported.
The waiting period for unpaid medical debt collections to appear on credit reports will increase from six months to one year.
Based on our analysis, these two changes would impact ~5 million FICO scorable consumers.  Conversely, ~200M scorable consumers do not have a relevant medical collection that would be impacted by these changes.
Additionally, the credit bureaus announced that in the first half of 2023, medical debt collections less than $500 (and possibly higher collection debt amounts - the exact threshold is still being determined) will no longer be reported.
It is anticipated that existing medical debt collections that meet this criteria will be removed from credit bureau data when the changes go into effect. Additionally, medical debt collections meeting any of these criteria will not be added to the credit report going forward. Credit scores that utilize credit bureau data will be impacted, including, but not limited to, FICO® Scores.
FICO recently conducted research on most widely used FICO® Score versions to assess the impact of the July 2022 changes to the FICO® Score. The results shared below include the impact of removing paid medical debt collections and increasing the waiting period to 1 year, but exclude the impact of removing medical debt collections less than $500.
Our results show that the July 2022 changes would have no material impact on the aggregate population to the FICO® Score's predictive performance, odds-to-score relationship, or credit score distributions.
For example, the figure below compares the FICO® Score 8 distribution on the total US population before vs. after the July 2022 medical collection removals; the two credit score distributions are nearly identical.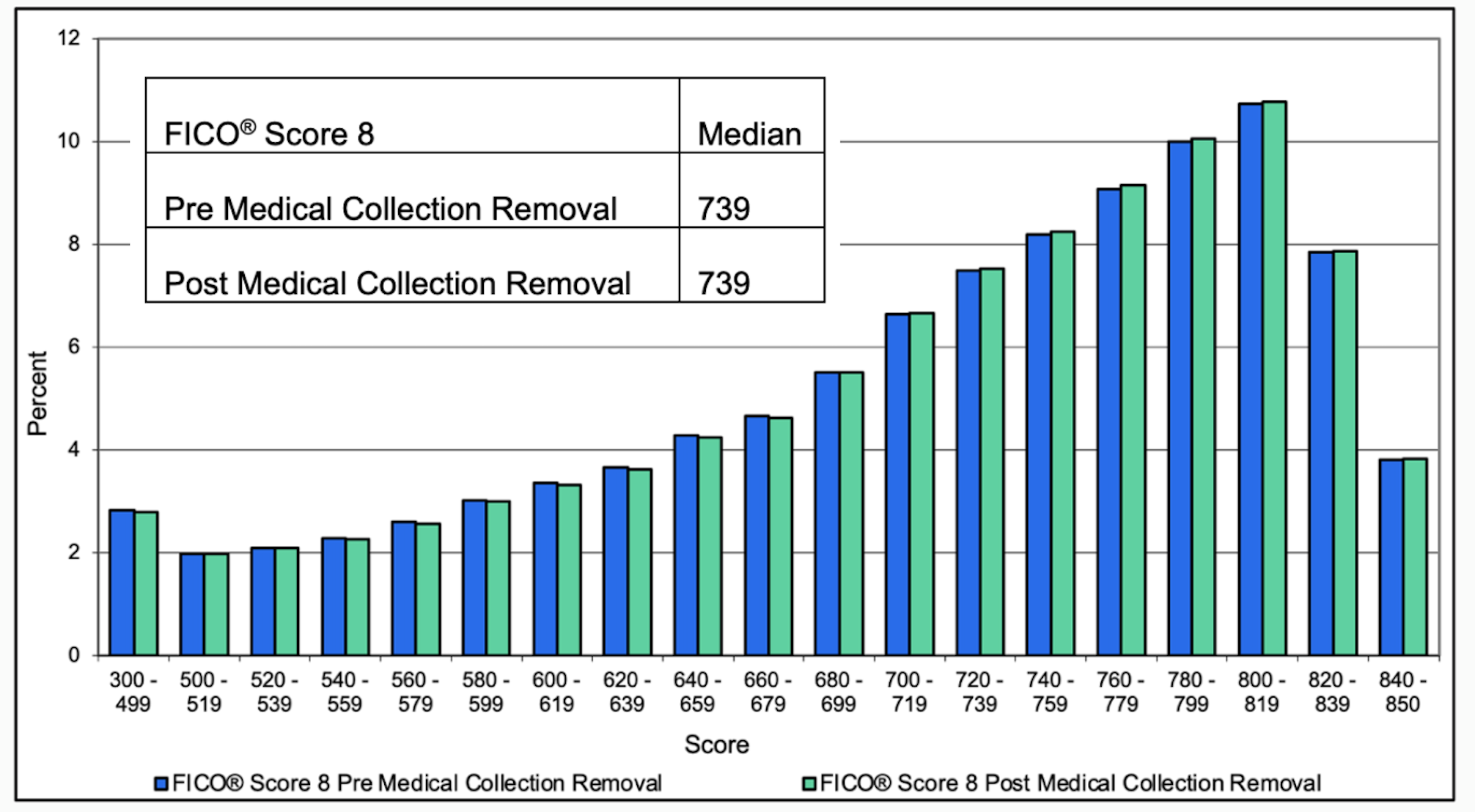 Based on FICO's analysis, only 3% of FICO scorable consumers would be impacted, and these files are very likely to have additional derogatory information on their credit report. Therefore, impacted files tend to score relatively low, even after these medical debt collections are removed from the credit report. Less than 1% of the total U.S. scorable population will experience a FICO® Score 8 change of more than 20 credit score points as a result of the July 2022 changes.
Since we determined that few consumer's credit scores would be impacted, and the vast majority of the impacted consumers would likely have other derogatory information and FICO® Scores that remain low, the ability of FICO® Scores to rank order risk on the total population prior to these medical debt collections being excluded is almost identical to what lenders would experience with these medical debt collections excluded.
Our analysis also shows that volumes above or below score cut-offs would remain virtually unchanged on the aggregate, and there would be no material impact to the delinquency rate at a given FICO® Score. While lenders are encouraged to conduct analyses quantifying the impact of the July 2022 medical collection removals on their own portfolios, they may find that they do not need to make notable changes to their strategies.
Stay tuned for an upcoming executive brief on how all of the medical collection reporting changes (including the removal of medical debt collections less than $500) are likely to impact the FICO® Score.