Since medical costs often increase as we age, one might expect that the rate at which medical bills are unpaid and then sent to collections companies would also increase with age – at least until age 65 when US citizens qualify for Medicare. New FICO research shows that not this not the case.
Looking at credit bureau data as of July 2016, medical collections reporting – both paid and unpaid collections greater than $99 – breaks down by age as follows: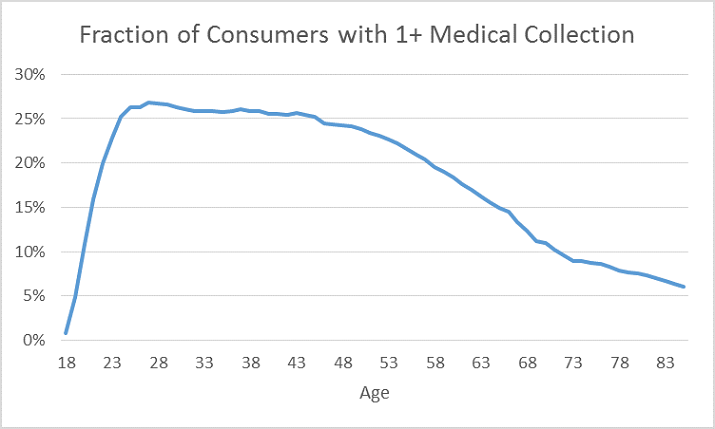 While the peak of this curve occurs at age 27, the rate of consumers with medical collections is uniformly high for ages 24 to 46. Over a quarter of consumers in that age range have at least one such collection showing on their bureau report. After age 46, we see the rate slowly drop, and as expected, it drops substantially after age 65.
Part of the issue stems from US health insurance coverage. While the Affordable Care Act has increased insurance coverage rates, we still do not see rates comparable to those who qualify for Medicare. The US Census Bureau's most recent report on health insurance coverage shows that in 2014 about 17% of the 26-to-44 age group did not have health insurance (see p. 7); coverage rates increase after age 44 until age 65, when only about 1.5% do not have coverage.
And even when consumers are insured, they face ever-increasing healthcare costs and deductibles. The annual Kaiser survey of US health insurance indicates that single coverage deductibles increased from an average of $584 in 2006 to $1,478 in 2016 (see Exhibit 7.7) . Similarly, consumers who opt for HMO coverage have seen their deductibles rise from $751 to $2,245 in that same period (see Exhibit 7.20).
With medical collections the leading cause of bankruptcy in the US, one might expect that typical unpaid medical collections amounts would dwarf typical balances for other types of consumer debt. But our study revealed a different story: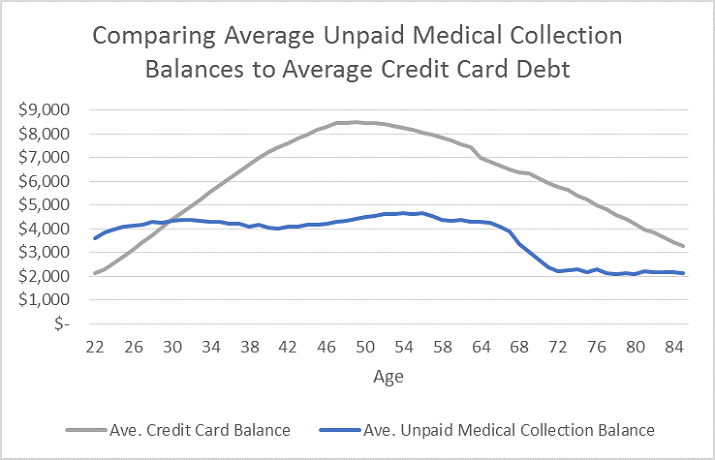 Generally, medical collections amounts are much less than other forms of debt. This trend holds true beyond just credit card balances illustrated in the chart above; medical debt is about one-fifth of average auto loans, as another example. This suggests that much of the problems around medical debt stems from the fact that, unlike many other forms of debt, medical expenses are often unexpected, causing an insurmountable financial burden.
Another significant factor driving medical collections is that medical billing and the process of reporting unpaid bills to the bureaus tends to be opaque and confusing. The CFPB cites multiple contributors to this confusion, among them: the lack of standard practices on when overdue medical debt is sent to a debt collector or reported to credit reporting agencies; and the fact that consumers are often held responsible for their entire medical bill as coverage is being worked out with insurance, which can take time. This confusion and inconsistency may be causing additional collection records on credit bureau reports.
As a data scientist from FICO's Scores organization, I feel it's important to remind our blog readers that collection information on a credit bureau report has consistently been found to be a strong indicator of increased credit risk. More specifically, our research has shown that consumers with a paid collection are less risky than those with an unpaid collection, and therefore we've enhanced the predictive value of FICO® Score 9 by ignoring paid collections, and assessing unpaid medical and unpaid non-medical collections separately. As a result, most consumers with a paid medical collection (excluding bills < $99) will see improvement in their scores as banks switch to FICO® Score 9: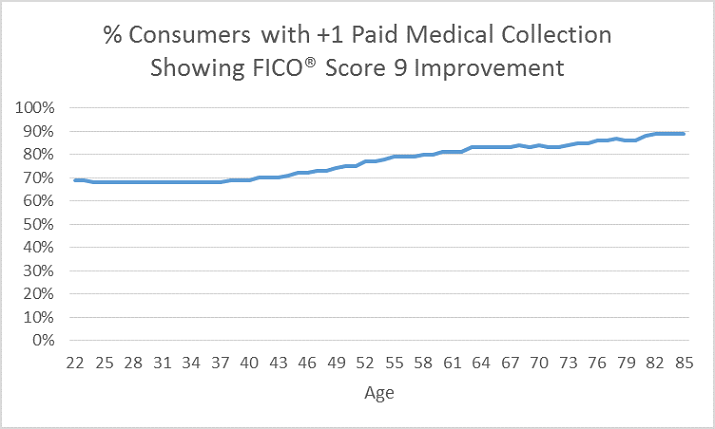 Ultimately, our research uncovered several surprising findings around medical collections – that it peaks mid-life not later in life, suggesting that insurance coverage and costs are far greater drivers than age, and that it's likely the unexpected nature of the expense rather than the amount itself that's the causing problems for consumers. Since medical debt is the leading cause of bankruptcy in the US, FICO will continue to conduct periodic research on this topic and share key findings on our blog.