Fraud Protection & Compliance
The old adage 'cash is king' was never more apt than when it came to describe the payments market in the Middle East and Africa. While the global payments market has been transformed by several factors, not least the COVID-19 pandemic, traditional cash-based payments still dominate across the region.
However, things are beginning to change, driven by government initiatives and younger more tech-savvy consumers. According to a recent McKinsey report, smartphone penetration is reaching 80% to 90% in local markets, and the region is undergoing a significant transformation in how payments are made.
With this region-wide change in payment preferences comes the associated challenge of an increase in fraud. Bad actors are taking advantage of opportunities in both e-commerce and digital payments as these channels become more commonplace across the region and disrupt the traditional payment value chain. A recent Deloitte survey on fraud in the Middle East region indicated that 48% of participants had witnessed an increase in fraud incidents as opposed to previous years, and 35% felt this had increased since the start of the pandemic.
New Problems Require New Partnerships
With this rise in fraud, as the leading enabler of digital commerce across the region, providing a range of payments to merchants and financial institutions, Network International needed to respond to this challenge with a real-time transactional fraud monitoring and detection solution that could be quickly deployed and would perform better than their legacy solution.
"Consumers and businesses across the Middle East and Africa have been rethinking their payments options with the emergence of the 'new normal' of commerce in COVID-19 times — including places where the shift from cash to digital has been historically slow," said Nandan Mer, Group CEO of Network International.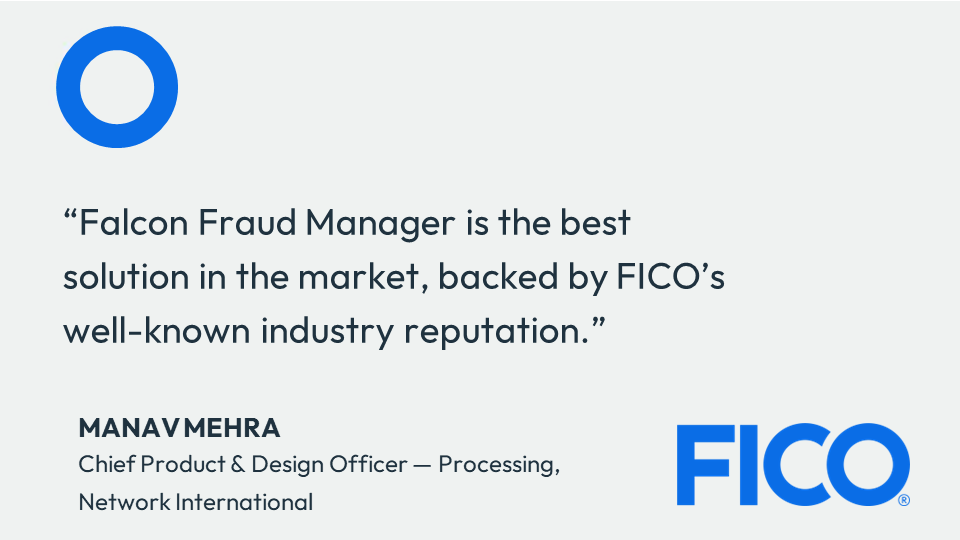 After an in-depth search, Network International established a partnership with FICO to implement the market-leading fraud detection and monitoring solution, FICO Falcon Fraud Manager.  For NI, the deciding factor was FICO's lengthy experience providing cutting-edge software solutions to fight real-time fraud in multiple geographies and across multiple product portfolios, providing fraud protection for all entities involved such as banks, e-commerce, merchants, acquirers and foremost the consumer.
"Based on our client requirements and the need for real-time fraud monitoring detection and monitoring, we found that Falcon Fraud Manager is the best solution in the market backed by FICO's well-known industry reputation," said Manav Mehra, Chief Product & Design Officer — Processing, at Network International. "We believe Falcon Fraud Manager helps enhance our product set offerings for our existing and potential client base."
The Need for Enterprise-Level Fraud Detection
Network International's partnership with FICO gives them access to a best-in-class solution to detect and fight card payment fraud, underpinned by advanced analytics, AI and machine learning technology, as well as the ability to service clients of different sizes in multiple geographies.
However, with the rise in e-commerce and digital transactions, Network International quickly recognised the need to further enhance their Falcon solution for a more comprehensive 'enterprise-level' fraud detection offering for their clients that included additional card portfolios and non-card payment channels such as real-time payments, P2P transfers and mobile wallets. This approach to fraud detection involves the adoption of a holistic approach to fraud across all payment network service providers, customers, accounts and products.
The Future of Fraud Detection in the MENA Region
Network International has a fast-growing and diverse customer base across the region, with varying needs and fraud prevention challenges, unique to specific geographies and scale. Their partnership with FICO enables them to keep pace with local banking and payment preferences, future-proofing their fraud detection strategy for this rapid growth and an evolving payment landscape.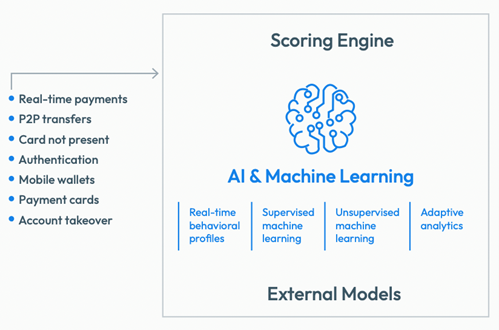 With FICO Falcon Fraud Manager, Network International uses AI and machine learning technology to score transactions across a rapidly expanding array of payment options, and help its clients understand regional customer behavior patterns to prevent and detect suspicious and fraudulent behavior, using FICO's industry-leading standard models or other third-party models. This deployment also gave the company the opportunity to leverage the FICO Falcon Intelligence Network, the world's largest payment data source, providing key data on regional fraud trends, helping their clients to make better decisions to help themselves and their customers.
The FICO and Network International solution will also enable payment service providers to focus on each of the risk factors throughout the entire merchant lifecycle using data to drive real-time and strategic business decisions.
How FICO Helps Our Partners Succeed with Fraud Protection
To learn more about why Network International chose FICO, for a real-time fraud detection and prevention solution, see our in-depth case study.
To learn more about partnership opportunities with FICO, please visit our website.