Since the start of COVID-19, we have been tracking its impact using data reported by the UK's leading credit card issuers, through the FICO® Benchmark Reporting Service.
We are reporting regularly on the impacts we see and whilst historically accounts that are more than five years old have been the lowest risk segment there are already signs they could be the most impacted so we will also be monitoring this as early signs of deterioration were seen in July for one-missed-payment rates.
Highlights for June & July 2020
Average spending on UK credit cards increased in June and July
First signs of deterioration in one missed payment rates with expectation that this will continue to rise
Fewer accounts are breaching their card limit but card limits being breached are with higher amounts
New account openings down by 59 percent on July 2019
Percentage of accounts using cash and the proportion to overall spend at over two year low
Spend on UK Cards Starts to Increase
After the dramatic fall in average spending on UK credit cards for January to May 2020 (down 27 percent year on year), spending in June started to increase, up 13 percent on May and by a further 11 percent in July to £598.
The increase in spending in June was expected, as additional business sectors were able to reopen. And with further restrictions lifted in July this trend continued. Although regional lockdowns were introduced, as consumer confidence grows or as consumers turn to credit cards as the only spending option, we expect that spend will continue to increase in the coming months.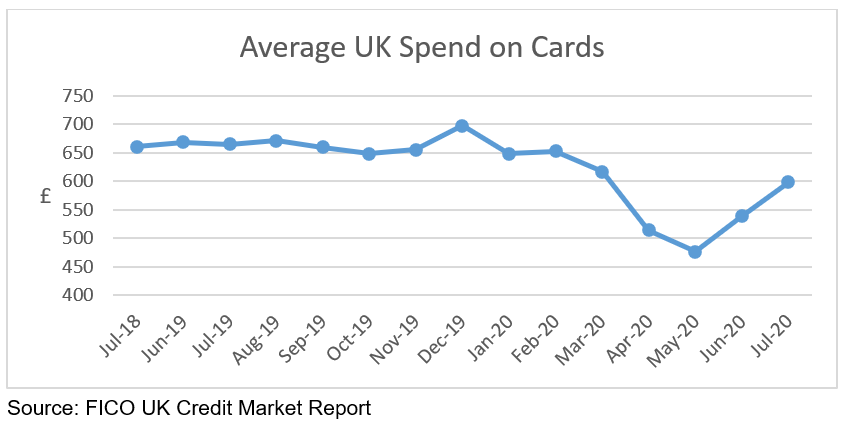 Accounts in Credit Remain Impacted by Refunds
The percentage of accounts in credit (have excess funds) and the average amount in credit continued to increase in June largely driven by holiday cancellations which dropped in July as these refunds slowed.
As the country list for no travel or quarantine on return is being reviewed and updated on a regular basis, we anticipate this trend continuing into August. Once the refunds have been processed and confidence in uninterrupted travel increases, we expect the levels of accounts in credit to return to those pre COVID-19.
For more data from the June/July report, see our news release FICO UK Credit Market Report Shows Uplift in Spending and Payments for June/July 2020
These card performance figures are part of the data shared with subscribers of the FICO® Benchmark Reporting Service. The data sample comes from client reports generated by the FICO® TRIAD® Customer Manager solution in use by some 80 percent of UK card issuers. Issuers wishing to subscribe to this service can contact me at staceywest@fico.com.