Nothing presents more opportunities to fraudsters than change, and 2020 has served up plenty. As the COVID-19 pandemic has unfolded, we've seen rapid change in a wide range of consumer behaviors. This has yielded a rise in medical equipment fraud and put banks' fraud detection systems into overdrive. Luckily, the FICO® Falcon® Platform incorporates advanced AI and machine learning capabilities to detect fraud patterns as they emerge, with an understanding of customer purchase patterns — including those related to remote medical services and food delivery, two major behavioral shifts in the US still going strong more than six months in.
Spending and Fraud Surge on PPE and Telemedicine
In the US, the pandemic drove a sudden surge in demand for health care supplies, from gloves to ventilators, as well as a growing interest in remote online medical consultations, or telemedicine. Fraudsters have jumped on the opportunity to exploit the erratic changes in medical spending.
For purposes of examining fraud, medical spending comprises two main categories, the first of which is Medical and Laboratory Equipment Supplies. It includes, but is not limited to, personal protective equipment (PPE) such as masks, gloves and gowns, as well as respiratory aide equipment such as nebulizers. While the volume of medical equipment purchases increased by 15% from March to May 2020, medical equipment fraud rose threefold.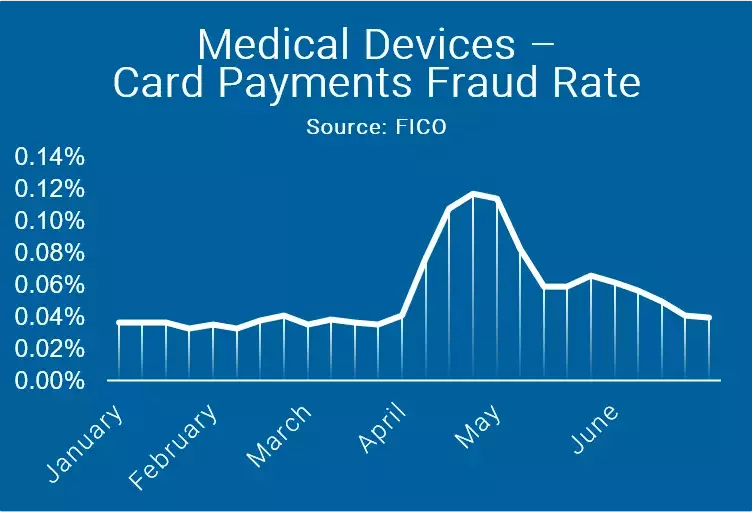 Figure 1: Four-week rolling average of fraud rates for Medical Device transactions
While a 15% increase in credit card transactions for medical equipment may seem small, it may reflect the scarcity of available PPE and personal medical equipment. A spike in fraud rates may reflect consumers' eagerness to buy medical equipment, which fraudsters exploited.
Widespread US closures and quarantines in the US during late March and early April were accompanied by a nearly 200% increase in the fraud rate on medical equipment card transactions occurred during April, the height of quarantine, as compared to baseline rates. Fraud rates remained high through May, and eventually returned to near-normal levels in June. These numbers provide an indication of just how much fraudsters took advantage of the changing consumer spending behaviors early in the pandemic.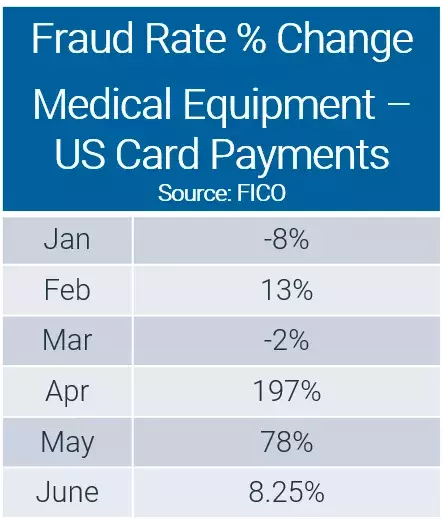 Figure 2: Percentage change in the 2020 monthly fraud rates compared to the baseline fraud rate, calculated using 2019 medical device fraud data.
In late March, the FBI warned the public regarding fraudulent sales of medical equipment; since the pandemic began, the FDA has now listed 113 warning letters of fraudulent COVID-19 related products, spreading the word among consumers and putting fraudsters on notice.
Medical Services 
The second category of medical spending is Medical Services: non-emergency doctor visits, elective surgeries, chiropractic care and dental work. As medical resources focused on treating COVID patients, and fear of transmission canceled routine care, card payment activity dropped, too—about 20% year-over-year in June and July 2020.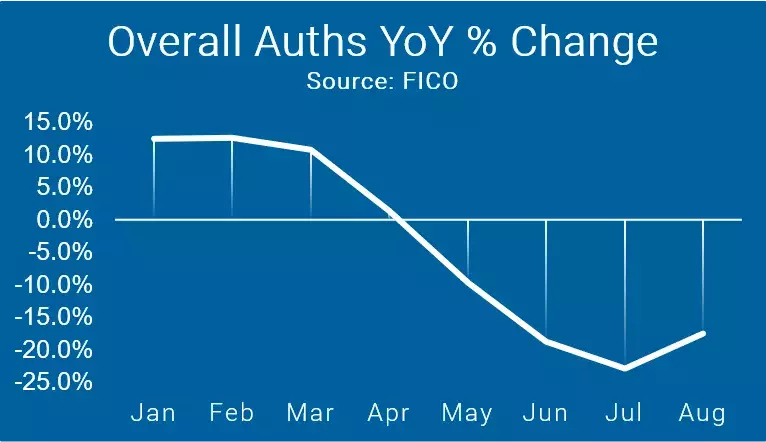 Figure 3: Monthly card-present authorization volume dropped by about 20% in summer 2020.
This sharp change in the volume of medical service-related transactions is driven mostly by the significant drop in card-present (CP) transactions, which decreased an average of 15% from March to May. Analogously, medical services like primary doctor visits and hospital visits have been on the decline since the start of the pandemic.
In contrast, the volume of medical service-related card-not-present (CNP) transactions is up an average of 14% increase per month from March to May. Again, the rise in telehealth during this time presents what is a likely corresponding analog. During April and May we consequently saw upwards of a 200% increase in fraud in medical services.
In August, the U.S. Department of Health and Human Services put out an alert about scammers and fraudulent medical services, and the FDA has similarly put out a warning about fraudulent COVID-19 tests, vaccines and treatments. As the pandemic lingers, uncertainty remains high, inviting to exploit citizens' vulnerabilities for their own benefit … in areas that can strike very close to home.
Stay tuned for my second and final blog in this series, "Is COVID-19 Leading to More Food Delivery Fraud?" In the meantime keep up with my latest thoughts on fraud, AI innovation and much more on Twitter @scottzoldi and on LinkedIn.