When we released the FICO® Resilience Index in late 2019, we were often asked,
"How do you know it will work in the next recession, if it was developed based on the Great Recession?" As the economic uncertainty due to the COVID-19 pandemic mounted, this question gained urgency. But with limited delinquency data being reported, we explored other means to help our clients test and validate the FICO Resilience Index in the newly stressed economy.
Working with our credit bureau partners, FICO examined a timely indicator of borrower response to the current economic stress — the presence of a loan accommodation— that is available in credit bureau data. Working from a large, nationally representative sample of 70 million consumers, we examined recent data from July 2020 to discover whether there is a correlation between creditor accommodations granted during the COVID-19 crisis and consumers' FICO Resilience Index values calculated before the crisis, as of January 2020. Our goal was to learn, are more resilient consumers less likely to request loan forbearance or payment accommodations?
Our findings point to a clear and strong relationship between FICO Resilience Index values and the apparent need (or lack thereof) for loan accommodations. The figure below demonstrates
the consistent rank-ordering of the accommodations indicator provided by FICO Resilience Index within narrow FICO® Score bands for mortgage loans.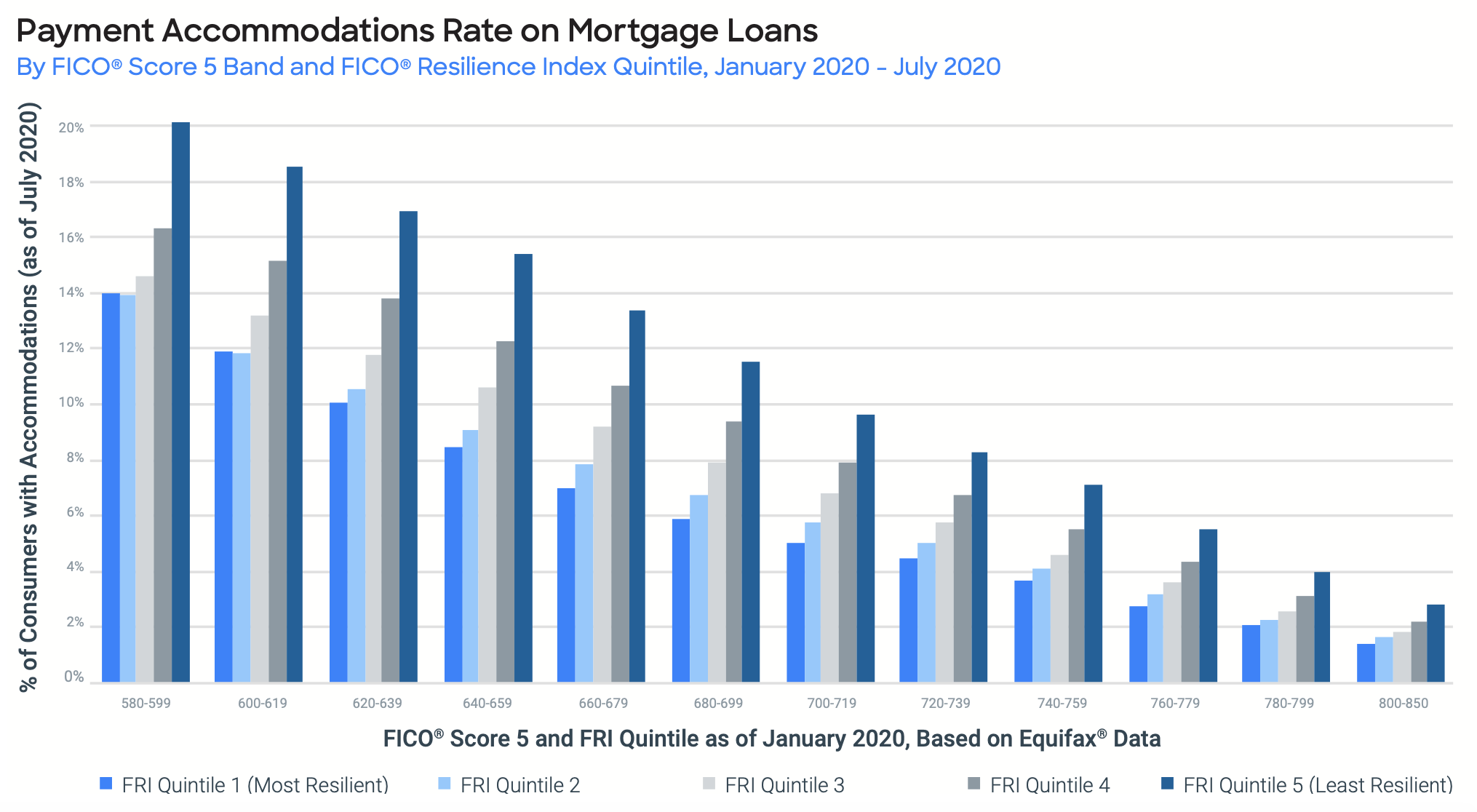 This pattern repeats itself across other industries tested, including auto finance, bankcards (see figures below), and personal installment loans.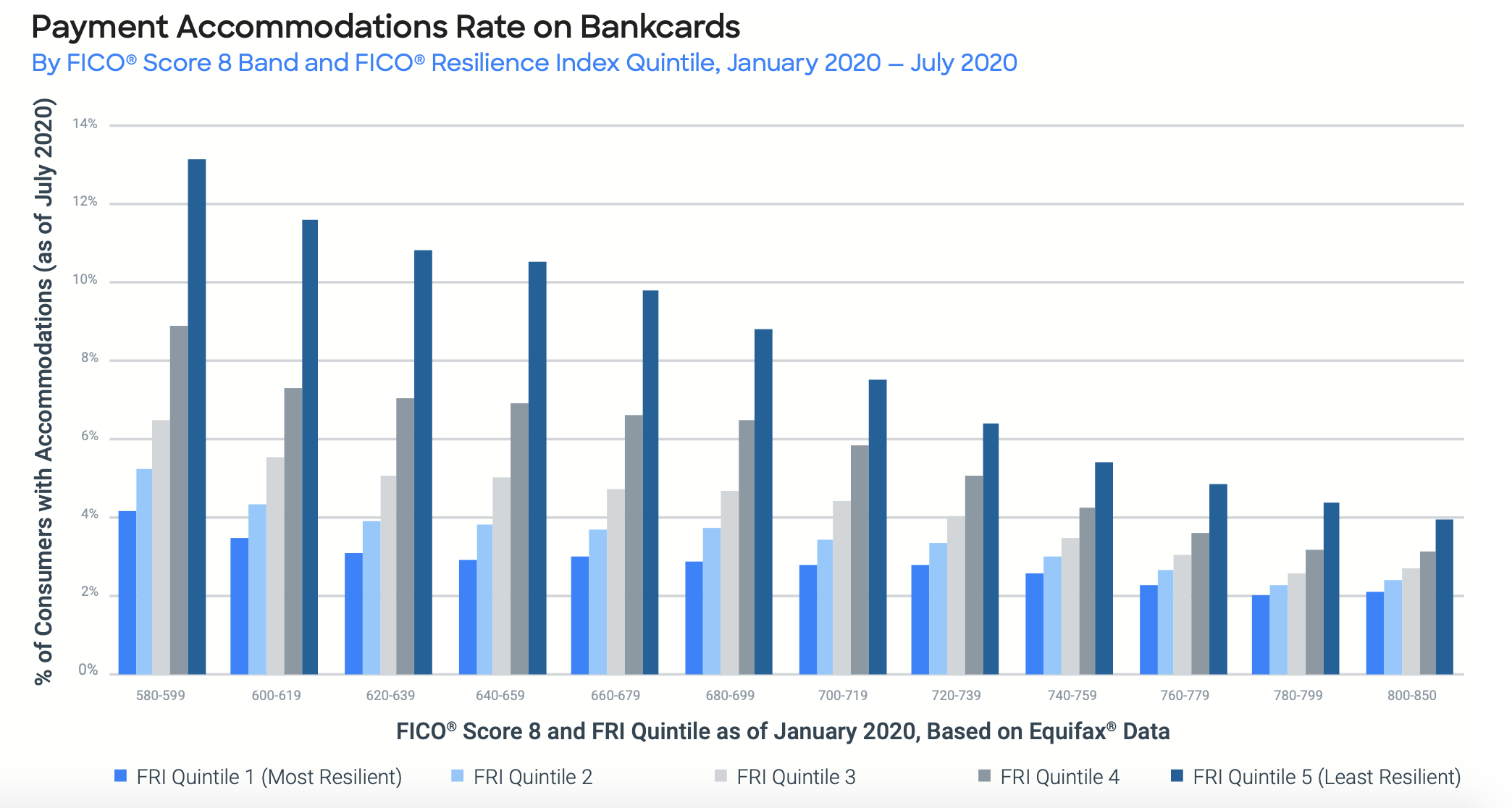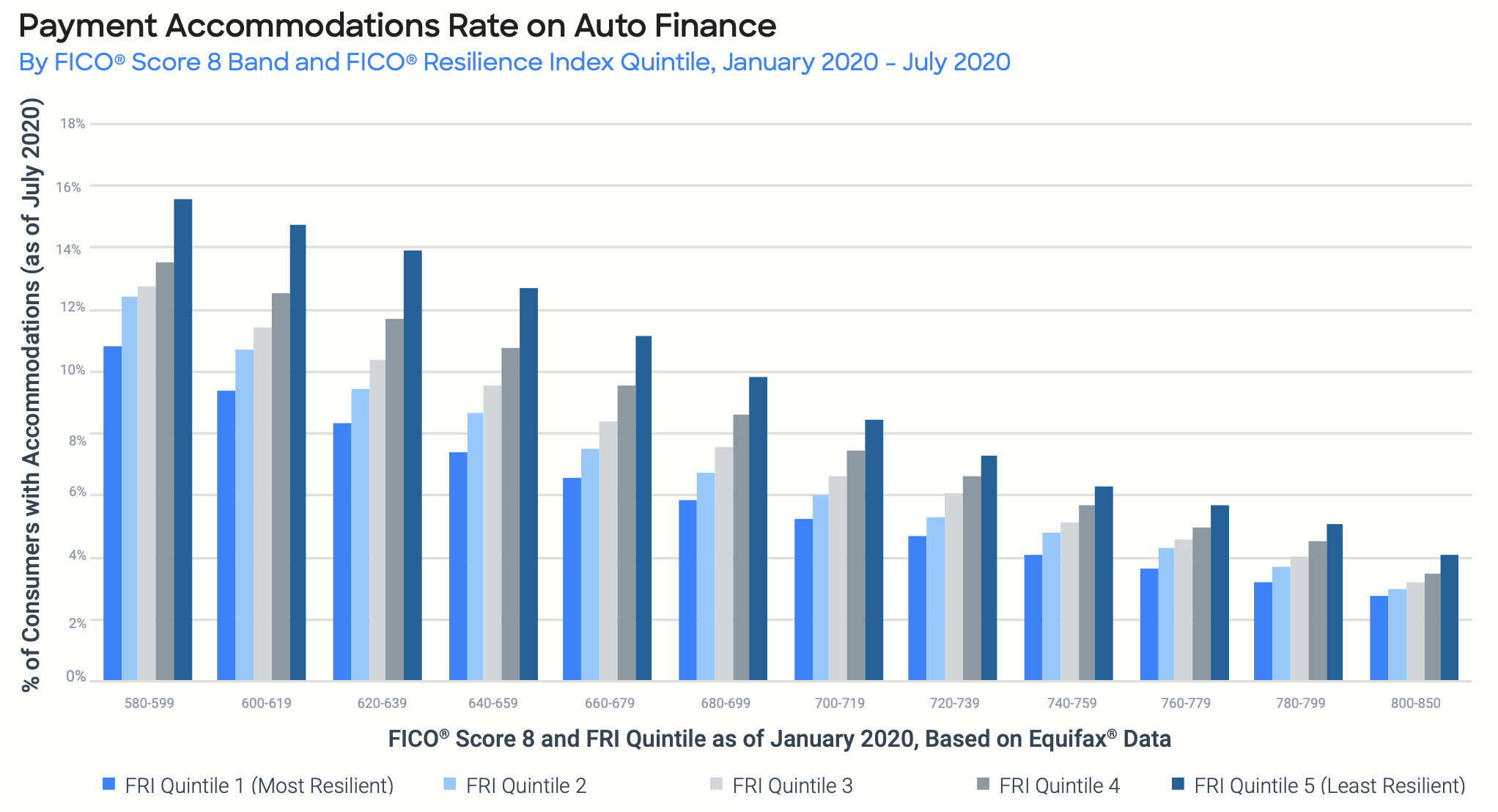 What are some of the key insights lenders can draw from this relationship?
The FICO® Resilience Index is an effective metric regardless of the cause of a recession. While the Great Recession was a housing-led crisis and our current downturn is pandemic-driven, there are common drivers of consumer-level credit resilience that apply across economic cycles.
Lenders can apply the FICO® Resilience Index to keep credit flowing in our current economic downturn. Lenders can avoid overly-broad restrictions on extensions of new credit or curtailment of existing credit by using the FICO® Resilience Index in combination with the FICO® Score—enhancing their decision and account management strategies with resilience precision.
Lenders can be better prepared to assist current clients. By understanding their level of resilience, creditors can appropriately tailor loan terms, for example, they can make loan restructuring offers to customers guided in part by their FICO® Resilience Index values.
FICO will continue to gather and share observations of the efficacy of the FICO® Resilience Index amidst our current economic downturn and as we enter economic recovery. Stay tuned for new research, including how this innovative analytic can be used to support portfolio-level use cases like regulatory stress testing and loss forecasting.
Lenders interested in replicating this 2020 validation on their own portfolios are invited to view FICO's just-released  video, "Validating FICO® Resilience Index in the COVID-19 Driven Downturn." This 8-minute segment provides lenders with a blueprint for constructing an accommodations-focused indicator and applying a shorter performance window tailored to this alternative validation approach. The video and other learning resources are available at www.fico.com/en/fico-resilience-index-learning/fico.
For additional information on FRI, please also visit: https://register.gotowebinar.com/recording/65149773080144656  https://www.fico.com/sites/default/files/upload_files/Mercator-FRI-Paper.pdf