Fraud Protection & Compliance
With eCommerce driving 39% of luxury sales growth in 2017, a number that is expected to rise to 59% by 2023, even venerable brick-and-mortar retailers are succumbing to the heat. In New York City, retail icons Barneys New York and Dean & Deluca are in bankruptcy, victims of rising rents and a dramatic increase in online purchases of luxury goods.
Those online purchases are big—for example, nearly half of the online luxury fashion dollar sales comes from footwear, which has the highest average annual spend per buyer and annual purchase frequency. In 2017, the average online luxury footwear spend increased 4% to $794, and purchase frequency also increased slightly to 1.6 times per year.
These trends are catnip for fraudsters looking to perpetrate high-value card-not-present (CNP) fraud. Data from the FICO® Falcon® Intelligence Network confirms that 70% of total frauds in UK and US are stemming from CNP transactions. Many of the frauds are single high-value CNP transactions.
Fighting Back Against CNP Fraud
FICO® Falcon Fraud Platform models have always been in the forefront of using machine learning technology to detect fraudulent payment transactions. In 2018, we released CNP technology that improved real-time value detection rate for CNP transactions by more than 30% for a given value of genuine decline rate (GDR). We achieved this improvement using machine learning technology to detect the first fraudulent CNP transaction as quickly as possible.
But for some fraud teams, acting on the first high-scoring, high-value suspicious transaction proved to an operational challenge. In 2019 we have refined our CNP technology, leveraging AI algorithms to make it easier for clients to operationalize the score behavior. As a result, they can realize the optimum benefit of the model-balancing account and transaction model performance, where early suspicious transaction behavior carries on to subsequent purchases, allowing for better account fraud characteristics. The CNP technology continues to focus on the earliest high value fraud ecommerce transactions during a fraud episode — a capability of utmost important to the luxury eCommerce industry.
Improved Fraudulent Transaction Velocity Detection
Our simulations show that these improvements to the 2019 CNP model design are able to maintain an aggressive Falcon score on the first high-value fraud transaction, with the score remaining higher on a few subsequent fraud transactions. This helps to abate customer challenges in working with the first transaction in a fraud episode.
With this enhancement, Falcon users will continue to get an improved real-time value detection rate, as in the original CNP-2018 technology –– and they also will now experience an extended window of high-scoring subsequent fraud transactions to allow more time to act on the suspicious account if the first high-value fraudulent transaction is missed.
The bottom line: As illustrated in Figure 1 below, FICO's new CNP-2019 model design will be much easier to operationalize, whether fraud operations are transaction- or account-based, and will continue to catch CNP frauds faster in the battle against financial crime.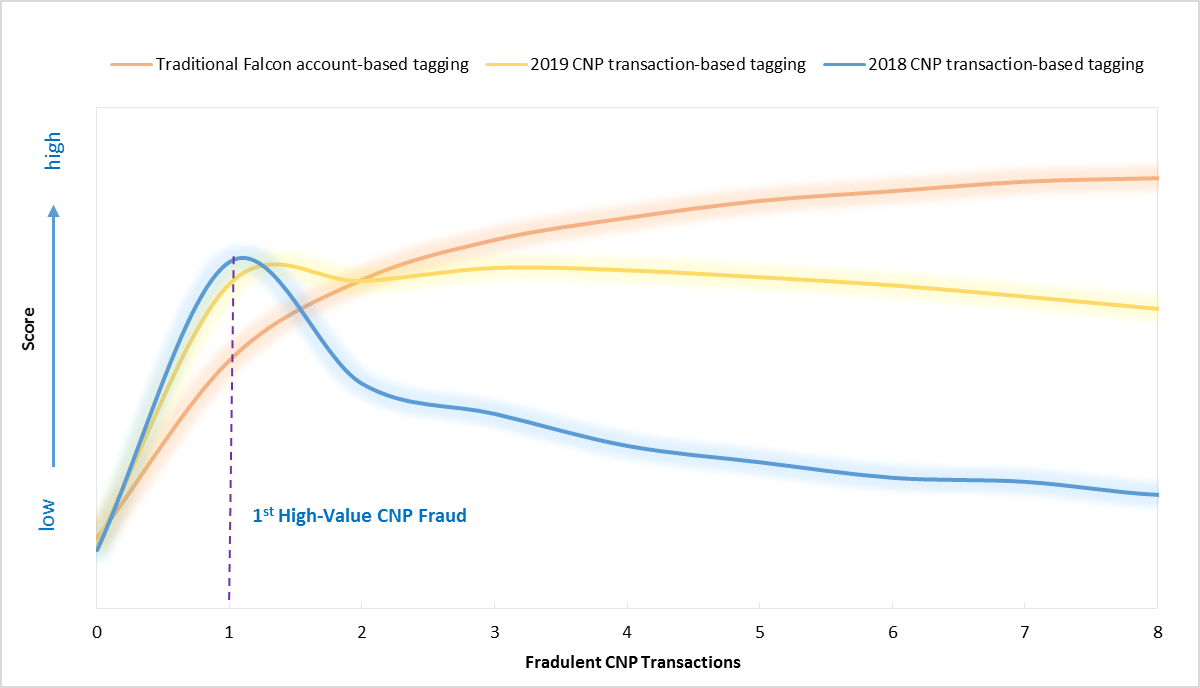 Keep up with the latest in this data scientist's battle against financial and cyber crimes of all kinds on Twitter @ScottZoldi.